If you're reading this, you're probably looking at a sneak peek of SN 2.0, the new and improved version of SpiralNature.com, the official launch date for which is October 31st, 2008.
But you're here!  Early!  That's ok, but we've still a bit of tidying to do.
Actually,  there's still a lot to prepare before we're ready for the official launch – such as fine tune the design, design the new logo, new favicon, oh, and convert about another 500 pages of dated HTML to our spiffy new content management system. 1 Right.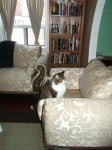 We're still under renovation, so if bump into Bootsy, SN's official kitty (perhaps looking less dignified), or find any weird code quirks, please let me know at webmaster [at] spiralnature [dot] com. Or, you know, to drop me a line and let me know what you think of the new look.  Thanks!
More on what's to come, come October 31st.
A bientot.
Only about 100 pages have been converted so far.  We've got a long way to go. [↩]