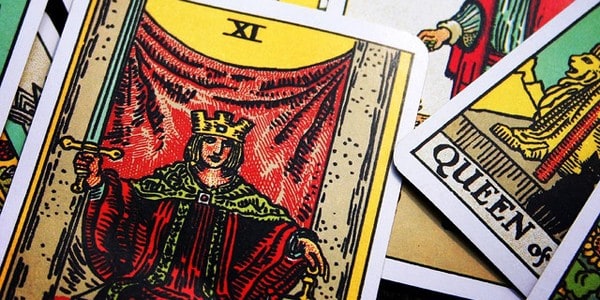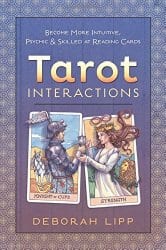 Tarot Interactions: Become More Intuitive, Psychic, and Skilled at Reading Cards, by Deborah Lipp
Llewellyn Worldwide, 9780738745206, pp. 251, 2015
Deborah Lipp has been studying the tarot since 1981 and teaching the art of tarot reading for more than 15 years. In Tarot Interactions, she has combined her depth of knowledge and creative abilities to take the reader on an inspiring journey to new depths in interpreting tarot meanings. Lipp defines tarot interactions as the myriad of different ways we can relate to the tarot cards, relate the cards to each other, and combine tarot reading with other means of divination or meditation. This opens up tarot reading as a much more fluid and varied practice with many uses that extend beyond divination and soul seeking.
Lipp begins with some of the basic exercises such as touching your psyche, expanding self-knowledge with the tarot, and strengthening belief in your psychic abilities. She also discusses using the tarot with other esoteric practices, such as the kabbalah and astrology. Here she discusses how tarot can be used with the kabbalah, and recommends using the Witches Tarot by Ellen Cannon Reed. For tarot readers who are interested in astrology, she suggests Elemental Tarot and the Zodiac Tarot.
Experienced readers will recognize some of the pathwork exercises, such as self-visualization within the card. This exercise allows the reader to place themselves as the character in a specific card and "look around" to interpret how the surrounding interact with and what they mean to the reader. If the exercises do seem familiar, this doesn't make it less of a book — these exercises are not only essential for the novice, but they are also good for experts to practice from time to time, especially when working with a new deck.
This book is great for beginners as well as experienced tarot readers. I have been reading tarot for a very long time (more than 25 years) and I found a number of refreshing aspects within these pages. As a fiction writer, I liked the dream induction and the writing exercises. For the dream induction exercise, you randomly select one card before going to sleep, write down the card and think of it as you are falling asleep. In the morning record the results. For the writing exercise you draw three cards and use them to build a story or build a scene in a story you may currently be working on. I experimented with them both with a deck I have recently begun to use — The Green Witch Tarot ((See our review of The Green Witch Tarot.)) — and found them both excellent for helping me work out some plot challenges in my latest novel.
Another one of my favourite parts of this book is the final chapter on experimentation and play. I agree with Lipp that the majority of tarot readers use their cards in a very limited way, only using them for straight forward interpretation. If you are one of those readers, this chapter will get you out of that rut, and expand your tarot horizons. Lipp provides inspirational exercises that will kickstart any tarot reader's imagination and help them move beyond using the tarot merely for readings and meditation. She opens up many other possibilities including: finding lost objects, choosing how to decorate your house, locating a person, and making affirmations.
I would generally recommend reading the book from the start to finish with the exception of chapter two, which I would suggest saving until the end. This chapter discusses interactions with other esoteric disciplines, and the exercises are for students of the kabbalah or people who do healing work with herbs and plants. My feeling is that the reader would get more from this chapter after working on the different modes of tarot interaction rather than at the outset.
Overall, Tarot Interactions: Become More Intuitive, Psychic, and Skilled at Reading Cards, is an excellent tarot companion. The chapters are clear and concise, each having detailed examples of ways for the reader and querent to interact with the tarot as well as exercises and questions and answers. It also presents a wonderful method to help the reader increase their level of intuition.