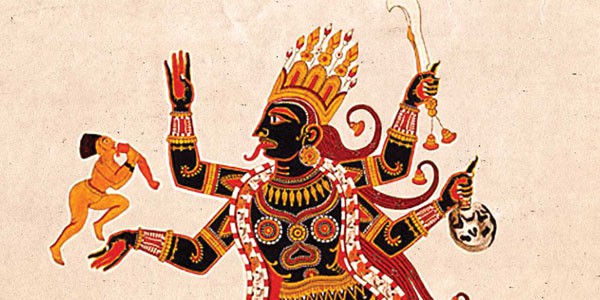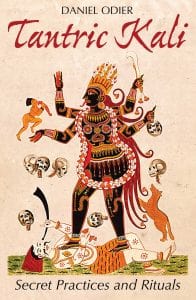 Tantric Kali: Secret Practices and Rituals, by Daniel Odier
Inner Traditions, 978-1620555590, 128 pp., 2016
Tantric Kali: Secret Practices and Rituals by Daniel Odier is a slim but potent book. It is filled with lore, symbolism, and the bare bones of a powerful practice devoted to Kali. As someone who has been working with Kali for many years, I find the information in this book insightful and valuable, but this is not a beginner's book.
The introduction places Kali in brief context, though with phrases like "she will be our guide to territory of the human psychophysical being,"1  I am left wondering if she is a deity in any kind of metaphysical way, or just an idea. A tantrika might argue that it really doesn't matter! After all, "Kali unifies duality."2
If you are looking for a good, solid foundation on tantra, this book and its introduction are not it. There are better books for the reader new to Tantra and all its complexities. For a true beginner, I recommend Sally Kempton's Awakening Shakti: The Transformative Power of the Goddesses of Yoga. This book will give you more of an introduction to tantra and ways to engage Kali (among other goddesses). I also think the Sharanya community,3 a Kali temple in San Francisco, is an incredible resource, both in person and online, for those seeking Kali.
For those starting out with Kali, the only chapter I'd recommend in this book is chapter one. It is an overview of Kali's origins and her symbolism. It is the single most concise, yet comprehensive overview on her I've read. Other chapters focus on the Kaula tradition, sacred texts, Kali's many names, devotional poetry, and rituals and practices. All are useful but Odier doesn't go into great depth about histories, lore, or details.
So, perhaps this book isn't meant for beginners? I wonder if this book is meant to be a companion for Odier's students, as it is meant for those far more advanced. But it makes me wonder, why publish it? The rituals and practices are not explained in a way that one can recreate them on one's own. Odier opens the explanation of the practice of "Deep Relaxation of the Corpse" with, "It is not advisable to do this practice alone the first few times…"4 Which begs the question: why is it described here at all? It is very clear that details and teaching would have to be filled in for nearly all the practices outlined in this book.
There are mysteries here, but something is missing, especially for those new to tantra and to working with Kali. For those stubborn devotees like myself, who will take information and try it out on their own — for better or worse — this book is a gem. I will try out the practices, meditations, and rituals described here on my own. But I'm sure I'll be missing important points and contexts! If you decide to engage the rituals and practices described here, I recommend working with a teacher or spiritually experienced person — either going through the book together or as someone to process with. If you don't have someone like that in your life, then definitely find someone to talk through your experiences with. Discernment will be key.
For those with some experience of Kali and wishing to go deeper in their practice, Tantric Kali: Secret Practices and Rituals will be of interest. Is it wise? I'm not entirely sure it is! Without the kaula (community) and guru I think important pieces are missing. For those just starting out with Kali Maa, I'd look elsewhere, and then find your way back to this book.
Save
Save
Save
Save
Save