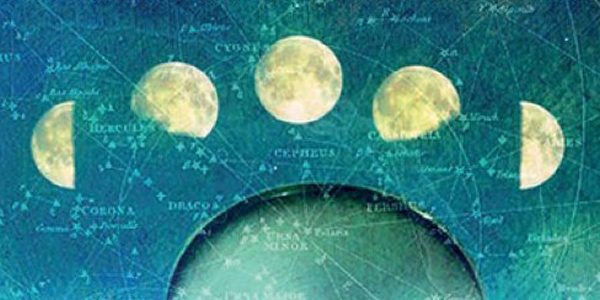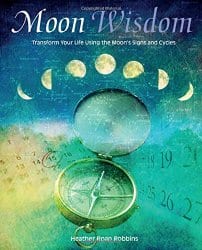 Moon Wisdom: Transform Your Life Using the Moon's Signs and Cycles, by Heather Roan Robbins
Cico Books, 9781782492665, 144 pp., 2015
It's hard for me to think of a symbol that is more significant in my own spiritual practice than the moon. For me it is an enduring representation of the Goddess and the divine feminine. Although I keep track of its waxing and waning, and make a point to find it in the sky whenever I'm outside at night, I don't know very much about how it can influence magick. That's why I was so excited to read Moon Wisdom by Heather Roan Robbins — it seemed like exactly the sort of book I could learn something from. I hoped reading it would shed some (moon)light on my life and on the workings of the world around me.
Before anything else, I have to make mention of Moon Wisdom's stunning design and presentation. The entire book is heavily illustrated with digital art that is surreal enough to be otherworldly and intriguing. The colours are saturated brights that manage to be eye-catching while lending a serenity appropriate to the subject matter. The cover in shades of teals and blues is what initially caught my attention, and I'd say that the book's design and style are the stand-outs that make it special compared to similar titles on the market. Its look draws you in no matter your interest level or experience with occulture — even my Dad took an interest in it while it was sitting on my desk.
Heather Roan Robbins is a ceremonialist, palmist, spiritual counsellor and astrologer with decades of experience. Her approach to something as nuanced and complex as how the moon relates to the planets, constellations and individuals is poetic and astoundingly simple:
Why have a disaster (dis=against, aster=the stars) when we can constellate instead (con=with, stella=stars)?1
With that statement as a guiding motif, she extends a hand and teaches us how to navigate our lives and relationships with cues from the moon. Moon Wisdom is incredibly well-structured and well organized, containing a foreword debriefing why we use astrology, what the moon brings to the table and how to use the book. After that, it consists of four chapters: a practical introduction on how to best structure your day according to which sign the moon is cycling through; explanations of each moon sign according to time of birth, and the layers yours can bring to your lived experience; and a more advanced discussion on moon phases in relation to other planets, and to individuals; and, finally, an appendix.
While I appreciate how carefully all the information is laid out, this structure doesn't lend itself well to casual reading. The first two chapters, while clear, are repetitive. I found that I could only read two or three entries on how the moon interacts with a star sign before it all started to blur together. That may not be the case for someone more familiar with each astrological sign and its characteristics than I am, of course. Given my experience, Moon Wisdom works best as a reference book rather than something you read cover to cover in a couple of sittings. I do like that, in addition to telling you the mood of a day, the book also includes suggestions for meditation exercises, and gardening tips depending on what sign the moon is in. Likewise, in Part II, each section lays out the gifts a person born under a particular moon may have, and how they might behave at work, in romance, and in a family unit. It's gratifying to see that the book takes multiple aspects of the average person's life into consideration, and doesn't only speak to individual personality in an isolated way.
One thing I wish Robbins had addressed much earlier in the text is how to find your personal moon sign, aspects, and phase. Perhaps naively, I assumed the book would contain some sort of chart addressing that. It turns out that process is much more complex and individual than I gave it credit for. To find this information, you need either a physical astrological calendar, or to input your date and time of birth into an online calculator. However, I didn't know that until I finally flipped back to the appendix looking for that information. Because learning my moon sign was one of the things I was most interested in discovering — and I suspect I won't be the only reader coming to the book with that in mind — it was frustrating to find myself half way through the moon sign entries, but seemingly no closer to learning what mine is. It would be much more convenient, and less confusing, if finding your moon sign was addressed at the beginning of Part II, or if not, if a sentence had been included directing readers to the appendix.
I won't leave you in suspense though! As close as I can determine (the exact time of my birth seems to have been lost in the shuffle of my first 25 years here) I was born under a Sagittarius moon. According to Robbins, that makes me adventurous, expressive, forthright, empathetic to other humans and animals, and prone to bouts of restlessness and wanderlust. I came to this section before knowing what my moon sign was, and intuitively I experienced a strong hit of recognition when I read it. It felt more like me than any of the preceding descriptions. The detail that I "may identify as a global citizen,"2 was not only accurate, but in my case, seem to underscore and reinforce the humanitarian qualities that come with being an Aquarius. I don't know if that speaks to the quality of information and knowledge that Robbins has imparted in Moon Wisdom, but it certainly feels like a point in its favour.
While Moon Wisdom: Transform Your Life Using the Moon's Signs and Cycles is clearly written and accessible, I would hesitate to recommend it to a complete beginner, like me. Part III, with its discussion of moon phases, eclipses and the moon's position relative to other planets, felt advanced and mostly went over my level of comprehension. However, because astrology is so complex, I'd be surprised if experienced astrologers couldn't still learn something. This is a valuable reference book in any case, with its easy to navigate structure and a generous appendix including frequently asked questions and resources for further study. Additionally, the book's design makes it an appealing choice, and it would be beautiful displayed on a coffee table or altar.
p. 7 [↩]
p. 76 [↩]