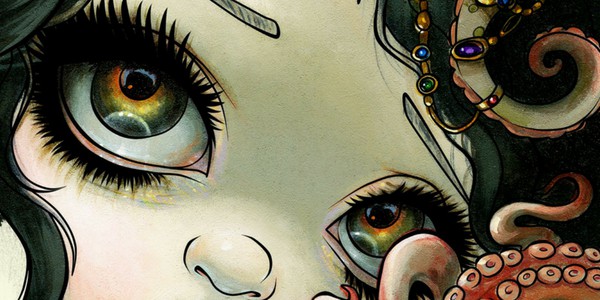 Mermaids Coloring Book: An Aquatic Art Adventure, by Jasmine Becket-Griffith
Blue Angel Publishing, 9780738758015, 112 pp., 2017

With Mermaids Coloring Book: An Aquatic Art Adventure, Jasmine Becket-Griffith has produced another beautiful colouring book with Blue Angel Publishing! Blue Angel is the publisher behind Becket-Griffith's three previous colouring books. All three are notable for their quality — each has a full-colour textured overleaf that you can remove to keep the book pristine, and heavy, premium-quality art paper. These books are meant to stand up to coloured pencils, markers, or watercolours. They seem to have made the design purpose-driven; each two-page spread has some artist notes on the left leaf, and the image to colour on the right, so you wouldn't have to worry about colour bleeding through the paper or transferring on an image. It's just a pretty book to handle and look through.
Mermaids Coloring Book includes 52 full-page images, and, as the title suggests, Becket-Griffith's third colouring book is a fantasy set under water, in the world of mermaids in their milieu, with their companions including dolphins and strange fish, and even the Loch Ness monster makes an appearance here.  I'm a longtime fan of Becket-Griffith (and pretty much any artist who focuses on big-eyed kids and creatures!), and I've had and enjoyed her previous book, Jasmine Becket-Griffith Coloring Book: A Fantasy Art Adventure, which I also reviewed for Spiral Nature Magazine.1This book is more of her same outstanding work, with a few differences.
One major difference in this volume is the detail included in the pictures. Again, it goes back to a book created for colourers with sophisticated sensibilities — the images are detailed, but there's a little restraint here that I didn't see in the previous volume. In the last book, images extended in fine detail to the margins of the page. I don't know about you, but colouring books can bring out the type-A compulsive in me! It's not just about staying in the lines, or finding the perfect balance of colours — when the images are too detailed, I can get overwhelmed with an expanse of background foliage that needs colouring attention, or a cityscape fading beyond the foreground image which seems to cry out for attention — if that sounds stressful, it is! In this new book, I see less of that detail in the background of the images, which is nice. That same meticulous quality that makes Becket-Griffith's paintings so immersive can make colouring a little cumbersome. In Mermaids, there's more variation between pictures with lots of detail to colour, and pictures with less background detail to obsess over. Finally, the image descriptors in the last book were dated and documented the original painting medium (she usually works in acrylic), and painting size. This new book just gives us the work's name and notes on creation and inspiration, which I liked. Each image is likely to take a couple of hours to colour, depending on the your colouring style.
A note about Jasmine Becket-Griffith — she's prolific. I managed to see a show of her work, Allusions and Allegories, in Los Angeles in 2016 at the Corey Helford Gallery, where her work shared space with another show by Camille Garcia Rose — another fantasy art favourite of mine. Becket-Griffith's work is such a joy to see in large format painting — her use of rich colour and gothic elements, and always her sweet, mournful figures (as she calls the girls she creates) with their haunted gaze confronting the viewer.
Becket-Griffith also works in partnership with the Disney corporation, which would seem an odd pairing. However, Becket-Griffith's strangelings, despite their enigmatic and melancholic expressions, are all incredibly cute. It's a neat balance that the artist has made with her brand. She doesn't paint boys or men; she doesn't paint anyone smiling — but if you enjoy flawless, dark, colour-saturated and detail-rich artwork featuring sad girls with big eyes — she's probably one of your favourite artists. Artist statements online note that she's known for her work in "gothic, fairy and lowbrow art genres," and the use of the term lowbrow gave me pause for a moment. On reflection, it makes sense. Her work overall has almost a lurid quality — from the depth of colours she uses to the wonderfully detailed works she create — they're immersive, almost hallucinogenic. Can you tell I'm a fan?
You really can't go wrong with Mermaids Coloring Book: An Aquatic Art Adventure if you enjoy the artwork and are a colouring enthusiast. You can see more ofJasmine Becket-Griffith's work at strangeling.com.
See Daleth West's review of Jasmine Becket-Griffith Coloring Book: A Fantasy Art Adventure  and Nimue Brown's review of Jasmine Becket-Griffith Halloween Coloring Book. [↩]