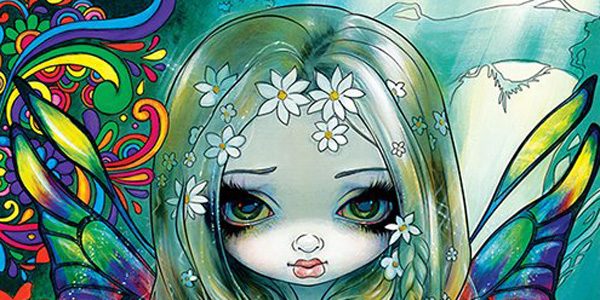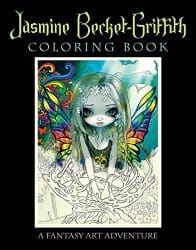 Jasmine Becket-Griffith Coloring Book: A Fantasy Art Adventure
Llewellyn Worldwide,  9780738750019, 96 pp., 2016
I've been a fan of Jasmine Becket-Griffith's artwork for a long while, so this colouring book is an instant favourite for me. Call me a sucker for art featuring big­-eyed kids, but Becket-Griffith's work recalls that of Margaret Keane, Camille Rose Garcia, Mab Graves, Mark Ryden, Emily the Strange, the Powerpuff girls, Blythe dolls — all the sad, adorable kids of kitsch artwork.
In this volume, Becket­Griffith has compiled 55 of her favourite characters from the past 10 years into a fantasy-themed colouring book. This is a beautiful book with heavy pages that are perfect for either marker or pencil crayon, large at 21.6 by 27.4 cm and with a removable flyleaf to keep the book looking perfect. It's such a satisfying "adult" colouring book because the presentation — the images to colour, the paper quality and the cover art — are all lovely. Overall the book looks luxurious and the images are quintessentially Becket-Griffith — pensive "strangelings" lushly drawn with beautiful backgrounds.
Becket-Griffith's oeuvre is pretty specific — she draws "strangelings" — little girls with large heads and enormous eyes, with expressions that range from haughty, pensive, and sad to tiny enigmatic smiles. Their proportions are cartoonish, but the mood created by her work is lyrical, fantastical, gothic and moody. Yet, the figures she paints are also very… cute! She also incorporates cryptozoological creatures, myths, legends, lore and gothic imagery into her scenes. They are deceptively complex and impactful despite their initial appearance of "mere" cuteness. Becket-Griffith incorporates unexpected elements into her work that often lend to their gothic and sometimes slightly macabre effect.
Each page in the book is based on a painting by Becket-Griffith, and includes a description on the facing page with notes on her inspiration for the piece, including the artist's own friendly observations about the work. Her stated inspirations are wonderfully diverse: Alice in Wonderland, Edgar Allan Poe, steampunk, faeries, myths, mermaids, pirates, and her travels to Paris and Hawaii.
Most of the images are a single strangeling girl with an evocative background. There are also a couple of cute duos featuring Glinda and the Wicked Witch from the Wizard of Oz series, and another with Snow White and Alice in Wonderland. Her artistic references are varied and accessible, and by documenting them she encourages her fans to read Poe, investigate fairy tales and revisit familiar images including pirates, mermaids and faeries.
I encountered her work initially when I picked up an oracle deck featuring her artwork years ago. I purchased it purely on impulse from affection for the look of the strangelings, and found it to be a wonderful deck. It's the Oracle of the Shadows and Light; and later I realized she has others: Oracle of the Shapeshifters, Les Vampires Oracle Cards and the Myths & Mermaids Oracle. The one I acquired is a collaboration with Lucy Cavendish and marketed to teenagers.
Reading about Jasmine Becket-Griffith's work online, I learned that she has a partnership with Walt Disney as an independent freelancer that includes a physical gallery at Pop Gallery Orlando at Downtown Disney in the Walt Disney World Resort. Her work can also be found at Disneyland's WonderGround Gallery in Anaheim, California, and at strangeling.com.
There is something about Becket-Griffith's artwork that calls to my inner teenager — its prettiness and cuteness distract from the depth of her work in a wonderful way. It means the images can be appreciated on the surface level for their appeal, but also sustain further attention because there is a gravity and depth to the work also; and the elegant presentation of her first colouring book will appeal to adult colouring book enthusiasts. It's the type of book that I can't wait to colour, but hesitated for a few weeks because it was so pretty I didn't want to (gasp!) colour on it. I think through using the Oracle of Shadows and Light cards, I developed a fond relationship with her strangelings and was hesitant to add my touch to Becket-Griffith's work with my markers. The images are wonderfully detailed and perfect for colouring.
Full disclosure: I resisted the adult colouring book trend as silly for a long time. As a long term knitter and crocheter though, I really like to do something with my hands to relax when I'm not reading for school or pleasure. Of course, I'm now a convert and happy to proselytize about the pleasure of new pencil crayons and staying in the lines. A book like Jasmine Becket-Griffith's will not necessarily inspire your DIY colouring punk; it is much more likely to encourage your inner neatnik to keep the images as pristine and pretty as they appear without colour! Fair warning, but Jasmine Becket-Griffith Coloring Book is still wonderful fun and totally enjoyable.