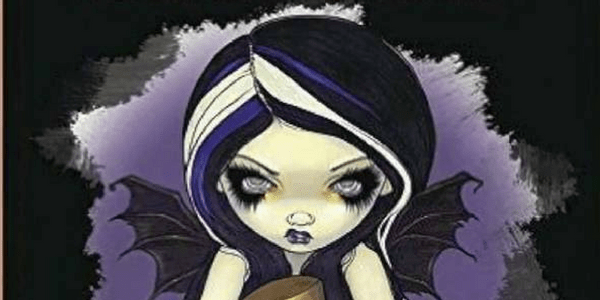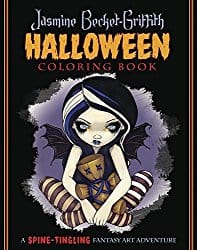 Jasmine Becket-Griffith Halloween Coloring Book: A Spine-Tingling Fantasy Art Adventure, by Jasmine Becket-Griffith
Blue Angel Publishing, 9780738752549, unpaginated, 2016
One of the many hats I wear has me colouring professionally on comics, so I come to adult colouring books from that angle. I picked up the Halloween Coloring Book with no idea what the art would be like, simply because I love all things gothic. This book came as a surprise in a great many ways.
Creator Jasmine Becket-Griffith is a professional artist, and unusually for a colouring book, the images here have been created by extracting line drawings from her paintings. This means that colourists have the option of seeking out her work online to see how the original looked. As her colour work has a strong and engaging style, this may be helpful inspiration for people.
The cover is entirely indicative of what to expect — it's cute-goth, and that kind of goth girl shows up in most of the images. There are wolves, pumpkins, spooky trees, vampires; all that sort of thing. Some images offer high levels of twiddly detail; felt tip pens or good coloured pencils will be necessary to get in there. However, based on experimentation, if you just colour over the top of the lines with pencil, they show through, and you can have, for example, a single tone dress in which all the elaborate bits are visible, without having to go mad on the detail. So, for people who want to dig into the intricacy, there's plenty to do, but if you don't, it's not essential. Many of the images have big areas with few lines where you can either colour simply or bring your own creativity into the mix as you prefer.
Physically, this is an excellent book. The paper quality is good, far better than anything I've seen elsewhere. This means you get a lot more colour for your effort, especially with pencils. All the images for colouring are placed on the right hand page, so you're never working with the bumps of previous work in the way, or colour leeching through from other images — that is a huge advantage. On the left hand side there's a little commentary from the artist about the original art, why she did it, how she did it — it feels a bit like a conversation. On 'Strangely Lonely' she says, "I have depicted her with scarlet and raven hair — but I'm sure she would be lovely with whatever color combinations you might favour!" There's a nice mix of prompt and permission here. You can follow the artist's lead, or not, it's all good.
I had a go at two images. "A Pumpkin Gift" with Derwent colouring pencils, and "Strangely Lonely" with oil pastels. Both went onto the paper well. The backgrounds can be coloured naturalistically, or in blocks of colour as you prefer. The foregrounds are more stylised, the figures and faces especially so. There is no way of colouring the goth girls' faces naturalistically. I started trying with "A Pumpkin Gift" and wished I hadn't. The eyes are so far apart that any attempt at nose and brow makes the whole thing look weird, and the face effectively has no lower jaw. So, you have to be happy to either leave it uncoloured, or to find a way of applying colour that makes sense. The artist has her own style that can of course be copied, and any doll-like approach would be likely to work.
It is important to be aware that unlike many colouring book images, these images did not start as colouring-in images. They started as original art, and lines have been taken from that art. As a consequence, you can't just pick an end and dive in. I made that mistake with "Strangely Lonely" getting into the top of the Celtic cross without realising which bits of it weren't, in fact, solid. Luckily for me, oil pastels make it possible to colour over the top of a mistake, which I did. Take the time to really look at the image and make sure you know what's going on before you start — which is a meditative process in its own right. I think it's best to start by colouring  the backgrounds and leave the foregrounds until last. I found this approach helped me clarify which lines signify what — for example, in the Halloween image working out which bits of trees were connected to each other. So there's a journey into the image as you make sense of it, which is interesting in its own right. These are images you need to think about to colour them, far more than the kinds of patterns I've seen in a lot of books.
On the cover the subtitle calls it "A Spine-Tingling Fantasy Art Adventure." The Halloween Coloring Book is not spine-tingling. I think for any adult, it wouldn't even register as creepy. It is suitable for younger colourers, and would be an ideal gift for a witchy teenager. I'd thought, going through it, that it wouldn't really appeal to chaps, but as my teenage son has made off with it, clearly stating a desire to have a go at colouring in, I appear to be wrong about that!
If you like cute-gothic and want to be stretched a bit in your colouring, The Halloween Coloring Book has a lot to offer.