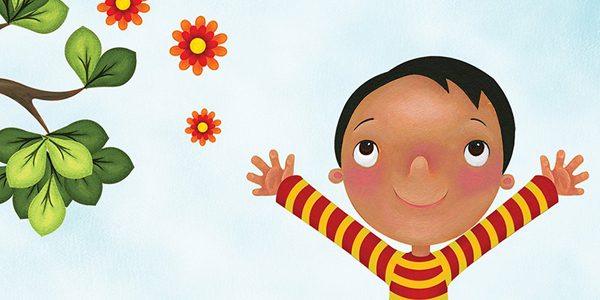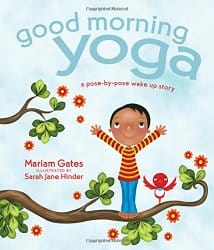 Good Morning Yoga: A Pose-By-Pose Wake Up Story, by Miriam Gates, illustrated by Sarah Jane Hinder
Sounds True, 9781622036028, unpaginated, 2016
Good Morning Yoga: A Pose-By-Pose Wake Up Story is a follow up to Mirian Gates and Sarah Jane Hinder's earlier book, Good Night Yoga: A Pose-By-Pose Bedtime Story.1 Like their earlier book, this is geared for children ages four to eight years old.
After settling down for the night stretched and relaxed with Good Night Yoga, kids can now wake up with intention, and set the tone for the day. Parents and kids can greet the day together with simple poses cheerfully illustrated with bright colours, animals, and a diverse cast of children.
Good Night Yoga was largely set in abstract starry spaces, where as Good Morning Yoga is set in various locations around the world, from beaches, to volcanoes, to snowy mountains. The range in scenery makes for lively diversions, but I found the season-switching a little jarring. Children may not have the same reaction as this adult, but smoother transitions following seasonal patterns could have made a little more sense than jumping from location to location without transitions. That said, there is a benefit to these spaces not being named or set in specific regions: children from all environments can likely find something recognizable, and something exciting and novel as they move through the book.
Similar to Good Night Yoga, Good Morning Yoga ends with the "Good Morning Yoga Flow," two pages that summarize all poses, accompanied by brief meditations. Finally, the book concludes with a brief visualization titled "How I Want to Feel Today" that helps set the child's intention for the day in a positive way.
Good Morning Yoga seems like a great way to get kids up and moving in the morning in a gentle and mindful way that's also a lot of fun.
See our review of Good Night Yoga. [↩]