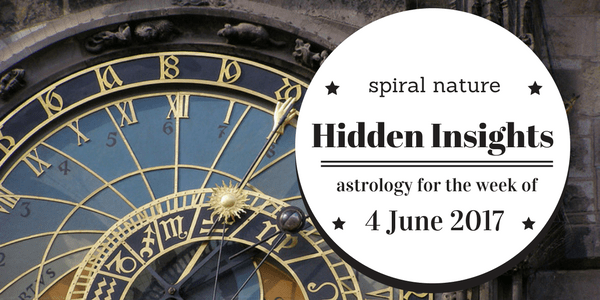 As the week begins, all the mutable madness from last week is still in play, keeping the focus on the need for flexibility. This week carries on the theme with three planets changing signs as well as a Full Moon in Sagittarius on Friday, 9 June 2017. Hidden Insights has advice for a week that that requires a little extra tenderness in order to get the most out of it.
Action-oriented Mars enters the realm of emotional Cancer on Monday, 5 June 2017. This is not traditionally a comfortable placement for this planet. Mars is the part of ourselves that likes to assert, but Cancer is sensitive and protective as well as defensive when under threat.
When the desire to assert seeks expression through the emotions, it can be a passionate, frustrating or aggressive experience. So, watch out for those Cancer crab claws. (And remember, the best defense in some situations might just be to sidestep them altogether.)
Fortunately, Venus enters one of her home signs, Taurus, the next day on June 6 2017 and forms a dynamic sextile aspect to Mars that lasts all week. Venus has been challenged for many months during its retrograde period and her entry into this sensual, earthly sign will be a relief and a chance to get grounded.
Meanwhile, the aspect to Mars can encourage finding a healthy outlet that truly nourishes the creative self. To make the most of this aspect, remember to seek real soul food rather than quick fixes that only provide short-term satisfaction.
On Wednesday, 7 June 2017 Mercury exits Taurus and enters its home sign, Gemini, heightening our mental powers and encouraging lightning-fast mental connections. It can certainly be a witty combination, but with Mars in such a sensitive position we're wise to temper our words — if we can.
The Full Moon in Sagittarius reaches us on Friday, 9 June 2017, representing a cycle of new mental possibility that began with the New Moon in Gemini. It's a great time to blow your own mind with how much you've learned recently. And to find a place for that learning within your own grand narrative.
Here's a look at what's coming up for your sign this week:
Aries (21 March — 19 April)
With your ruling planet Mars moving into Cancer, issues of personal security become increasingly significant for you, Aries. It's super important not to fall back into old patterns of domination here. It might be that something deep down remembers childhood, when kicking up a fuss was how to get what you want. Or you've just simply run out of patience in the here and now. Maintain perspective in the moment by remembering what's really important.
Your patronus has learned from the past.
Taurus (20 April — 20 May)
Sweet Venus finds her way home to you this week, Taurus. You'll see the beauty in the world more easily, and you'll be able to bring your own beauty into it more easily too. The temptation to indulge yourself is likely to be high, especially if you're feeling emotionally vulnerable. But you're much better off channeling your energy into something artistic rather than simply hedonistic. If you can find a way to bring those two experiences together, you'll be onto a winner.
Your secret weapon is a high standard.
Gemini (21 May — 20 June)
Ooh Gemini, your insight is going to be off the hook this week! The more work you've been doing to strengthen your trust in your own intuition, the more that this will be maximized. But don't worry, it's not too late to achieve high levels of divine clarity in everyday life. You can heighten your trust in yourself by staying quiet about your perceptions for a little while and watching life unfold. There's no need to show off how right you are.
Your patronus has nothing to prove.
Cancer (21 June — 22 July)
With Mars entering your sign you're going to be feeling much more assertive than usual, Cancer. This is going to require some adjustment on your part, as it's not necessarily something you're naturally gifted at. Unfortunately, you are likely to fail along the line somewhere, but this never a reason to surrender your power. If you can try to find some way to enjoy this intensely energizing process, you'll be a lot less stressed out overall.
Your holy mantra is "bring it on."
Leo (23 July — 22 August)
Your success this week depends on how much you're willing to think outside the box, Leo. I'm not saying you need try to be more zany or out there than you already are. But sometimes we just need a little change to keep things interesting for ourselves. It's time to elevate your perspective and take stock of your surroundings. You'll be inspired by what you see when you let yourself become present.
Your secret weapon is perceptiveness.
Virgo (23 August — 22 September)
With Mars entering the area of your life associated with friends and social networks, you're encouraged to get out and connect with other people, Virgo. It might seem like there are more fruitful ways to be spending your precious time, but trust me — this will pay off in a major way. It could even be life-changing. There's someone out there who needs your help. Or do you need theirs? Either way, it's important, so get out there and start networking.
Your sacred object connects one to many.
Libra (23 September — 22 October)
This week is about your ability to persist with an idea, Libra. You're actually pretty good at getting the ball rolling with projects, but stamina is a totally different skill set that doesn't come so easily. Luckily, you'll find a reserve of energy available to you, one which can provide you with enough extra fuel to eventually cross the finish line. Resources are available to you. Whether or not you are able to tap into them will come down to a mind game between you and yourself.
Your secret weapon is determination.
Scorpio (23 October — 21 November)
You've got free reign to allow an obsessive quest for knowledge to sweep you away this week, Scorpio. You're encouraged to jump down all rabbit holes and follow all breadcrumbs wherever they may lead you. Your natural penchant for dark subject material could lead you into some slightly odd territory, so keep an intention to keep it constructive. You can make major advancements at the moment in terms of your own psychological development. Go for it.
Your sacred object allows you to dive deeply into yourself.
Sagittarius (22 November — 22 December)
The Full Moon in your sign demands a little honesty, Sagittarius. Usually Sagittarius is one of the key jokers of the zodiac, but since Saturn began travelling in your sign in 2014, your natural sense of optimism and buoyancy has experienced significant testing. If you realize that you've become a little over-serious in the recent past, don't be disheartened. You don't have to crystallize into a fully fledged cynic if you don't want to.
Your sacred objects are a flaming arrow of truth and a new leaf.
Capricorn (22 December — 19 January)
Your usual stoicism isn't going to cut it at the moment, Capricorn. And it's time to make some room for a little unabashed sentimentality. What I'm saying is that you shouldn't make any attempt to suppress any feelings of tenderness towards others that arise for you now. If you've got your priorities straight then you'll realize how important these experiences are in terms of your overall success in life.
Your holy mantra is about how much love you have to give.
Aquarius (20 January — 18 February)
The god of communication, Mercury, is your key ally this week, Aquarius. The thing about Hermes-Mercury is that he can go anywhere. With his help, you can dive into the deepest darkest recesses of the soul, as well as reach for the ecstatic. In order to work with him you must realize the mind as a vehicle, a tool, and a divine playground. There's no need to force anything here. Recognize this powerful tool you have for what it is and fly from there.
Your secret weapon is playfulness.
Pisces (19 February — 20 March)
With Mars moving into Cancer, you're likely to experience more emotional overwhelm that you're used to, Pisces. It's important to recognize that you might also be more prone to drama than usual. If you find yourself reacting strangely, keep in mind what happens with children when they've overdone it. Catharsis is good, tantrums not so much. It's good to let it out in some way at least. Let the waters rise and let yourself be moved.
Your patronus wears their heart on their sleeve.