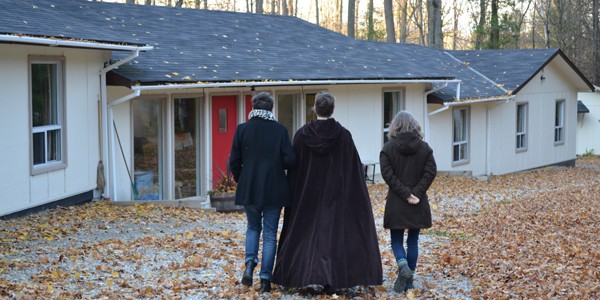 This past weekend, I took some time away from the busy grind of graduate school, city life, and editing for Spiral Nature to immerse myself in a weekend long Samhain celebration at WomynSpirit Festival. From Friday, October 30th until Sunday, November 1st, I found myself cozied up among 30 or so other women in Hockley Valley, Ontario's Ecology Retreat Centre for a weekend of creative ritual, fun workshops, great food, and some peace and quiet amongst the golden decay of the fall season.
Celebrating it's 24th year, the festival is an intimate, kind, and relaxed gathering and is perfect for anyone looking for an introduction to Paganism and Wicca from a feminist perspective. I wouldn't say that there is any one specific tradition or lineage influencing the practices of the festival, but I could definitely see the impact of a variety of perspectives on feminist witchcraft, such as Starhawk's Reclaiming tradition, or the variety of existing Dianic approaches to Wicca. That said, the festival is a women only space, and is inclusive of trans-women; an important inclusion given the history of women's spirituality, its tendencies towards essentialist ideas about gender identity, and the exclusion of trans-women from these some of these spaces and traditions. To give women-identified folks the chance to be together and work ritual as a group, is, I must say, a very powerful experience.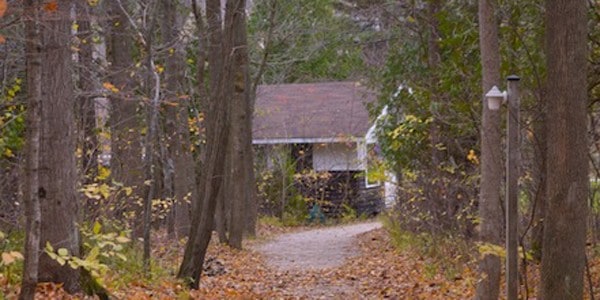 The accommodations are cozy — a main lodging cabin with rooms or two to three beds – and the participants are friendly and range in their experience with witchcraft and also their age (maidens, mothers, and crones in all aspects of their lives). 
As someone working in a ceremonial tradition, I found the festival to be an interesting compliment to that path. I saw the similarities between ceremonial ritual and feminist Pagan practices; the dramatic nature of ritual, working with the elements, and considering the dualities of darkness and light. I also really enjoyed the interpretation and re-enactment of familiar mythologies from feminist perspectives. Many of the weekend's rituals dealt with myths of descents into the underworld, whether that be the story of Innana, or Demeter and Persephone, and the rituals which activated these myths were effective, playful, and also very sincere. We were given time to not only engage with the images and ideas, but also our own minds, thoughts, needs, and one another. There is really a communal element to the rituals at WomynSpirit; participants connect with one another through the knowledge shared by ritual leaders, as volunteers in the ritual, and through collective efforts such as casting the circle, and singing songs together. While I won't go into details, I will say that I found my whole weekend very transformative, reflective, and effective in my own personal development and understanding of myself, my magick, and my ritual practices.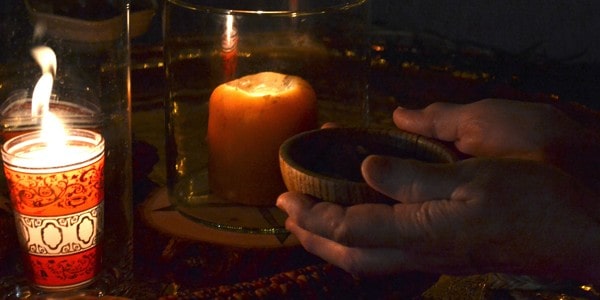 Another highlight of the festival is the amazing skill-sharing workshops led by participants in the festival. On my Saturday, I had the chance to participate in a workshop in both the morning and afternoon. Verena's wand-making workshop had both a practical and spiritual focus, and after crafting our wands, we headed outside to cleanse and consecrate them, which wrapped up the group experience in a really beautiful way. I also really enjoyed Masika's workshop on spirit, and singing, where we were instructed in a series of vocal warm ups and body stretches which allowed us to "free our voices." As well, we performed a short spiritual song together as a group, giving me some extra confidence when the time to sing during ritual came around later that night.
Other offerings included an all-levels yoga workshop focusing on breath and being, a hands-on and discussion focused workshop on masks and mask-making, a coin jewellery making activity, and a discussion of understandings of death among the ancients.
The day was full of programming and lots of options for working in groups, but the self-cared focused "morning or afternoon nap" workshop option was also highly recommended.
I found time to walk through the trails of the retreat centre, drink from the stream which runs through the centre (the centre has its own fresh water spring which is regularly tested), watch crimson and gold leaves fall through the air, and get up close and intimate with beautiful, close to bare, moss-covered trees. This really is a weekend of self-work and self-care, and while there's plenty of structure to the festival, there's also lots of freedom in how you spend your time.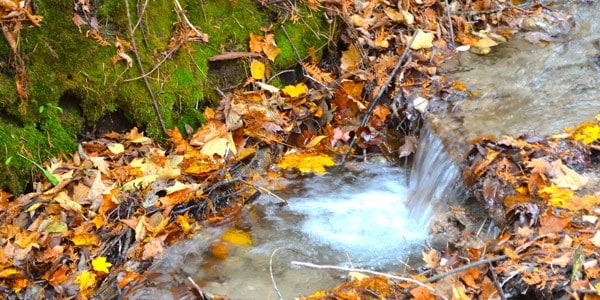 While this was my first group celebration of Samhain, it definitely will not be my last, and I hope I can find the time to visit Womynspirit in the years to come. With the 25th anniversary happening next year, I more or less can't miss it!
Image credits: Courtesy of WomynSpirit Festival