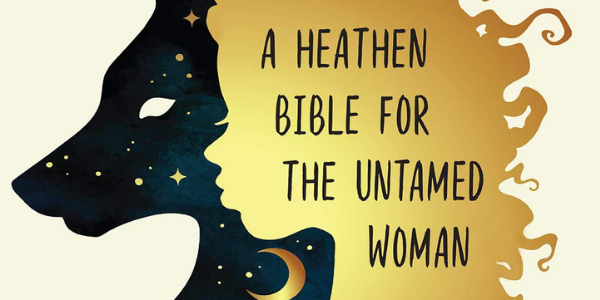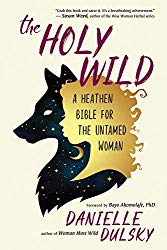 The Holy Wild: A Heathen Bible for the Untamed Woman, by Danielle Dulsky
New World Library, 9781608685271, 312 pp., 2018
Books seem to have a way of coming into my life at just the right time. Amidst one of my greatest soul leaps, Danielle Dulsky's latest book The Holy Wild: A Heathen Bible for the Untamed Woman. Over the course of months, this book became my best friend during some of my most lonely spiritual moments. The Holy Wild is a revolutionary guide for feminine empowerment that is sure to be a paradigm shifter in the history of witchcraft. In fact, I would say it is truly the way of the future with regard to spiritual development, for it links the power of our selves to the wider cosmos as a whole.
Dulsky has an incredible way of leading others, without claiming to be above them in any way. While her dedication to the path of witchcraft has clearly cultivated the experience needed to write such an awakening guide to reclaiming our own spirituali sovereignty, she preaches the need to follow your own path, your own intuition, and your own inner calling above anything else. Deeming her readers priestesses, wild women, and witches, Dulsky points to the core of one's inner wisdom and prompts them to take their own sacred journey into the wild unknown.
The Holy Wild has five sections, each focusing on the elements: earth, water, fire, air, and ether. Each section consists of three chapters. The first in each section is verses for the element. This chapter lays out the foundation of the magick of the element, delicately weaving a story from Dulsky's prose with the ancient stories of the many faces of Goddess through time. Through these verses, we come to know the form of Goddess in relationship to each element's particular quality, such as with the "Maiden of Unbridled Sensuality in the Water" verse. The second chapter in each section consists of rituals for that element. This is presented as a series of simple rituals that can be done when working with that element's energy. They don't require much other than your will, your body, and often paper to write on. The final chapter of each section is called "Magick," and here Dulsky offers a more elaborate method for awakening the magick of the element in our lives.
The rituals and magick offered are a combination of individual practice and group ritual. There are also exercises in the "Verses" section that offer writing prompts in order to get to know your own story in relationship to the element's power. I found these writing exercises to be extremely interesting and useful in reflecting on my own personal journey. For instance, one writing prompt was titled "Handwritten Verse: A Personal Myth of Desire Reborn."1 It instructed me to write about a time when I was on fire with desire for something, reflecting on how it felt to be so turned on, and whether this was approved or rejected by those around me. It also called to examine beliefs around the desire, and if I allowed it to manifest into fruition. To aid in writing, Dulsky provides sentence leads such as, "I had never been so present, so complete, and so in the flow; it was…"2 This exercise was extremely satisfying. I agree with Dulsky when she says, "When a woman writes stories of her desire, she honours her longing and validates it as integral to the feminine experience."3 Her method is so effective that even someone who feels they have no writing skills would be able to extract meaning and magick from the exercises.
Most of all, I found the rituals to be potent and effective. I liked the ether ritual called "The Five Actions of the She-Gods: Ritual Vows for the Heathen Spiral." It opens with "The Queen of the Ethereal Divine does not separate herself from any and all aspect of universal truth."4 I also enjoyed doing the full magical work for earth titled "The Lilith Mandala: A Magick Spell for Welcoming What Comes." This was a series of rituals involving manifestation magick involving that tracked my feelings, crystallizing my values using sigils and spoken word prayer as I crafted the mandala that now hangs above my bed.
The best thing about doing the exercise and rituals was that they helped me reconnect to my body and to nature. My greatest frustration with witchcraft, particularly Wicca, is what I see as a lack of true connection to the wild and primal feeling of nature. My choice to walk this path so long ago stemmed from my desire to be in deeper relationship with my own wild soul, and to build community around these values. Yet, I have not always found this in the communities I've explored. Dulsky's writing asks us to be free of conditioning, reclaim our own spiritual authority, and cultivate relationships with ourselves, each other, and nature in ways that uphold the sanctity of sovereignty.
It is also important to note that Dulsky is very aware of the experience of others outside the traditional feminine spirituality. She states in her book:
Let us not ignore the pervasive impact of colonization, appropriation, and capitalism on our spirituality or discount the unique impact of these patriarchal ills on the lived experiences of women of color, trans women, those with nonbinary gender identities, and other groups whose stories have been far less apparent in his-story than those of white, cisgender, young, middle-class, neurtotypical, and able-bodied women.5
In many ways, Dulsky's work reminds me of the pioneer Starhawk. Both witches call for a path of liberation that, while honouring the place of ritual, acknowledges that magick remains within us at all times. I absolutely love to see this sentiment being revived and passed along to a new generation. Reconnecting with the elements, honouring our relationship to the land, and establishing a community with which to stand up against injustice has, to me, always has been at the heart of witchcraft. The model presented by Dulsky is one of true spiritual democracy that honours the knowingness and uniqueness of each person above a sense of hierarchy based on initiation and degrees in a more traditional practice. The path offered is one for all, and for this reason I so deeply recommend this book to those looking to craft their own path down the Red Road of the soul, the term Dulsky uses to describe this journey.
Dulsky's writing is a true art form. I felt guided to read The Holy Wild aloud to myself, something I have never done before. During this time, you could find me sitting on a park bench, or at the beach reading sentences to the open air, such as this.
Come to the water with me, Wild One! Bear witness to my Baptism by Nectar, and I promise you will never be the same! I've filled a bejeweled pitcher with the lush and tender guts of one thousand honeysuckle flowers, and I've left behind the names I was given and the dreams that died in the cocoon long before they were born. I am initiating myself in the name of erotic righteousness. I am spitting on those who think me vulgar and shameful, and I am pouring slow-running, thick syrup on those thirsty, cobwebbed places that have gone unlicked for far too long.6
Oftentimes the words resonate so deeply that saying them out loud opened something with myself so profound that I cried. I could feel the power of Goddess surging through me with each word and it become a process of re-integration. As I was empowered by Dulsky's message, I called home parts of myself long outcast and abandoned, whether from shame, fear, guilt, or the conditioning of patriarchy. As I worked my way through this book, I felt more centred in my magick.
I refer back to The Holy Wild in times of spiritual need. For a very long time, I joked that Women Who Run with the Wolves by Clarissa Pinkola Estes was my Bible, but I can now say with full certainty that that honour has gone to The Holy Wild. It brings together witchcraft, mythology, and activism in a revolutionary way that upholds the beauty of the individual and the power of community all at once.
We must rally against racism, sexism, classism, heterocentrism, and environmental destruction. . . We must continually and willingly descend into our depths in order to retrieve the buried treasure of authentic belief, these deep knowings that are truly ours rather than those gleaming just on the surface, planted there by others in an effort to distract us from the downward, soul-bound journey where we just might harvest a necessary and destructive fearlessness.7
I highly recommend The Holy Wild to anyone who seeks to reconnect with the most primal aspects of their psyche and soul. This book encompasses the direction I hope to see the Craft take. It upholds the power of feminist spiritual activism, asks one to stand against oppression of all kinds, and honours the sacred path of one's own individual journey of healing and reclamation. I hope to hear Dulsky's words echoing in the hearts of witches across the globe.
Image Credit: N. Houlihan