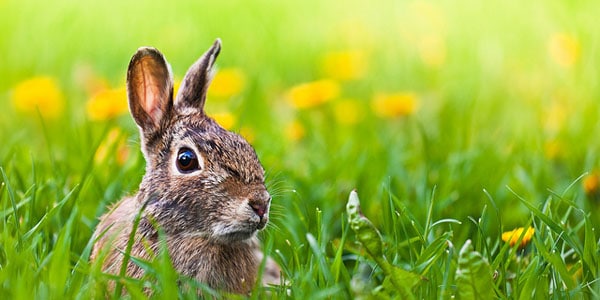 I do the happy dance at Ostara — I'm a spring baby, after all! Celebrated on the vernal (spring) equinox around March 21 in the northern hemisphere, this sabbat is associated with the Earth's renewal and fertility after the long winter. Sprouts are shooting from the ground; birds are singing again as they take to the wing on warm breezes. In the German Pagan tradition, Ostara is the goddess of fertility; the hare and the egg are her symbols, giving rise to egg decorating and the Easter bunny. Watching birds build spring nests may have been the inspiration behind weaving baskets to hold decorated eggs.
Naturally, then, the egg and the rabbit are two traditional Ostara foods. Others include all leafy green vegetables, all dairy foods, seeds, pine nuts, sesame seeds, poppy seeds, sunflower seeds, pumpkin seeds, egg salad, hard-boiled eggs, honey cakes, first fruits of the season, poultry, lamb, cakes, biscuits, cheeses, honey and ham, and edible flower dishes and sprouts. This list comes from ipagan.org, where you can find an in-depth discussion of Ostara, including additional recipes and egg decorating lore and symbolism.
Not only are eggs coloured with the delicate pastels of springtime, but, since Ostara is a time of birthing, they are traditionally decorated with symbols that depict one's goals, dreams or hopes. Once decorated, they can be used in spell work for manifestation, as depicted in this video tutorial, "Ostara Painted Herbal Egg Spell Tutorial."
I leave you with my very simple but delicious recipe for devilled eggs, my all-time favourite egg dish, and wishes for a colourful and fruitful Ostara.
Spicy Devilled Eggs
6 eggs, hard boiled
2 tbsp mayonnaise (or to desired consistency)
½ tsp paprika
½ tsp Dijon mustard
Place eggs in enough water to just cover tops of shells and turn heat on high. After water starts to boil, let cook for 10 minutes. Drain water and let eggs cool. When cool, remove shells and cut eggs in half lengthwise.
Carefully remove yolks with a small spoon and place them in a bowl. Mix in mayonnaise, paprika and mustard.
Carefully spoon some of the mixture back into the yolk holes and garnish each with a sprinkle of paprika.
Spring Sprout Salad with Homemade Honey Mustard Dressing
As adapted from Everything Under the Moon.

1 cup mung bean sprouts
1 cup alfalfa sprouts
2 cups baby spinach
2 green onions, chopped
1/2 cup slivered almonds
1/2 cup dried cherries or dried cranberries
1/2 cup mayonnaise
2 tbsp Dijon mustard
2 tbsp honey
dash of lemon juice
Place the baby spinach at the bottom of a plate or bowl, then add the sprouts. Sprinkle the top with the chopped green onions, the almonds, and the dried cherries or cranberries.
To make the dressing, combine the mayonnaise, mustard, honey and lemon juice and mix well. Drizzle over the salad to serve.
Egg-Lemon Soup (Avgolemono Soup)
As adapted from Everything Under the Moon.
12 cups chicken broth
1 cup long chicken rice
Salt to taste
4 medium eggs, at room temperature
2 tbsp cold water
1 1/2 lemons, juice
Make your favorite chicken soup. Strain broth. Bring to boiling point, stir in rice. Cover and simmer over moderate heat until tender. Salt to taste. Cool soup slightly and blend with the sauce ingredients listed above.
Separate the eggs. Beat egg white until stiff. Blend in egg yolks which have been lightly beaten. Then add water and lemon juice, beating until thick.
With ladle, add a small amount of hot broth to egg mixture, blending quickly. Pour this into soup and stir well. Serve at once.
Rabbit Curry
As adapted from ipagan.org.

Vegetarians may substitute seitan or tofu for rabbit.
1 stick butter or margarine, melted
1 onion, chopped
1 cup chicken or vegetable broth
1 tbsp curry powder
1 young rabbit, cut into pieces
1/2 cup flour
1 tart apple, chopped
2 cups sour cream
2 tsp orange peel, grated
Brush the rabbit pieces with melted butter. Dredge in flour. Salt and pepper pieces. Bake on rack, turning at least one, until rabbit is tender. Cool and then debone the rabbit.
Sauté onion and apple in remaining butter or margarine. Add 1/4 cup of flour, stirring until lumps are gone. Add chicken broth and sour cream slowly, stirring constantly. Simmer over heat until blended.
Add lemon peel, curry powder, and rabbit meat and heat thoroughly. Serve over rice.
Honey Cake
As adapted from My Witch's Kitchen.

1 cup honey
1 cup applesauce
3 eggs
1 teaspoon cinnamon
1/2 teaspoon clove
1/2 teaspoon nutmeg
2 cups flour
1/2 teaspoon baking powder
1 teaspoon baking soda
1 cup strong brewed coffee (decaf or regular)
Preheat the oven at 325 F. In a large bowl, mix together the first three ingredients.
In a separate bowl, combine the flour, baking powder, spices and baking soda.
Add the flour mixture to the wet ingredients, alternating with the coffee; beat well.
Pour into a greased 9″x 13″ pan (or, alternatively, three 8″ square pans).
Bake for 60-90 minutes for the large pan or 60 minutes for the three smaller pans, till spongy and golden brown.
Image credits: Benson Kua, Wendy Copley, Erin Collins, Allan Foster, Kirk K, and JerandSar Gimbel