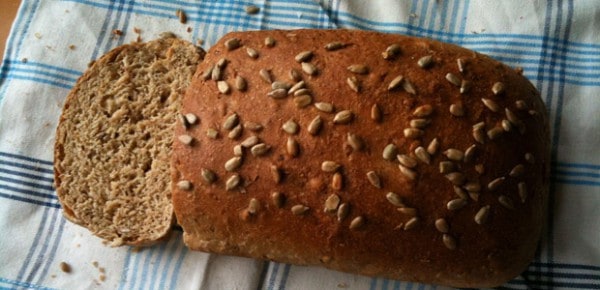 Lughnasadh, also known as Lammas, is all about giving thanks for and eating the delicious bounty of the first harvest, especially the abundant wheat, corn and berries growing at this time. It's celebrated around August 1, the first of three fall harvest festivals (the next two are Mabon and Samhain).
The Pagan festival is named for the Sun god Lugh, the god of craftsmanship and skill, who is thanked for the harvest and offered prayers for the still-ripening crops. The Bread Man symbolizes Lugh and can be used as the centrepiece of your ritual. Sometimes ritual bread loaves are topped with bits of dough shaped into corn, barley or wheat stalks.
Another name for this holiday, Lammas, comes from the Anglo-Saxon word hlaf-maesse ("loaf-mass") in commemoration of bread, beer, and all the other foods we make from grain. Making bread and beer is sometimes referred to as the "mysteries of the grain," because it requires precisely balancing earth (grain), air (bubbles), fire (baking dough or warming starter), water, and spirit (yeast) to make something edible and delicious.
Lughnasadh would not be complete without a corn husk dolly or two. My circle weaves them during ritual to honour Lugh's craftsmanship and to hold our intentions for what we'd like to harvest in the year ahead. Because it's easier to show how to make a dolly than to describe, here's a video for you to watch.1
The recipes below use traditional foods such as berries and barley that symbolize the harvest. Jellies, cider, sun shaped cookies, colcannon (an Irish version of mashed potatoes with kale and cabbage), corn, elderberry wine, grapes, honey, lamb, nuts, potatoes, and rice are other traditional Lughnasadh foods.
Blessed Lughnasadh and happy harvesting!
Recipes
The Bread Man
Adapted from Patti Wigington, About.com.
Use pre-made frozen bread dough, or, if you wish, make the dough yourself.
First, place the frozen dough on a greased cookie sheet. Spray a piece of plastic wrap with non-stick cooking spray or olive oil, and place it on top of the dough.
Place the tray in a warm place, and allow the dough to rise for several hours until it has at least doubled in size.
Once the dough has risen, cut five slits in it, so you'll end up with a head, arms and legs.
Shape the two lower sections into legs, the side sections into arms, and the top section into a head.
Bake the bread for 40 minutes, at about 350 degrees, or until golden brown.
After baking, remove from oven and allow to cool on a wire rack.
Brush the bread man with melted butter and sprinkle with herbs if you like.
Lammas Berry Soup
Adapted from The Druid's Egg.
8 oz strawberries
8 oz raspberries
8 oz blackberries
8 oz blueberries
4 tablespoons sugar (more or less)
4 cups apple juice
Crushed ice
6 cups water
3 oz tapioca or sago
Bring water to boil and add sago/tapioca.
Boil uncovered 7 minutes.
Turn off heat, cover and leave for 10 minutes more.
Rinse with cold water, strain and cool.
Remove stems from berries, wash and drain.
Save a few of each type berry, then purée then rest with sugar.
Stir in apple juice, then add 1 cup tapioca/sago mixture.
Cover and chill for at least 1 hour.
Ladle into soup plates and serve with crushed ice (or ice cubes) and top with remaining whole berries.
Lammas Corn Fritters
Adapted from Sacred Mists.
1 can corn kernels
1 cup flour
1 tsp. salt
1 tsp. baking powder
2 eggs
1/2 cup milk
1 tsp salad oil
Mix together flour, baking powder, salt, eggs and salad oil in a bowl until the batter is smooth.
Add the can (or 1 cup of fresh) corn kernels and mix well.
Heat 1/4 " of salad oil in a frying pan and drop fritters by level tablespoon full into the hot oil.
Fry until golden, turning once. Drain and serve.
Image credits: Victoria Chan, Gunna, Pat Kight
See, "Creative Lammas Corn Dolls with Coleen Renee" on YouTube. [↩]