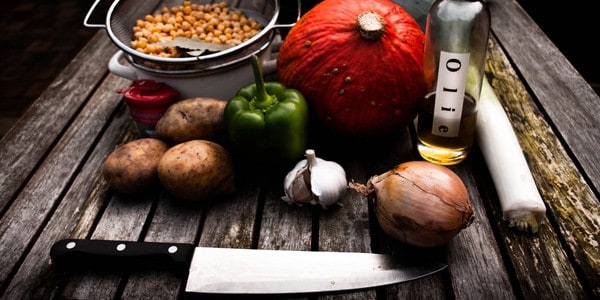 Samhain, the witch's new year falling on October 31, is the last of the three autumn harvest festivals and the most solemn sabbat of the year. We simultaneously honour the year that has passed and welcome the start of a new cycle.
At this sabbat we invite our ancestors to the harvest table, cook their favourite dishes and eat in silence at a ritual known as a Dumb Supper. During the meal, some of each dish is placed on a special plate on an ancestor altar, covered with photos and mementos of our departed loved ones, autumn flowers and leaves, and skulls or other symbols of death. You can see one set up in this video by Sara Cryptowitch.1 If you can't recall your ancestors' favourite foods, you may cook anything they'd recognize that would help you connect with them.
Besides ancestral favourites, traditional fall foods — pumpkin, squash, potatoes, and root vegetables — take centre stage at Samhain. Mead is the drink of choice; the traditional version contains alcohol but you can make a non-alcoholic version quite easily. For alcoholic and non-alcoholic recipes, see "Harvest Mead Recipe."
In times past children went carolling for soul cakes on Samhain to honour the dead. This has been translated into the modern practice of trick or treating, yet we can still enjoy soul cakes during the Dumb Supper.
Another Samhain tradition is tarot reading and other forms of divination to see what the new year holds. Charms symbolizing marriage, money, good health, happiness and so on are baked into cakes and breads, such as the traditional Celtic barmbrack bread. If you are fortunate enough to get a piece with a charm, hold onto it for the year so that the prediction comes true.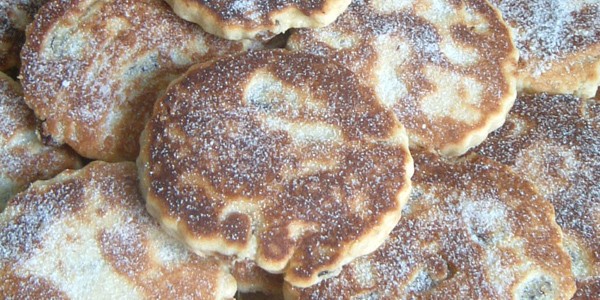 Buttery Soul Cakes
Adapted from Recipes for a Pagan Soul.
2 sticks butter, softened
3 1/2 cup flour, sifted
1 cup sugar
1/2 tsp. each nutmeg and saffron
1 tsp. each cinnamon and allspice
2 eggs
2 tsp. malt vinegar
powdered sugar
Cut the butter into the flour with a large fork. Mix in the sugar, nutmeg, saffron, cinnamon and allspice. Lightly beat eggs and add to flour mixture. Add malt vinegar.
Mix until you have a stiff dough. Knead for a while, then roll out until 1/4″ thick.
Use a floured glass to cut out 3″ circles. Place on greased baking sheet and bake 25 minutes at 350 F.
Sprinkle with powdered sugar while the cakes are still warm.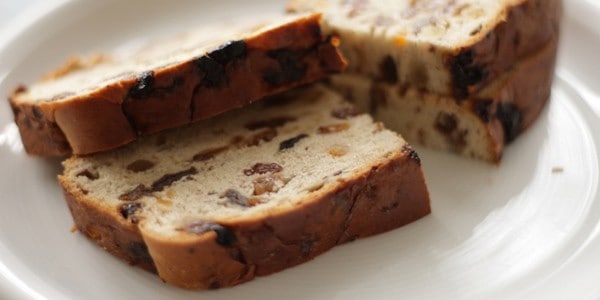 Barmbrack Bread
Adapted from Tarry's Folly.

NB: Please remember to warn your guests before consuming bread with charms.
The evening before, soak the raisins and dried fruit in the brown sugar and tea. Drain before using.
1 cup of Orange Spice tea, prepared
1/2 cup brown sugar
1 cup raisins
1 cup dried fruit
Preheat oven to 350 F.
4 cups white flour
3/4 teaspoon ground cinnamon
1/4 teaspoon nutmeg
1/4 tsp allspice
pinch of salt
1/2 stick butter
1 package of yeast
1 tsp white sugar
1 ¼ cups lukewarm milk
1 egg, beaten
Prepare the dough
Sift flour, spices and salt into a bowl. Rub in the butter.
Add the yeast to the teaspoon of sugar and 1 teaspoon of the warm milk.
Pour the rest of the warm milk and the egg into the yeast mixture and combine with the dry ingredients and the sugar. Beat well and knead until the batter is stiff but elastic.
Fold in the prepared fruit. Cover the bowl with a damp cloth and leave in a warm place until the dough has doubled. Knead again for another 2 or 3 minutes and divide between two greased 1 pound loaf pans.
Add the charms
Wrap the charms in greaseproof paper and then hide them in the dough. Be sure they are well distributed. Cover again and let rise until the dough comes up to the top of the pan (30 minutes to an hour).
Bake at 350 F for about an hour, until the top is nicely browned and the bread sounds hollow when thumped.
Image credits: Enric Martinez, Caitlin, and underclasscameraman

Sara Cryptowitch,"Dumb Supper Table for my Ancestors." [↩]