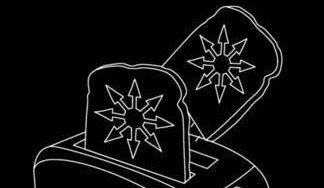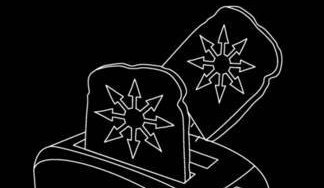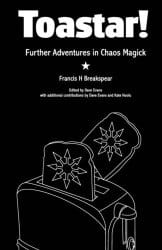 Toastar!: Further Adventures in Chaos Magick, by Francis H Breakspear
Hidden Publishing, 9780955523748, 122 pp., 2009
Francis H Breakspear was the pseudonym of the academic chaote Dave Evans, who passed in 2013. This was his third book in under this name, following Kaostar! and If It Was Easy, Everyone Would Be Doing It!1 (As Breakspear, Evans seemed inordinately fond of exclamation points.)
Both a scholar and a practitioner of the occult, Evans was a founding editor of The Journal for the Academic Study of Magic, and co-editor of Ten Years of Triumph of the Moon (with Dave Green). He was also the author of The History of British Magick After Crowley and Aleister Crowley and the 20th Century Synthesis of Magick.2 Finally, in the interest of full disclosure, he was also an occasional contributor to both Spiral Nature and Plutonica.net, and a good friend.
Evans was deeply studied in both history and lore, and moreover, he practiced what he preached. Like most old guard chaotes, he didn't suffer fools, and frequently challenged others to become more than what they were. As Francis Breakspear, he was funny, irreverent, and called out those who didn't take fun seriously enough.
Toastar! is similar to Kaostar! in that it's a loose collection of ideas, essays, and suggestions for how to take one's practice further. In true chaote form, inspiration is drawn from a wide variety of unlikely sources — Batman, medieval torture, Charlie's Angels — and features unlikely subjects like early cellphone magick, casting sigils on Frisbees, and a sincere appeal to prolong the life of Margaret Thatcher — as an act of revenge, of course.
One of the longest piece in this book is taken from a talk Evans gave for a Pagan group at a university, and it contains his notes, asides, and stage directions. It's an interesting document in and of itself. Another long piece longer piece focuses on a group Hallowe'en rite created for a Pagan group involving spiders that — for an arachnophobe like me — was scary just to read about.
Though more books were projected (a third, called EntheoStar, was to be "out soon"),  in the end, Toastar! is Evans' and Breakspear's final book. As a collection of tips and techniques to refresh one's practice, it's a fun legacy to leave.
See our reviews of Kaostar! and If It Was Easy, Everyone Would Be Doing It! [↩]
See our reviews of The History of British Magick After Crowley and Aleister Crowley and the 20th Century Synthesis of Magick. [↩]