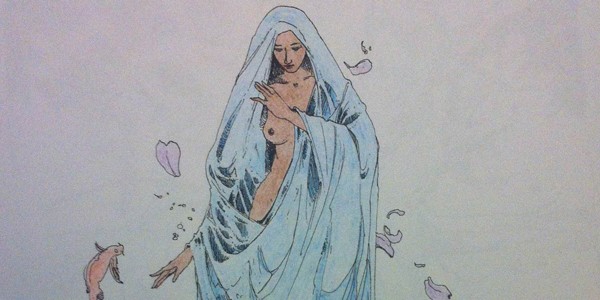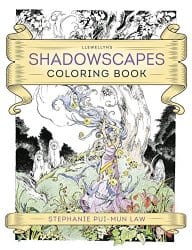 Llewellyn's Shadowscapes Coloring Book, by Stephanie Pui-Mun Law
Llewellyn Worldwide, 978-0-7387-5011-8, unpaginated, 2016
Once, in a meditation, I saw an ethereal woman in a blue hooded robe. She laid her hands on my shoulders and comforted me. The vivid blue colour has lingered in my mind — a visual echo — for years. In a moment of anxious mental cycling, I was able to put that colour on a robed woman in the Shadowscapes Coloring Book. I did not feel ethereal hands, but I did find a few moments of peace, lost in the blue folds of her robe.
The Shadowscapes Coloring Book is a good tool for calming anxiety and relieving stress. It offers a different perspective on the world introduced in Stephanie Pui-Mun Law's similarly named Shadowscapes Tarot.
Shadowscapes, in this book, is a realm of fantasy in black and white outlines. Some scenes depict moments from Sleeping Beauty or remind me of John Everett Millais' Ophelia. Theatrical masks appear in this fairyland, as do steampunk birds with exposed gears, combining human objects with nature spirits. There are mermaids and unicorns as well as turtles and birds, blending the earthly with the fantastic.
Colouring Stephanie Pui-Mun Law's landscapes, portraits, and lively scenes can help people, like me, who struggle with anxiety disorders. I find that making jewellery is slightly better than colouring for coping with my anxious feelings, but when I'm not up to working with silver wire, I can turn to my coloured pencils. The Shadowscapes Coloring Book does seem to call out for watercolours or more blendable pencils than I've been using —  I want a larger range of shades to work with, to soften transitions from one colour to the next. Ombré colouring seems to complement illustrations where humans blend into trees or animals.
The recent adult colouring book fad has partially come about because the act of colouring is similar to other mindfulness practices. Anyone dealing with stress can benefit from calming effects of colouring because colouring does not require any training. Its accessible nature also makes it a good gateway into other mindfulness exercises, like meditation. For me, having music or a familiar movie in the background while colouring increases the palliative effects. I also recommend colouring in groups, and the pages of the Shadowscapes Coloring Book can be easily removed on their perforated edges to share with your friends.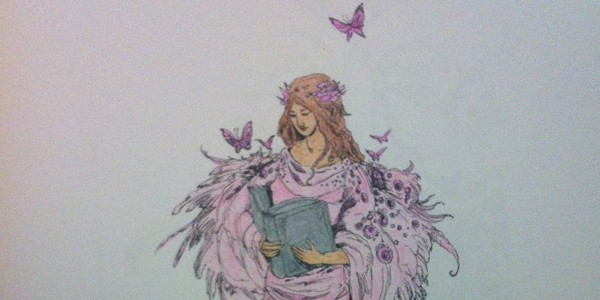 Predating both the recent adult colouring book fad and the adult colouring book fad in the 1980s is the Builders of the Adytum (B.O.T.A.) Tarot: a black and white deck that is meant to be coloured in by its owner. In 1931, Paul Foster Case crafted the booklet Highlights of Tarot with Coloring Instructions to aid students. He argues that colouring is part of a magical practice: "When you color your own cards… they are inseparably linked with you… And making the TAROT KEYS a part of yourself is one of the most practical secrets of all occultism"1.
Since I have been colouring my own B.O.T.A. deck, I initially thought that the Shadowscapes Coloring Book might include enlarged versions of Shadowscapes Tarot cards. I purchased the app version of the Shadowscapes Tarot because I wanted the ability to zoom in on Stephanie Pui-Mun Law's exquisite, delicate details, and I was looking forward to seeing and colouring 8.5 x 11 inch versions of her cards. A few of the images in the book are very similar to her tarot images, such as the piano-tree from her Nine of Pentacles, and the girl hanging out with a dragon from her Ten of Pentacles. However, the colouring book includes more landscapes, many of them horizontal, than the Shadowscapes Tarot. The woman holding the scales of Justice also holds a sword in the book instead of a feather as in Pui-Mun Law's tarot deck. A few gallivanting lions have single horns instead of the double horns the lion in her Strength card is sporting. There are other variations on her tarot images, such as several different women with dragons as well as a steampunk version of the Nine of Pentacles' piano-tree. The Shadowscapes Coloring Book expands on the orchestra in the tarot, adding a flute and violin.
Overall, the colouring book has more disorganized magick than the Shadowscapes Tarot, but this allows the reader to see the wilder parts of Stephanie Pui-Mun Law's fantasy realm. I would still love a large, colourable version of her tarot, but the Shadowscapes Coloring Book has helped me cope with my anxiety, and I recommend it to anyone who needs an introduction or addition to mindfulness practices, and as an expansion on Pui-Mun Law's imaginative world.
Paul Foster Case, Highlights of Tarot with Colouring Instructions, p. 50. [↩]