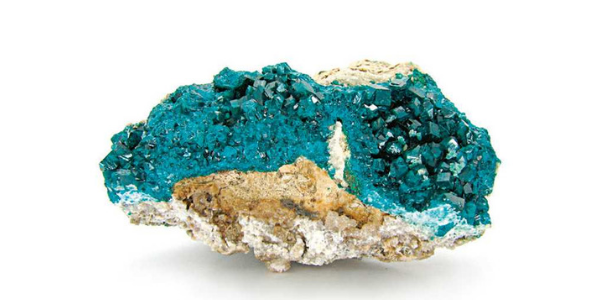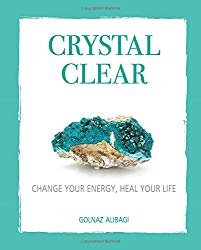 Crystal Clear: Change Your Energy, Heal Your Life, by Golnaz Alibi
CICO Books, 9781782496571, 144 pp., 2018

I have gone through many phases in my relationship to crystals over the years. At times, I can't get enough; then slowly my interest wanes, only to be stimulated again when I remember all they have to offer. Crystal Clear: Change Your Energy, Heal Your Life by Golnaz Alibagi has certainly piqued my crystal curiosity once again.
Crystal Clear is a simple, colourful book that would be suit your coffee table. It is very easy to read and filled with bright pictures throughout, which are extremely helpful. It reads almost like a picture book, yet it is jam-packed with an overflow of useful information about how the healing properties of crystals can be used for a variety of situations.
Alibagi introduces the reader to crystals and dedicates a page to cleansing them. I enjoy the methods she offers, particularly those based upon the elements. She makes suggestions such as burying your crystals in soil to reconnect them with Earth and wafting your gemstones with incense smoke to reconnect them with fire.
The chapters that deal with common concerns, such as one's romantic life, career, or health. Each has a two-page introduction to the topic that is sprinkled with crystal recommendations. For instance, in the "Home & Family" section, there are gemstone recommendations for a variety of home-related situations, such as harmony at home, moving to a new home, stopping your little one from having bad dreams, and overcoming your parenting mistakes. This pattern is followed in each section, listing possible things you may want to bring into manifestation and the crystal remedy to achieve this.
This layout makes it a practical guide to using the energy of crystals, rather than simply being a list of crystals and their properties with no practical applications. If one knows what they want to achieve, they can simply go to the section, and find advice on how to use crystal energy to bring about that result. For instance, for the goal of completing projects, one simply has to browse "Work & Career." In this example, the crystal tip for completing projects states:
Stick to your projects like icing on a cupcake by placing a Hemimorphite on your desk to help you stay motivated, and prevent you from giving up before the recipe for our success is fully baked and served.1
Also listed are alternative gemstones that can be used. I appreciate that a specific crystal was listed without requiring that I track down the purpose of multiple crystals to see which one might work best. Even when I am not sure what I want to manifest, it is fun to browse the book and think of how I may want to work with the crystal energy in the future.
I find the cute descriptions appealing; however, I can see where someone looking for a more scientific book on crystal healing properties may not like the descriptions that often feature popular culture references. For instance, the suggested method of getting a promotion states, "Everyone starts from the bottom, Jennifer Aniston was once a waitress, Madonna worked in a donut shop, and Julia Roberts used to sell ice cream!"2 I enjoy the tidbits of information Alibagi includes and I think it adds a bit of fun, while also teaching things supplementary to the crystal uses.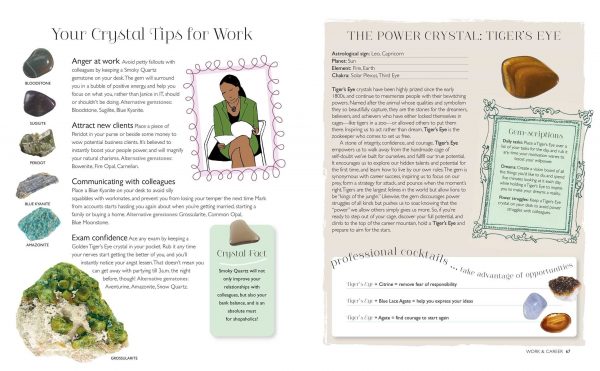 Alibagi also does close-up profiles on some crystals, such as tiger's eye, where she provides the astrological sign association, planet, element, and chakra, in addition to history and attributes of the stone. I appreciate her Gem-scriptions that offer practical ways to use the crystal. For tiger's eye she writes, "Dream: Create a vision board of all the things you'd like to do, and spend five minutes looking at it each day while holding a Tiger's eye to inspire you to make your dreams a reality."3
However, sometimes a crystal is offered for practical application for situations without any explanation as to why that crystal is best to use, such as when she writes about alternative gemstones that can be substituted. Yet, for the most part, Alibagi does a good job of explaining each crystal. It's also great for those who is hoping to make changes using the help of crystals and those who want a prescribed way to do this.
At the end of the book, Alibagi has a stock list for the reader (including different websites are offered for purchase of the crystals) and a list of resources featuring other books to learn more about crystals. Also included is an extensive A-Z list of crystals that includes information about their associated star sign and chakra.
Overall, Crystal Clear: Change Your Energy, Heal Your Life is very appealing. Sometimes I get a bit distracted when diving into the properties of crystals and can get overwhelmed in trying to learn how to use their energy, but Crystal Clear is a super fun read. I now use it a go-to when I want to achieve certain things. So far, I've used tips for attracting new clients and detoxing — both which had fantastic results! I highly recommend this book for those who are hoping to add a bit of crystal magick to their lives.
p. 68 [↩]
p. 83 [↩]
p. 67 [↩]