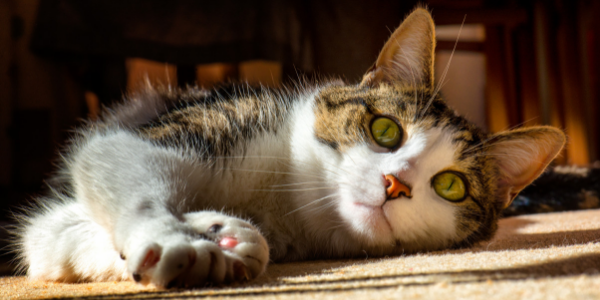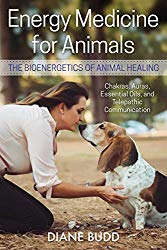 Energy Medicine for Animals: The Bioenergetics of Animal Healing, by Diane Budd
Findhorn Press, 9781620558409, 192 pp., 2019
I have lived with animals most of my life, and I learned many techniques to heal and help my animal companions. Because they are part of my close knit family, animal healing holds as much importance as human healing. Energy Medicine for Animals: The Bioenergetics of Animal Healing has provided a variety of new tools for me, and a reminder of tools I had already been using. It is an excellent entry point book for someone interested in learning about the Bioenergetics of Animal Healing.
I knew a little about human healing when I became a mother, and then I jumped in to learn how to help and heal my daughter. Propelled by the same stimulus, love and care, I have actively sought information and instruction on healing and helping my animals.
These days I live with with two felines, and a canine. My cats are brothers from the same litter, almost four years old, and my dog is a 15 month old female golden retriever. Because my animals are sources of unconditional love, I have learned to do whatever I can to keep them safe, healthy and happy.
Following the preface and introduction, the nine chapters include titles that organize the information on different modalities of animal healing, including chapters on auras, chakras, colour, energy fields, essential oils, and past lives.
Not limited to just one kind of animal, Budd includes specific information on horse, dog, and cat energy fields, as well as chakras, and how each animal communicates. Interspersed throughout the chapters are case studies that tell the stories of some of the animals she has treated: outlining their symptoms, her diagnosis, the subsequent treatment, and the results observed in the animals' health and well-being. I found the case studies suitably illustrative of the techniques she describes and recommends.
Another aspect of the book that I enjoyed were the line drawings of animals showing what their auras and energy looked like, and where to find the chakras on each animals' anatomy. Having done energy work with my own animals, I felt attuned to what was presented, and appreciated the illustrations.
The chapter on essential oils and zoopharmacognosy (self-medication by animals), was eye opening, and it provided me with new information that augmented what I already knew. I have used homeopathy, essential oils, and herbs successfully with my animals, but previously had always used a pendulum to decide what to administer. Budd introduced the idea of letting animals self-select their medicine. She writes, "Zoopharmacognosy gives domesticated or captive animals the opportunity to self-medicate by offering them a variety of plant extracts."1 This practice empowers animals to self-manage their own health and treatment.
I liked the acknowledgement the author gave to animal instinct and wisdom, and their ability to know what to do to care for themselves. Because I know how intelligent and instinctual my animals are, I was grateful that Budd paid attention to their ability to choose, and be involved in their own healing.
What Budd termed "high sense perception" (HSP) intrigued me. It gives a sense of "what a psychic or sensitive might see when using HSP to work with an animal."2 With drawings and descriptions she outlines what different common ailments look like when she scans an animal. Her notes include information on scar tissue, arthritis, PMS, and even cancer.
The chapter on animal communication offers a variety of techniques that are useful for animal communication, including empathy, telepathy, meditation, and visualization. I was happy to read through the different practices, and recognize that many of them were simple enough that many readers would be able to use them.
Most of all, Budd recommends using our love for our animals to help us to attune to them, listen to and understand what they are communicating, and to guide our response for their well being. With a range tips for working with a variety of kinds of animals Energy Medicine for Animals is something that everyone who has a pet, service animal, companion, or working animal will find helpful.
Whether you are a beginner to animal healing, or like me, you have been practicing it for years in a variety of ways, Energy Medicine for Animals: The Bioenergetics of Animal Healing will offer information, advice and techniques to further your practice.
Image credit: Ian Livesey
p. 105 [↩]
p. 123 [↩]