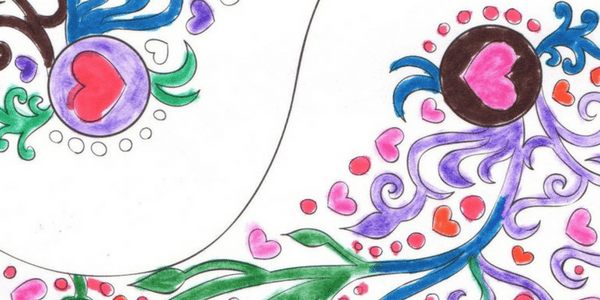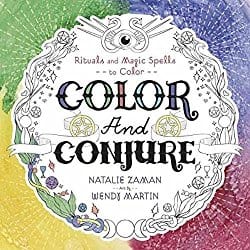 Color and Conjure: Rituals and Magic Spells to Color, by Natalie Zaman, art by Wendy Martin
Llewellyn Publications, 978-0-7387-5232-7, 176 pp. (incl. appendix and bibliography), 2017
You can be sure that a romp through Natalie Zaman's literary world will always be delightful. Color and Conjure continues the tradition, with a colouring book full of lively writing and useful spell work. Wendy Martin's illustrations carry the mood of Zaman's writing, as intricate or as simple as they need to be, often with a touch of whimsy.
In a short introduction, Zaman describes colouring as "a marvelous focusing tool." She writes that "coloring can be downright charming — literally: Infuse a few well-chosen words into a coloring page and add some esoteric correspondences and you have the makings of a personal ritual where the mind can create miracles."1 There are quite a few miracles to be had in the pages that follow.
The book is divided into two main parts, 10 chapters explaining the spells followed by colouring pages corresponding to each spell, closing with a bibliography and author and artist bios. Every page in the first section is decorated with a vignette from the colouring page and suitable for colouring. The paper stock is quite heavy, so there is no bleed-through even with markers, and each page is perforated, so you can remove the spell and its corresponding illustration, which alleviates the need to flip through the book as you work with it.
Zaman offers spells for money, family, love, protection, health, creativity, personal power, spiritual growth, magick and nature, and awakening the chakras. Chapters are separated by illustrated pages on which Zaman has written an incantation related to the upcoming section, and can also be used as colouring spells — bonus magick!
Each chapter contains four to seven spells in that area; for instance, the money section is comprised of "Send Ca$h," "Put Me to Work," "Pygg, Make Bank!," "Share the Wealth," and "Sell This House." Zaman describes each spell, using metaphysical correspondences from astrology, the elements, crystals, moon phases, even the properties of different teas, and of course, colours.
Each spell directs you to the appropriate colouring page. For instance, the Tree Oracle spell2 describes how to use the coloring page3 to make a divination tool from the nine sacred trees illustrated there. Zaman names the trees and what they symbolize in the spell description, and then instructs you to drop a penny on the illustration and see where it lands to receive guidance.
The bibliography, "Resources for Adapting and Enhancing Your Spells," lists several reference works on colour magick, crystal magick, magical herbs, lunar magick and basic spell work. If you want to experiment with these additional resources, I recommend photocopying the colouring pages so you can use each spell over again.
Natalie Zaman first demonstrated her fun-loving yet informative writing style in Magical Destinations of the Northeast, reviewed last year on Spiral Nature Magazine.4 Readers can again enjoy it in Color and Conjure, while flexing their own creative and magical muscles. The efficacy of magick is so much enhanced by laughter and pleasure, and this colouring book does not disappoint.