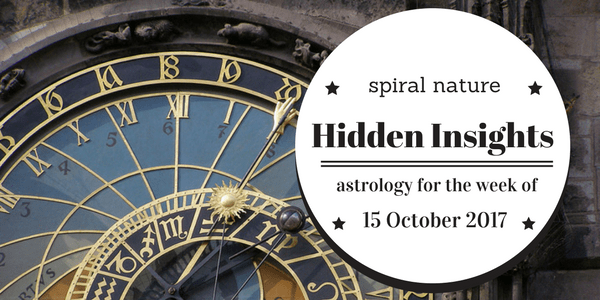 We begin this week with an exact Mercury-Uranus opposition in the signs of Libra and Aries testing our communication skills. Fortunately, Venus enters home sign Libra at the same time, reflecting a period where harmony and tact becomes more important to us than being precise. Hidden Insights has advice for a week where our best course of action must be both radical and compassionate.
Fleet-footed Mercury exactly conjoins Jupiter, now in Scorpio, on Wednesday, 18 October and they remain in orb (within a few degrees) for the remainder of the week. We can achieve deep, expansive, and penetrative insight with this combination. On Saturday 21 October, the Moon will also be in Scorpio, adding extra emotional intensity and profundity to our experiences.
Before that, though, we have the New Moon in Libra at 26 Libra. It's the perfect time to set intentions around the theme of interpersonal harmony, and the expression of grace. The New Moon will be opposed to Uranus in late degrees of Aries. This could be a game-changing lunar month, so it pays to be as radical as possible.
Mars and Wounded Healer Chiron are also engaged in an opposition aspect throughout this whole week in Virgo-Pisces. Virgo is the sign of the nurse. Health and well-being issues linked to our everyday habits (Virgo) and our psyches (Pisces) could experience the inflaming influence of Mars. We must treat ourselves extra tenderly and commit to consistency in regards to self-care — or suffer the consequences.
Here's a look at what's coming up for your sign this week:
Aries (21 March — 19 April)
You're encouraged to listen more than you speak this week, Aries. Communicative Mercury in tactful Libra opposing groundbreaking Uranus in your home sign implies that it's possible to achieve a kind of radical diplomacy. Note that I said "possible." Gaining the boon of this aspect requires total commitment in the face of uncomfortable truths and unpopular opinions.
Your patronus leads with intelligence and compassion.
Taurus (20 April — 20 May)
One of your many gifts is your connection to the physical world, Taurus. Now that planets are starting to line up in the opposite sign of Jupiter, it's becoming increasingly important for you to go deeper. Don't worry, you're not being asked to surrender the physical realm for something more esoteric. You are, however, being invited to incorporate the emotional dimension into your experience.
Your sacred ritual opens you to the possibility of more fulfillment than you think is possible.
Gemini (21 May — 20 June)
There are going to be big, ongoing lessons regarding how you can be of service to the world on offer for some time, Gemini. This is thanks to Jupiter, now in Scorpio, where it will remain for the next year. This transit is about expanding your sense of meaning and finding an ever-deepening sense of purpose, especially relating to work. Your chosen work in the world is informed by many factors. Not all of them are likely to be rational.
Your secret weapon is: Your ability to think laterally.
Cancer (21 June — 22 July)
Now that the planets are all lining up in fellow water-sign Scorpio, you're encouraged to "go there" emotionally, Cancer. In fact, I can almost guarantee that you're going to experience some huge creative wins if you're willing to lean into some of your least-desirable emotional territory. If you're confused as to what I might be talking about, the sign to watch for is general aversion to risk that you've no rationalization for.
Your patronus knows the odds are in their favour.
Leo (23 July — 22 August)
You're going to be faced with the reality of needing to attend to your root system, dear Leo. A plant will only thrive when it's given nourishment and care. Of course, their ultimate success is also dependent on external factors that are beyond anyone's control. But now's not the time to be concerning ourselves with what might happen later on. Now's the time get grounded, to find home and a sense of connectedness wherever you are.
Your sacred ritual brings you down to earth.
Virgo (23 August — 22 September)
If you're at all interested in accessing the reserves of great power within you, then you'll have to be willing to speak your truth, Virgo. With Jupiter and Mercury in Scorpio, communication is both profound and precise. It's a sword that cuts deeper and unleashes more emotion than you might be consciously willing to contend with. But resisting this opportunity is unlikely to take you where you want to go, either.
Your sacred weapon is: Honesty.   
Libra (23 September — 22  October)
The New Moon in your sign, along with your own birthday, is your personal New Year, Libra. So with that in mind, perhaps it's the right time to consider some personal resolutions. I think that this year could be one of your biggest and best yet, especially if you're committed to harmony at both the personal and interpersonal level, and willing to take a leap of faith out of your comfort zone every now and again.
Your patronus faces the future fearlessly.
Scorpio (23 October — 21 November)
There are many ways in which the abundance of planets in your sign could manifest for you, Scorpio. My expectation is that no matter how it does, there will be some element of confrontation involved. Certain doors that are usually locked are more likely to be suddenly flung open, giving you the chance to assess their contents, but also likely leaving you more exposed and vulnerable. Try to enjoy it.
Your sacred ritual accepts your own darkness and whatever you find there.
Sagittarius (22 November — 22 December)
If you've been feeling unlucky recently, Sagittarius, then it's time to start considering how you might make your own luck. Alternatively, if you've been experiencing an influx of good fortune recently, then it's worth your time to figure out what you might be able to do to continue the momentum. Either way, the point is that a certain amount of your success is absolutely in your own hands.
Your ritual objects are anything that makes you feel lucky.
Capricorn (22 December — 19 January)
There's some idea that you need to lay to rest, Capricorn. The New Moon in Libra provides you with an opportunity to begin anew in terms of worldly success. Before launching ahead, you must take time to acknowledge the doors you're closing and why. It's always good to know where you stand and what your values are. In this instance, it helps you to leave any unnecessary baggage that could weigh you down behind you, where it belongs.
Your patronus has very sound reasoning for their decisions.
Aquarius (20 January — 18 February)
The New Moon in Libra reflects that you're undertaking a journey of some sort, Aquarius. Whether that reflects a real-world adventure or a mental transition will depend on your own circumstances. Either way, you can expect two things: That you will need to draw on all your powers of resilience to get to your destination, and that by the time it's over you will be totally transformed.
Your secret weapon is: Endurance.
Pisces (19 February — 20 March)
This is a golden opportunity, Pisces. The New Moon in Libra shows that it's time for you to attempt to relate to the deepest aspects of your own consciousness in a novel way. Philosophical Jupiter in intense Scorpio tells a similar story — essentially that your worldview is up for major review. The best approach is one that at least accepts that you are evolving. The worst would be to deny that anything needs to change.
Your sacred ritual helps you catch the wave.