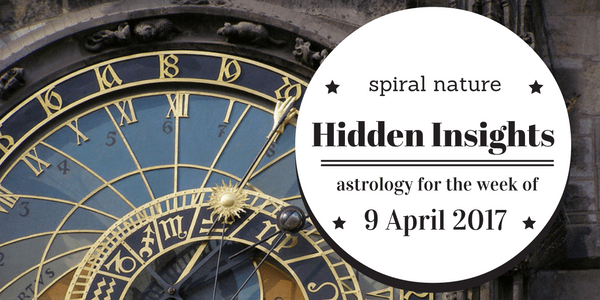 Last week with Hidden Insights, I described April as a time of "stirring the pot." We have four planets retrograde — Venus, Saturn, Jupiter, and, as of today, Mercury, along with Aries' fiery signature over top of it all.
Even though all the planets go retrograde at some point, Mercury seems to get all the attention. It will go retrograde in Taurus on Sunday, 9 April 2017 and go direct on Wednesday, 3 May 2017 in Aries.
Retrogrades have a way of bringing things up to the surface. They show us the flaws in our plans. They make us see things we might have been blind to. They also make us own up to what we have been afraid to face.
Mercury retrograde in earthy Taurus can prompt us to pause about our connections to love, money, sensuality, and the body. Just as Venus retrograde has been digging up similar themes, this Mercury retrograde can push us to consider new horizons in how we are treated, and how we treat ourselves.
But the flip side of it is that Mercury retrograde can also be like a pause button. Big decisions might not be easy to make in the weeks to come. Don't push yourself to create change if the time doesn't feel right. It's always important to trust your hunches and develop your own timing.
We also have a Full Moon in Libra on Tuesday, 11 April 2017, which will also bring to light any imbalances that must now be corrected.
Unexpected thoughts and feelings can get stirred up this month. Don't take anything for granted. Don't trust that any one direction is permanent. Change is most certainly in the air. Remember that we are under the influence of Aries, and spring is a season of new growth. Chapters will open, but others may need to close first.
Here's a look at what's coming up for your sign this week:
Aries (21 March — 19 April)
Are you even aware of your power, Aries? Do you know what you hold within? Sometimes others can see your magic better than you can. You're living it, you're in it, you don't even have to summon it. So what do you think it looks like? This week, I encourage you to find out what shape your power takes, and then decide how you can consciously harness it.
Suggested rune for the week: Uruz
Taurus (20 April — 20 May)
A moment of truth might come up for you this week, Taurus, and you might be the one to have to say it. I see you staring back at your own reflection asking, "Who am I, and how did I get here?" When the answer comes, are you satisfied with it? Don't be afraid either way. Just do what you have to do from there.   

Suggested rune for the week: Jera     

Gemini (21 May — 20 June)
With your ruler, Mercury, going retrograde this week, you might want to use the coming days to look at whether your actions match your intentions. For example, do you talk about your wishes and plans more than you work towards them? Or maybe it's the opposite, where you are in constant motion but have lost sight of why you're on this path in the first place? Now is the chance to get re-aligned, mind, body, and soul.
Suggested rune for the week: Raido   
Cancer (21 June — 22 July)
Get ready to break yourself open, Cancer. Don't shy away from any emotional floodgates that come up for you this week. Sure, it might be tempting to erect a dam as fast as possible to save yourself the trouble, but if you're willing to swim in the depths these days there is some incredible healing waiting for you on the other side.
Suggested rune for the week: Hagalaz          

Leo (23 July — 22 August)
Are you right where you want to be, Leo? Even if everything is feeling just right, I think there's a good opportunity for you to sit down this week and map out some of your next steps. You won't be at this place in life forever, and I get the sense that the universe is ready to whisper some pretty important clues to you this week about what's to come. Start listening.
Suggested rune for the week: Sowilo

Virgo (23 August — 22 September)
How you treating yourself these days, Virgo? You have a keen sense of what you need, and certainly know how to care for others, but are you taking your own advice? In the weeks to come, I think there are some opportunities for you to look at your relationship to yourself. What needs to improve? What's going really well? What's making you comfortable in your own skin?
Suggested rune for the week: Nauthiz
Libra (23 September — 22  October)
How well does your current life align with your spiritual needs, Libra? Don't despair if you're feeling out of synch with the universe somehow. You might be questioning your purpose right now, but treat that uncertainty as an opportunity to have a new dialogue with your life as it is. Look at what's working and what isn't. You might not know how to change it just yet, but sometimes it's enough just to put the questions on the table.

Suggested rune for the week: Mannaz

Scorpio (23 October — 21 November)
Flow: That's your word for the week, Scorpio. Let your creative and intuitive channels open up and just let yourself receive. Your intuition is always strong but this week you can really invite in a new level of connection if you're ready for it. With so many planets retrograde right now, it's the perfect time to soak up some new insights and see where they might lead you.
Suggested rune for the week: Dagaz    

Sagittarius (22 November — 22 December)
Your ruler, Jupiter, has been retrograde since early February, bringing unexpected luck as well as insights into how you may need to expand in your day to day life. This week offers an excellent opportunity to take some time to reflect on what's been coming up for you in the past couple months. Where are you ready for a challenge? Where are you ready to experience more ease? Start with those questions and see where the answers may lead.
Suggested rune for the week: Gebo
Capricorn (22 December — 19 January)
Where are you holding yourself back, Capricorn? Where are you being too shy, or too humble? Where are you moving too slow? Where are you feeling disconnected or disorganized? Use the coming weeks to sort all of this out. You'll come out of it feeling stronger, clearer, and more determined than ever.
Suggested rune for the week: Othila

Aquarius (20 January — 18 February)
It's not easy to be ahead of your time, Aquarius. You aren't made for everyone, and that's okay. In fact, I think it's time to turn it into one of your greatest assets if you haven't already. How can you make your quirks into super powers? How can you take your most off-beat ideas and turn them into your life's mission?
Suggested rune for the week: Wunjo
Pisces (19 February — 20 March)
Be careful about what you say this week, Pisces. You might not come across quite as clearly as you'd like, especially if you're feeling pressured to make certain decisions before you're ready. Remember that you still have control. It's better to put something off than to make a commitment you're not prepared for.

Suggested rune for the week: Thurisaz