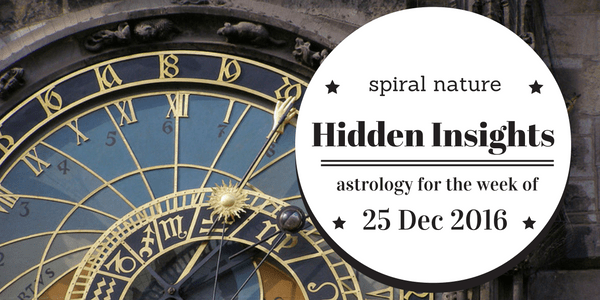 How will you say goodbye to 2016? As we move towards the final days of the year on Hidden Insights, it's an important time to take stock of what was accomplished, and what needs to be left behind.
The New Moon in Capricorn arrives this Thursday, 29 December 2016. For Capricorns, this can act as the start of your astrological New Year. But it can also be an important marker for each of us. New Moons are potent times to set new intentions and commit to new initiatives.
Whether you subscribe to New Year's resolutions or not, you might want to tune into what ideas or possibilities are inspiring you this week. Capricorn is symbolized by the mountain goat, always climbing to new heights. This is a sign marked by ambition and drive, a consistent urge to continue to rise above what was and focus on what is yet to be.
Uranus also goes direct this Thursday. It's in Aries, and it's been retrograde since the summer. For some, this has been bringing up some strong, internal pressure to make serious change. Uranus reminds me of the Tower card in tarot; it carries an "expect the unexpected" quality.
And these past several months has had that energy focused inward; now, as we head into a new year, the realizations and lessons that have come up as a result can help to push us off in new, exciting directions.
Here's a look at what's coming up for your sign this week:
Aries (21 March — 19 April)
Take it easy this week, Aries. Even though it may be hard to believe, you don't always have to be doing something. Keep your phone off. Stop checking your email. Borrow a line from the '90s cult flick Reality Bites and turn your place into a "den of slack." Well, at least until Thursday. Because I think you're going to be ready to start 2017 early, but you'll need to be well-rested for what's in store.
Your anthem of the week: "Road to Nowhere," Talking Heads
Taurus (20 April — 20 May)
Does your to-do list line up with what's most important to you, Taurus? If so, your work for 2016 is done. If not, I strongly suggest you fix that before we ring in the New Year. Because there looks to be a bit of friction between your head and your heart this week, and this isn't going to be fixed by crossing a few items off your agenda. You might have to do some serious soul-searching in the coming days, but it can lead to great creative change if you allow for it.
Your anthem of the week: "It's My Life," Talk Talk
Gemini (21 May — 20 June)
The universe is shining a spotlight on you this week, Gemini, though that doesn't necessarily mean that it will come to you in the form of attention or accolades. Instead, I think it would be wise for you to pay attention to any nagging suspicions, ideas, or thoughts that seem to keep coming up for you. Synchronicities and signs will also be helping to point you towards a small but important inkling that will help you to get a glimpse of what's to come in 2017.
Your anthem of the week: "Steppin' Out," Joe Jackson
Cancer (21 June — 22 July)
Are you familiar with the Moon card in tarot? If not, I would suggest you study it a little this week, Cancer. Typically depicting two canines beneath a big, Full Moon, it holds a certain mysterious duality to it, as it's not always easy to know whether this card is indicating a dark night of the soul, or total, uninhibited abandon. Which of those paths might you choose to walk down in the days to come? It's your call as to whether you want to spend the remainder of 2016 howling at the Moon, or hiding under the covers.
Your anthem of the week: "Alive," Pearl Jam
Leo (23 July — 22 August)
Capricorn might be getting its time in the spotlight right now, but that doesn't mean you can't climb high, too, Leo. And I think that's exactly what you should be aiming to do, especially when the New Moon in Capricorn rolls around this week. Get out your day planner, your vision boards, your wish lists, and anything else you might need to map out your year to come. I think your visions for the year ahead are going to be some of your boldest yet.
Your anthem of the week: "Don't You (Forget About Me)," Simple Minds
Virgo (23 August — 22 September)
"Clouding of consciousness" is another term for brain fog, that feeling you get when you just can't seem to focus on anything. You might feel tired, confused, and muddled. If you're feeling particularly foggy this week, Virgo, I suggest you latch onto the idea that you are living through a clouded consciousness right now. Instead of fighting it, why not sit back and see what comes up, or doesn't? Similar to looking for cloud patterns on a beautiful summer day, I think this might be a chance to let yourself daydream a little more than usual.
Your anthem of the week: "Feelin' Groovy," Simon & Garfunkel
Libra (23 September — 22  October)
Test your luck this week, Libra, especially when it comes to the concept of personal re-invention and self-expression. I think there's a gamble that's waiting to be taken, but it's something that can flip your view of yourself on its head. So just be ready to accept the consequences of your actions. That may sound like a big commitment, but I think the risk alone will be worth any reward.
Your anthem of the week: "Bad Reputation," Joan Jett
Scorpio (23 October — 21 November)
You typically have an uncanny sense of self-awareness, but this week you might want to be careful that you're not closing yourself off from it. Something could feel like it's stifling your voice throughout the week, and I have a feeling you might be the culprit. So be sure to stay in dialogue with yourself in the days ahead, even if something is coming to the surface that you'd rather not see right now. It's a good time to stay grounded and get real.
Your anthem of the week: "Dancing With Myself," Billy Idol
Sagittarius (22 November — 22 December)
You are symbolized by the archer, Sagittarius, and for you, this week is the time to decide where to focus your aim in 2017. The past year might not have always felt as free and easy as your spirit would typically hope for, but those reality checks were put in place to ultimately help you harness your energy in a whole new way. Think back to how far you've come, and what you can still accomplish.
Your anthem of the week: "Spirit Walker," The Cult
Capricorn (22 December — 19 January)
This is an important week for you, Capricorn. It's time for you to look at what your ambition is pointing to next. But something about this might feel a bit slippery this week — don't worry if you can't quite get a handle on it all just yet. Remember that Mercury is still retrograde, so you don't have to take action just yet. Instead, use this time to hone in on some goals that truly come from the heart this time around, not just the head.
Your anthem of the week: "Dream On," Aerosmith
Aquarius (20 January — 18 February)
Your ruler, Uranus, goes direct this week after being retrograde since July. You might have found that things didn't always quite move as fast as you would have liked, or that when an opportunity came your way, it wasn't quite what you were expecting. Take heart. Things are going to start to turn around just in time for you to ring in 2017 with renewed optimism. In the meantime, I suggest you write an obituary to the year that was. It's time to say your final goodbyes.
Your anthem of the week: "Black Planet," Sisters of Mercy
Pisces (19 February — 20 March)
: What's coming for you, Pisces? If you stop and listen, I think you might be surprised that it's your future self. What do you look like? Do you recognize who and what you're becoming? I hope so. I hope that what you see reflecting back is someone who is strong, confident, and ready for anything. Because those are the qualities that you'll want to nurture as we move into the New Year. Rise up.
Your anthem of the week: "Good Vibrations," The Beach Boys