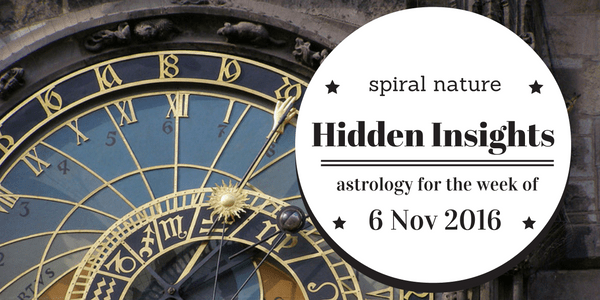 This week in Hidden Insights, Monday, 7 November 2016 brings the Samhain crossquarter day. The Sun will be at 15 degrees Scorpio, the halfway-mark for Scorpio season. It's also the first-quarter Moon, occurring in the innovative sign of Aquarius.
Think back to the intentions you set during the New Moon in Scorpio last week, on 30 October. What are hoping will take shape in the month head? What actions can you take in the coming days to help bring your intentions into reality?
With the Moon still waxing, the time is right for intention-setting and spellwork that is invitational and proactive.
If you tend to operate as a lone wolf and have been thinking of creating a stronger community for any magical workings, or other potential collaborations overall, this is a great to start putting feelers out there. On Wednesday, Mars moves out of earthy Capricorn and into airy Aquarius.
This shift in our universe's fiery, cosmic warrior has some great potential for personal shifts to take place. With Mars in Capricorn, we've had a chance this fall to connect to our ambitions and goals, and the stamina needed to see them through.
But now, Mars enters into sociable Aquarius. We're getting out of our heads and starting to share and communicate our hopes and dreams with the communities we feel most connected to. Ruled by Uranus, Aquarius brings a certain level of rebellion and unpredictability with it, though I find it's often friendly all the same.
If you have a ground breaking idea, now is can be the time to start to think of who might be able to help you make it a reality.
Here's a look at what's coming up for your sign this week:
Aries (21 March — 19 April)
"Well you're in your little room and you're working on something good, but if it's really good you're gonna need a bigger room," Jack White sang in the White Stripes' early hit "Little Room." What kind of room do you think you'd like to work in, Aries? I think it's a good question to start to think of, because when Mars moves into Aquarius this week, you're going to feel ready to expand in the weeks to come. In the process, see you asking big questions about who and what you are truly meant to serve as you walk your path. You're poised for some breakout moments, and the time for them is coming.
Suggested tarot card: The Magician
Taurus (20 April — 20 May)
Let your mind wander, Taurus. There is magick in the air for you these days, but you'll miss it if you're too caught up in details of the day-to-day. Is this practical advice? It might not sound that way, but you never know where one piece of inspiration can lead you down the road. And I think that right now, you're sitting on a potential goldmine of possibilities that are floating around in the ether, waiting for someone like you to pluck them up and make them real. So don't let life's mundane details drag you down too much this week. Daydreaming is key for you, and its future payoff is imminent. Pay attention to the ideas that come your way these days.
Suggested tarot card: Seven of Cups
Gemini (21 May — 20 June)
Who are you, Gemini? Scorpio season has been doing some interesting things to you. Don't worry if you're not yet ready to share them with the world. If you feel inclined to harbour a piece of personal treasure this week, please feel free to don whatever masks you feel are necessary. You might even be so inclined as to try on a different identity, just to see how it might feel to be someone else for a day. Experimentation is high for right now because of some deep transformations that are taking place at a soul level. Dare yourself to play, but don't feel the need to explain yourself as you do.
Suggested tarot card: The Fool
Cancer (21 June — 22 July)
I've been advising you to pay attention to any dreams or omens that come to you these days, Cancer, and I see that this is still advice you need to heed at this time. If you want to initiate a deep, psychic experience for yourself, these are the days to do it. I feel like you on the cusp of some great magick. I'm picturing you standing on the edge of a portal, about to step through to the other side. What are you hoping to find there? Go deep right now, Cancer. A magical path is calling to you, and it begins with the discovery of your own personal power.
Suggested tarot card: The High Priestess
Leo (23 July — 22 August)
Where is your path leading you, Leo? As a fire sign, you'll certainly feel Mars' move from Capricorn into Aquarius this week. I have a feeling that this shift is going to push you to really start making traction towards some important, personal priorities. But I don't see this being all about you. No, I think you have the opportunity to affect change within your immediate circle, as well. Those around you are going to be getting a boost, too, because of the presence and enthusiasm that you're ready to bring forward. If ever you needed to get someone on side with you to share or support a vision, this is the time to ask for it.
Suggested tarot card: Ten of Cups
Virgo (23 August — 22 September)
What are you holding most dear these days, Virgo? I get the sense that your priorities are due for a re-assessment. Are you hanging on to something that was once important, but you've since outgrown? Are you kowtowing to a certain person or collective that you just don't jive with anymore? Your energy is best spent — and most appreciated — when it's being poured into the places and the right people. If you're feeling well aligned in that area, then good stuff — carry on. If not, however, then this week brings you the perfect opportunity to step back and re-evaluate the situation.
Suggested tarot card: Queen of Swords
Libra (23 September — 22  October)
"When your desires are strong enough, you will appear to possess superhuman powers to achieve,"  Napoleon Hill writes in his breakout book Think and Grow Rich. I share this quote with you because I think you have some superhuman powers of your own to tap into this week, Libra. Just be careful not to over-promise, over-commit, or over-deliver in the process. People might be attracted to your strength, your confidence, and your positive vibes — all coming through loud and clear thanks to Jupiter's influence — so be careful how much energy you're expending on others, and how much you're saving for yourself at the end of the day.
Suggested tarot card: Queen of Pentacles
Scorpio (23 October — 21 November)
The underdog is your spirit animal for this week, Scorpio. Who might that be for you? It could be a friend, or an artist you highly admire but who never seems to get their due. Or maybe you feel you're the underdog, and you're ready to step into the spotlight. Whatever this may mean for you, I think this would be a good week to help bring some necessary attention to a worthy person, cause, or work of art. No one is more connected to the shadows than you are, which makes you the perfect candidate to help draw out some of the hidden gems lingering in the darkness.
Suggested tarot card: Six of Wands
Sagittarius (22 November — 22 December)
Watch your creative impulses the week, Sag. It looks like you are going to filled to the brim with potential ideas, seeing beauty in everything, picking up words and phrases off other people's conversations and turning them into poetry. Okay, so maybe you're not necessarily vibing with the artistic picture I'm painting here. Even if that's not quite your thing, think of what you like to create — it could be money, friendships, adventures, or new connections. Whatever it is, this week is going to bring you a vision for something you can implement down the road that will feel quite significant for you.
Suggested tarot card: King of Wands
Capricorn (22 December — 19 January)
Get ready to breathe a sigh of relief, Capricorn. Mars has been riding through your sign, adding all kinds of pressure and urgency. Sure, all of that fire can certainly feel productive, but what happens to fire in the end? It burns out, and that's not something you want for yourself. I know it's not always easy to give yourself permission to take a break, but I think you've earned it. Aim to have as much of your to-do list crossed by the first half of the week, and then ease into a lighter schedule in the second half. Better yet, if you can carve out  a whole day or evening to do absolutely nothing, do it. Consider this your free pass.
Suggested tarot card: Six of Cups
Aquarius (20 January — 18 February)
This is not the time to give up on a grand vision, Aquarius. It might feel at times like people don't get you, but that's why it's so important for you to stay committed and invested in what you're doing. It might not always be the easiest path to walk, but you aren't here to take the easy road. You're wired to bring new, unique ideas into this world — even if it takes a little longer to get them out there. And in the weeks to come, I think you're going to find that something that you've held close to your heart is finally starting to get noticed. Keep plugging away at it. You're closer than you think.
Suggested tarot card: The Star
Pisces (19 February — 20 March)
It's time to expand your intuitive practice, Pisces. Maybe you want to treat yourself to a new oracle deck, a tarot reading, or a book from your favourite occult shop. Your future outlook is calling for a deeper commitment to your spiritual side. You are already so attuned to the world around you. Imagine what more you could do with that energy if you really started to harness it and work with it. If you already have an intuitive practice, challenge yourself to take it to a new level in the coming months. And if you're just starting out, expect a total transformation within the next year.
Suggested tarot card: The Hermit
Save