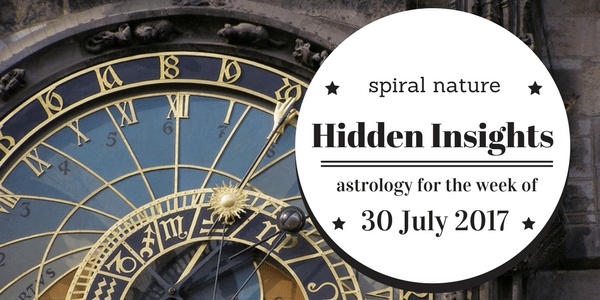 This week kicks off with the First Quarter Moon in powerful Scorpio that tests the resolve seeded at the New Moon. Hidden Insights has advice for a week where we must be willing to accept intensity as part of the deal if we're to reach our fullest flowering potential.
We've passed the exact conjunction of Sun and Mars, and there's some relief that's come along with that. But they are still travelling together for a large part of August and their fusion colours the month.
Some will find this dynamic highly energizing, and find themselves with more courage than ever. For those who prefer to play it safe, this vibration could be less than comfortable. The more we try to keep a lid on our enthusiasm, the more unhealthy pressure will be generated.
Venus enters Cancer on Tuesday, 1 August 2017. There's been such a focus on Cancerian sentiments that it's been a relief to move into the more confident realm of Leo. Venus — the value-emphasizing planet — draws us back, and reminds us we must continue to honour this emotional realm within ourselves.
With Venus exiting Gemini, consciousness-expanding Jupiter in Libra is now the only planet in an air sign. Meanwhile, Jupiter will be in an exact square to Pluto in Capricorn by the end of the week.
Harmonizing Cancerian needs for security and Leonine desire to shine requires skillful means. This week fortune favours those who are both courageous and sentimental; those who reach fearlessly for power, and remain positive, while earnestly honouring the art of diplomacy.
Here's a look at what's coming up for your sign this week:
Aries (21 March — 19 April)
You're not exactly known for your sentimentality, Aries. We're in Leo season, which tends to be theatrical anyway — but this week isn't just about self-expression for its own sake, or getting demonstrative as a way to protect yourself. It's about deepening your emotional experience. You're encouraged to start turning the volume up on your poetic side. This is especially relevant for any relationships within the home.
Your patronus is shameless.
Taurus (20 April — 20 May)
The more you try to control your environment, the more stressed out you're going to be, Taurus. And this week could be particularly frustrating if you can't find a way to go with the flow and let yourself be transformed by your current experiences. Make allowance for some measure of chaos. It's healthier than demanding your version of perfection, and if you're able to relax, it might even turn out to be fun.
Your holy mantra is: Why not?
Gemini (21 May — 20 June)
It's the right time to touch base with your instincts and feelings on an important issue, Gemini. You can continue to dance around everything intellectually and gain even more information, but there will still be a significant piece missing from the picture. Does it feel right? Will it nourish you? These are queries that need answers before you're going to be able to make any further forward motion.
Your secret weapon is entirely fearless self-protective instinct.
Cancer (21 June — 22 July)
The sudden exodus of planets from your sign recently will have felt significant, Cancer. So much power has been available that is now not so easy to reach, and that might have left you feeling slightly disenfranchised. Fortunately for you, this is all going to be remediated by Venus entering your sign, providing you yet again with something of a Midas touch. Or at least, it offers a soft glow that can take the edge off of the intensity for a while.
Your holy mantra makes the moment poetic.
Leo (23 July — 22 August)
The antidote to struggling is non-attachment, dear Leo. This can be a challenging lesson to reconcile, especially when we're so invested in creativity and its outcomes. In order to reach your full potential, it's worth remembering that, more than anything, you are a facilitator and channel for creative power. Identifying too closely with this energy can become problematic for yourself and others. There's lots of room for you to be able to step back and still manage to hold space.
Your secret weapon is equanimity.
Virgo (23 August — 22 September)
Your long-term goals require you to maintain momentum, Virgo. This should be straightforward enough, but not if there are any lingering issues of self-worth lodged within you. This is the perfect week to do some maintenance. Your quest is to dig a little deeper than usual, and to root out the fragments of old ideas you're entangled in. It's one of those clean-up missions that you've been putting off, but can be done with limited effort if you're methodical.
Your sacred objects sweep out bone fragments from closets.
Libra (23 September — 22  October)
It's not the moment to be highly invested in your accomplishments, Libra. That's not to say you can't get anything done when you put your mind to it — more that you certainly won't get everything done, so best to drop that expectation right now. If you can find a way to keep up your enthusiasm while not getting anywhere (yet), then you'll likely find that this week a lot easier.
Your secret weapon is: Patience.
Scorpio (23 October — 21 November)
It's natural to want to be known for your charisma and power, Scorpio. It's nothing to be ashamed of at all. It doesn't mean you think you're better than anyone else, or that you expect to rule alone. Less self-aware folk may be tempted to manipulate in an attempt to command power and esteem within their kingdom, but the truly royal generate respect through their warmth, flair, and determination.
Your sacred mantra shows your true colours.
Sagittarius (22 November — 22 December)
Sagittarius — if you're finding it difficult to leave the past behind you, then there's probably a good reason. A quick, intellectual decision is hardly ever going to be enough to generate the energy required to break free — especially if the situation involved anything as complex as an emotion. As long as your thought process is imaginative, and backed up by action, then it is entirely possible to think yourself in or out of any box.
Your secret weapon is a commitment to liberation.
Capricorn (22 December — 19 January)
The Sun and Mars are a hot coal lodged deep in the psyche stimulating a need to transform, dear Capricorn. Your challenge is to not allow a melodramatic reaction to this, even though it is likely to be an agitating experience. This is not a recommendation to detach from your experience. That could be disastrous. This is about being much more connected to how you really feel, so that you're not just pushing ahead with an unconscious agenda.
Your patronus knows exactly why they are dissatisfied.
Aquarius (20 January — 18 February)
Your emotions may get the best of you this week, Aquarius. This may be to do with the fact that this realm is usually foreign territory that you do your best to keep at arm's length.  But thanks to certain circumstances, there's just no avoiding yourself. Rather than add to the torment by attempting to distract yourself or resisting your feelings, you're encouraged to at least accept their existence.
Your secret weapon is: Vulnerability.
Pisces (19 February — 20 March)
The idea that work is mainly something that must be endured needs to be challenged, Pisces. The Sun and Mars travelling together are emphasizing this area of your life, and you'll be more prone to frustration if your everyday rituals are not in line with what you consider to be a purposeful expenditure of your creative energy. It's time to think about how your work can involve at least some joyful or celebratory aspect.
Your patronus has a strong sense of duty, but knows how to have fun.