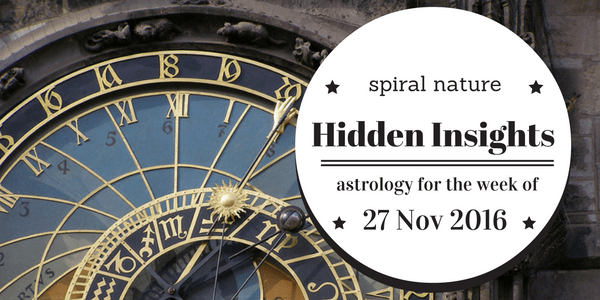 This week brings the New Moon in Sagittarius on Tuesday, 29 November 2016 at Hidden Insights.
Working with the fire element, this New Moon is one that could instigate some important new developments when it comes to your self-expression and sense of identity.
Ruled by Jupiter, Sagittarius often carries a healthy dose of optimism and confidence. Travel, learning, or other steps that involve personal expansion can become focal points right now.
During the New Moon on Tuesday, the Sun, Mercury, and Saturn will all be in Sagittarius as well. This combination can bring the push that you need to redefine and restructure the way you want to move through the world.
It's not a bad time at all to think ahead on this. As we draw nearer to the end of the calendar year, themes of change and resolution are going to be running high for many.
If you do decide to set some intentions during this New Moon, remember that you are playing with fire. This is an element that can move fast. It corresponds to will and courage, and can drive you to take action. What you initiate this week can show up faster than you think.
Here's a look at what's coming up for your sign this week:
Aries (21 March — 19 April)
Slow down? I don't think so, Aries. After a year that's brought you a number of highs and lows, I think you're going to find that this week brings a lot of fast luck, easy joy, and increased personal power. Aim for ecstasy rather than anger this week. Don't deny yourself the pleasure of losing yourself in even the smallest of euphoric moments that transpire in the days ahead. I think the stars are going to line up just right you. You might even have the chance to get something right this week that you thought was lost to an unfortunate turn of events earlier this year.
Suggested candle colour to burn for the New Moon: Orange
Taurus (20 April — 20 May)
Where do you need a fresh start, Taurus? I think this is a good question to meditate upon during this week's New Moon. It looks to me like the universe is giving you an ideal opportunity to transform a personal setback into a profound learning experience that you can continue to draw from for years to come. You might also find that your healing becomes a source of inspiration for those around you. Don't be afraid to dig deep this week and let a new you emerge.
Suggested candle colour to burn for the New Moon: Purple
Gemini (21 May — 20 June)
If I may suggest an intention for you this week, Gemini, I'd like to encourage you to consider what you want to be known for. So often, when we think of "being known" we equate it to fame, and that can make some folks nervous. But remember that recognition and reputation come in all shapes and sizes: How would you like these attributes to fit around you? This week's Moon brings an important window of opportunity for you to set something in motion that will propel you into a new kind of spotlight.
Suggested candle colour to burn for the New Moon: Green
Cancer (21 June — 22 July)
It's come up in this space before that the universe may be nudging you to move beyond your current safety net, Cancer, and I think this week is only going to add fuel that fire, so to speak. Are you ready for it? Certain cosmic alignments suggest that the restlessness that's been growing within you is only going to get stronger if you don't learn to listen to it. What harm would it do to allow yourself to expand at this point? You have a reputation for being a soft, sensitive sign, but it's time that people see that you have edges, too.
Suggested candle colour to burn for the New Moon: Orange
Leo (23 July — 22 August)
What's your schedule like this week, Leo? If you don't already have a party planned, I suggest you throw one if you can. It can be big or small, casual or classy, intimate or off-the-wall. You might even want to host a Moon gathering of your own this week. Whatever you plan for the days ahead, I think you'll benefit from being a social facilitator. There is a spark that you can set off this week that can spread like wildfire in your circle.
Suggested candle colour to burn for the New Moon: Yellow
Virgo (23 August — 22 September)
This week's New Moon has the possibility of cracking you open, Virgo. What will be revealed? And more importantly, what are you ready to reveal? A theme has been emerging for you recently that is urging you not to hold yourself back, to become more brazen, more assured in where you wish you to stand in this world. This week's astrological alignments give you a portal in which you can debut a new chapter that holds the promise of adventurous self-exploration that may be long overdue.
Suggested candle colour to burn for the New Moon: White  
Libra (23 September — 22  October)
As I look at the week ahead for you, Libra, the word transcendence keeps coming up. I think that might be an interesting word to play with in the coming days. Meditate on it. Use it in a sentence every day. Ask how it might integrate itself in your life. Redefine it if it feels right. This week's New Moon looks like it can help you break away from a block or barrier that's been keeping you down. Your chance to rise above is coming, but it will require commitment on your part to reclaim your powers of creation.
Suggested candle colour to burn for the New Moon: Purple
Scorpio (23 October — 21 November)
Reconnect with your powers of persuasion, Scorpio. Communication of all types looks to be an emerging theme for you this week. Are you getting what you want in life? Are you feeling misunderstood? Are you feeling as powerful as you'd like? Remember that communication is not just in the words that we use. Maybe you want to send more signals through the language of your body. Maybe you want to learn a new medium with which to communicate with a higher power. The methods you choose may be dictated by the outcome you seek.
Suggested candle colour to burn for the New Moon: Red
Sagittarius (22 November — 22 December)
Happy New Year, Sagittarius! This week's New Moon is your cosmic new year. If anyone should work with this New Moon, it's you. What are you ready to re-set for yourself? What do you want to invite into your life? This is the time to sit down and hash it all out. This Moon looks like it can particularly help support you in your path and purpose throughout the year to come, so if you feel the need to get clear about why you're here, or how you can tap into your destiny, this is a potent week to set those wheels in motion.
Suggested candle colour to burn for the New Moon: Green
Capricorn (22 December — 19 January)
Can I give you a visual to work with this week, Capricorn? If you're game, I'd like you to imagine that there roots growing out from under you. Where are these roots planted? Is the soil nourishing and well-watered, or dry and struggling? Are your roots healthy and strong, or thin and weak? I encourage you to give yourself a spiritual check-up this week, Capricorn. See what you find when you dig under the surface and decide whether you need to uproot for greener pastures, or simply take better care of your foundation.
Suggested candle colour to burn for the New Moon: Black
Aquarius (20 January — 18 February)
The routines by which so many live by are constructs, fabrications of an idealized one-size-fits-all fantasy. The reality is that life does not follow a linear path. You are hard-wired to embrace the unconventional, Aquarius, and this week, I would encourage you to ask yourself whether you are keeping a good relationship with your rebellious nature. What kind of constructs might you be trying to fit yourself into when you know, deep down, they're not made for you? What kind of creative solutions do you think you can bring forward instead? It might be time to revisit your manifesto for living, or write some new guidelines altogether.
Suggested candle colour to burn for the New Moon: Red
Pisces (19 February — 20 March)
If you could be anyone for a day, who would you choose to be, Pisces? If you're up for some fun, I suggest that you try on a new identity for just one day this week. Live your life the way you imagine your idol might. Talk as they do, eat as they do, dress as they do. Pay attention to how you feel trying on someone else's shoes. How do others respond to you? What kind of decisions would you make for yourself if you were to assume this type of identity on a regular basis? Even though this is a game you can play for just one day, I think it's time to consider that a greater metamorphosis may already be upon you.
Suggested candle colour to burn for the New Moon: White