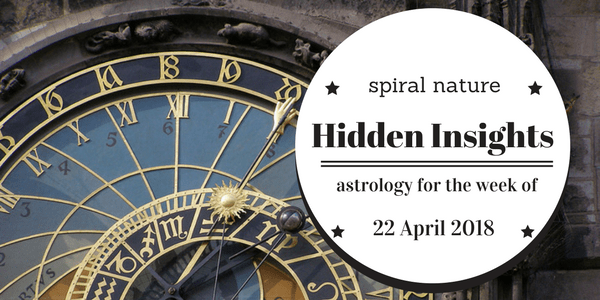 Hidden Insights has a great deal of information to share, as there are so many planetary aspects in play. This week Pluto will turn retrograde, Venus will change signs, Mars aligns with Pluto as well as sextile Jupiter, and Mercury makes a square to Saturn. Together this makes for a hot and heavy week full of excitement and maybe just a touch of drama. It will be Aries, Cancer, Libra, and Capricorn who feel this energy most intensely, as they are the cardinal signs of the zodiac.
Pluto turns retrograde on Sunday, 22 April 2018, and it will move backwards in the heavens for the next five months. As an outer planet, its effects are more global than personal, and they take time to be felt, unlike the intensity of Mercury retrograde. This event sets the stage for us to revisit painful memories from the past, as we learn how to deal with things that may be out of our control. In Capricorn, this is most closely related to financial security and leadership. Over the next few months, the world's leaders will try to assure financial success for their citizens. We may even see a rise in gas and petrol prices, which may put a financial strain on our everyday lives and spending habits until the end of September.
As Venus changes signs on Tuesday into social Gemini, people are likely to be much more interactive. This week is sure to bring groups of like-minded friends together. Hidden Insights also likes to consider that, wherever Venus is, this shows us what is most sexy. In Gemini intelligence and wit become the most attractive quality as a whole. So, if you're looking to charm someone this week, you'll be most successful if you try to impress them with great conversations skills, and of course humour. The only difficulty a social get together could run into would be Wednesday, when Mercury turn conversations towards more serious topics, and possibly even fear-based. Exercise care when speaking during this transit.
The big event this week is when Mars and Pluto join together. Most astrologers consider this to be a planetary aspect of doom and disaster. While Hidden Insights does not believe in fear mongering, it cannot help but understand that the combination of these two planets in conjunction does not usually forecast warm and fuzzy feelings. With that being said, Thursday through Saturday promise to be pretty intense, and we shouldn't rule out both mental and actual fires and explosions.
Astro Homework
The bright side of the Mars and Pluto conjunction this week is the strong determination energy that radiates from it. This week I would like to challenge everyone to face a fear, or do something outside your comfort zone. Allow the strength of Mars to push you towards transformative empowerment through Pluto.
Aries (21 March — 20 April)
As Pluto stations retrograde in your sector of status and career, Aries, it might be time for you to consider how this area of your life might need to change. You'll need to confront some potential conflict, especially if you have a supervisor with whom you've previously had trouble. You may also be confronted with the need to address an issue with your father or a father figure, especially on Tuesday. As Venus changes signs, you'll notice an ability to be much more diplomatic than usual. This is good, as you have a habit of speaking before you think. Use this energy to your advantage this week, and you'll be able to make a good impression with those in power.
Recommended reading: Psychic healing and banishing, by Phil Hansford
Taurus (21 April — 20 May)
It's all about the big picture for you this week, Taurus, and you'll look at some of the more challenging obstacles in your life with new light. Tuesday has the potential to bring a contract or paperwork forward, and that should be taken care of quickly. You also may notice others around you take a greater interest in your opinions, thoughts, and ideas. As Venus changes signs, it moves into a very comfortable position in the second house. Here Venus can bring a great deal of financial security, and it's a good week for your pockets. The Mercury square on Wednesday could bring a serious conversation about the paperwork mentioned earlier. This might be a good day to take care of that.
Recommended reading: The four pillars of Taoism, by Robert T. Tuohey
Gemini (21 May — 20 June)
Coming to terms with power struggles can be difficult, Gemini. Last week we discussed potential conflict at home, and this week it's time to address them. Pluto's retrograde position is set to bring these themes to the forefront. You may also have to deal with or hear about past trauma related to sex or sexuality. On Tuesday, a coworker could confide in you and share a secret. Do your best to listen. Sometimes others don't really need or want advice. Venus moves into your sign this week, and with it brings a new sense of self-love and the ability to really transform your personal appearance. Expect to feel good about yourself, and to have others notice your new confidence. Over the weekend, the power struggles I mentioned earlier are likely to start to surface, so you'll want to get ready to accept both humility and error.
Recommended reading: Progressive Evolutionism, by Chirotus Infinitum
Cancer (21 June — 20 July)
Let's face it, Cancer, things haven't been the greatest in terms of the way you have been relating to others. You've been challenged to look at the truth about those you have one-on-one relationships with. Pluto moves retrograde in your house of others this week, and you'll start to find that friends and family relationships need to change. This will be most evident on Wednesday, when a conversation with an authority figure or father is likely to bring some reality to the way you see the world around you. Try not to get too emotional, and listen with an open heart and mind. The weekend brings more heat to your sector of relationships, and it's possible an argument or physical fight could put you in a foul mood. Essentially, you and those you come in contact with will be more combative than usual.
Recommended reading: Positive thinking: Panacea or prison?, by Chrysanthemum White Adler
Leo (21 July — 20 August)
Getting your health in check can be one of the most difficult things to do, Leo; however Pluto is not giving you much of a choice. This week you'll be faced with the decision to make much needed changes or ignore them. Fortunately, the power of Pluto is behind you, and you'll be able to easily face the scary process of breaking your typical routine. If you've been thinking about joining a gym, this is the week to do it. You're more likely to maintain a steady routine right now. After all, getting into the routine is the most difficult part. Positive changes are on the horizon at work this week, and you may have the opportunity to take the lead. However, you don't want to become too excited, or it could backfire with your coworkers by the end of the week. Use this excess energy at the gym or new lifestyle change.
Recommended reading: Sigil magick: Down and dirty, by Donyae Coles
Virgo (21 August — 20 September)
Sometimes you just need a break, Virgo, and with Pluto stationing retrograde in your fifth house, it seems like all you want to do is run away. Of course, running away isn't always an option, and with Pluto it would just follow you. The bright side of this is that Pluto wants you to reexamine how you have fun in life. It feels uncomfortable, because you're reminded of all the responsibilities you must take care of. You're challenged to let go, and you'll certainly feel it on Tuesday, when a surprising conversation or invitation gives you a reason to flex your creative muscles. Venus moves into your 10th house of career and reputation this week, and in the chatty sign of Gemini, there's a lot to discuss at work. You can use this to your advantage to get what you want, if you stay both focused and calm. Thursday's Mars and Pluto tension hits fairly hard, so if you have children you may want to check in with them in case there is something going on that you should know about. For those of you without children, if you're caught being lazy, Thursday could bring drama.
Recommended reading: Self-discipline on your own terms: Exploring nontraditional approaches, by Chrysanthemum White Adler
Libra (21 September — 20 October)
Your home might feel a bit like a battle ground this week, Libra, with Pluto and Mars running wild in this sector of your chart. This may be most evident on Tuesday and Thursday, when issues or arguments over money or values surfaces. On the bright side, Venus moves into your sector of all things exotic. This means that while you may feel like you're in the middle of a mini war zone, you won't seem to care. Venus here gives you a sense of higher ideals, and for you, it may almost seem comical that others are getting worked up over trivial things. The weekend promises to bring excitement as you're finally able to get out and about. Though, you may want to be aware that on Saturday a stranger in a store, on the road, or in a restaurant will push your buttons. Fortunately, its short-lived, and you don't have to deal with them at home.
Recommended reading: Review of Ancestral Medicine, by Susan Starr
Scorpio (21 October — 20 November)
Over the last few weeks, Scorpio, it felt like excitement has been building with nowhere to direct it. This week you'll have the opportunity to really get a move on, and address the final plans of an upcoming event or trip. However, things may not go completely as planned, as Pluto stations retrograde in your third house. The other side of Pluto that you will feel for the next five months is the need to examine and review how you communicate with others. Do you over-communicate? Do you not communicate enough? These deeper questions give you the opportunity to evaluate how you interact with the world. You may also find yourself forced out of your comfort zone, especially this weekend.
Recommended reading: Mysticism: Nature or nurture, by Thomas Zwollo
Sagittarius (21 November — 20 December)
Income and your bank accounts come into focus this week, Sagittarius, and it's possible you may feel a little anxious about this, as Pluto moving backwards in the house of finances can bring stress. As Pluto changes everything it touches, and it can at times be destructive, you'll want to be particularly vigilant in monitoring your accounts for fraud over the next five months. On a happier note, your love life seems to get a boost, as Venus moves into your house of partnerships on Tuesday. Not only will you be more attractive to others, but you'll also be able build on any existing relationships you have. So, if you're single, get ready for a hot and heavy week, just be cautious not to blow all your money on someone else. Over the weekend this exciting energy continues, and you could find yourself on a romantic outing on Saturday or Sunday.
Recommended reading: Love is the Law: Hilos, True Will and the Great Work, by Kara Rae Garland
Capricorn (21 December — 20 January)
Pluto has been in Capricorn since 2008, so you're not completely unfamiliar with the chaotic energy that it has brought. As Pluto moves backwards in the heavens it gives some relief, and you can sit back and take stock of your identity. This week you'll feel a shift, and you will encounter a variety of opportunities to let go of personal stresses and emotional blockages. As Venus moves into the sector of your chart that rules your work environment, you can expect an uptick in job satisfaction. This week, your coworkers are likely to be more social, generous, and outgoing. It's also not completely out of the question to encounter a romantic situation at work. Wednesday looks like it will be your most challenging day, so don't be surprised if you encounter family members that seem to get under your skin.
Recommended reading: Magical shield, by Frater Umbilicus
Aquarius (21 January — 20 February)
Typically Aquarians are self-aware, and you are able to connect with the larger meanings of existence. However, every now and then this awareness needs time to do some dark digging. As Pluto changes directions, it may feel like you're becoming  more aware of what you think is wrong with you. Others may even point out where your short comings are. While it's important to review the past, we shouldn't obsess over it. These themes may repeat for a while, but your best course of action is to utilize Venus moving into your sector of leisure and creativity. Here she is able to help you fully express yourself, and on Tuesday you'll have the opportunity to do just that. Venus in Gemini can also bring sexy flirtation. Over the weekend someone from your past is likely to resurface, and you may need to put aside anger and practice forgiveness.
Recommended reading: Depression, the dark night of the soul and magick, by Frater Barrabbas Tiresius
Pisces (21 February — 20 March)
You have a very active and social week ahead with friends, Pisces, and Pluto may make these interactions a bit unusual. Chances are that some of the more aggressive energies of the week could clear unhealthy people from your life. Don't be surprised if you finally decided you can't be part of a certain group or talk to someone anymore. One of the great things about Pluto is that it helps us clean house, and your natural Piscean nature will be grateful for the help. Venus changes signs this week and moves into your sector of home and family. Here it will give you a gentleness that will help you part ways with others peacefully, if necessary. With Venus, you may find that you take extra time this weekend to  get your home or bedroom just right. Allow the creative energy of Venus to inspire you to make your space perfect.
Recommended reading: Smudging: How to do it, and how not to do it, by Michelle Chihacou White Puma Klein-Hass