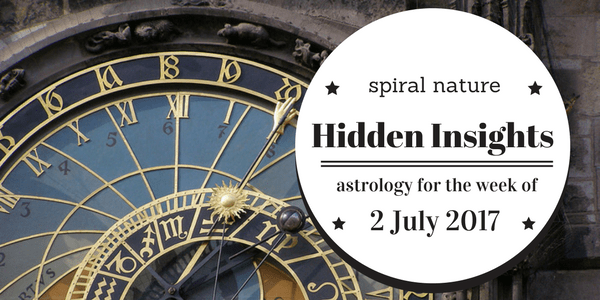 We begin with last week's planetary poetry still in play, and there's no time to rest before more aspects unfold, demanding acknowledgement, expression and integration. Hidden Insights has advice for a chaotic week of cosmic cacophony.
Early in the week, action-oriented Mars will very closely oppose the revolutionary and driven Pluto. Mercury is close, but moving away from the action — separating from its own opposition to the Lord of the Underworld. Heated emotions rise to the surface from deep within during an aspect like this. As the unconscious is made conscious, we are compelled to act on it. And if we fail to find an outlet for this compulsion, it will find one on its own.
Also making its impression in the earlier part of the week is beautifying Venus in Taurus, in a dynamic sextile to Wounded Healer Chiron in Pisces. Mercury in Cancer will also be applying towards a trine to Chiron, exact on Wednesday, 5 July 2017.
There's something of the tortured artist archetype in this cosmic complex, and it may be too easy to get carried away with that narrative if we're careless. At the same time, there's opportunity for recognition that the value of art is in its ability to engage the senses in an act of creation that can lead to soul-level healing.
With Venus entering Gemini — also on the 5th — we find the words to articulate our most earnest sentiments. A note though: While our sensitivity and sentimentality is indicated by Cancer and Pisces, Gemini prefers to keep it light, which may provide a certain challenge to our expression.
There's also challenge indicated by the Sun in Cancer squaring Jupiter in Libra on Thursday, 6 July 2017, and beginning to oppose Pluto. Even as we're driven to express our deepest feelings, indecisiveness is peaking. But if we want to get a firm grip on exactly what it is we want, then we must continue to forge ahead despite the threat of annihilation.
Also on the 6th, Mercury enters Leo and we begin to find the courage to boldly express what we've only been talking about in terms of "ifs" for far too long.
Here's a look at what's coming up for your sign this week:
Aries (21 March — 19 April)
The concept of "having it all" is key for you this week, Aries. An unsophisticated perspective only sees this in terms of positives, but the wise know that there's almost always a flipside. Opening yourself to the greatest joy also means opening yourself to the risk of loss and sorrow. If you find yourself resenting this fundamental truth, then you're in deeper trouble than simply being indecisive.
Your holy mantra is an invitation to everything life has to offer.
Taurus (20 April — 20 May)
Don't miss a golden opportunity to show everyone what you're made of, Taurus. You may wish to shun the "dependable" label that is often thrust on Taurean types, but we're in need of your grounded wisdom that reminds us what's of real value. While it's important that you continue to make headway on your own important projects, you can definitely afford to spend a little time on those in need of comfort or assistance. Keep an eye out for them.
Your ritual objects are multi-purpose.
Gemini (21 May — 20 June)
Venus enters your sign this week, Gemini, adding a little beauty and grace to your overall presentation. While you're likely to be enjoying yourself a bit more, beware of over-excitement. Enthusiasm is certainly energizing, but just like anything, too much can be overwhelming to the point of destruction. If you can keep it light and back off from situations while they're still fun, you'll be golden.
Your patronus knows when the party's over.
Cancer (21 June — 22 July)
It's an extra-stimulating time for you at the moment, Cancer. And more stimulation can lead to more agitation if you allow yourself to get carried away by the intensity of the moment. Practicing putting a positive spin on your experiences will do wonders to alleviate current tension. It's not about denying reality, but about denying unnecessary drama. Free yourself by consciously looking to the light side and moving towards it.
Your secret weapon is: Optimism.
Leo (23 July — 22 August)
There's a key lesson to be learned around motivation for you, dear Leo. And once you manage to integrate this, you'll find that many of your current quandaries are quashed. If you ever want to make manifest your vision, then laser-focus in on this one issue. If one of the reasons for your inaction is because you have too many ideas,  then you should also aim to get clarity on what's actually achievable in practical terms.
Your patronus streamlines their priorities.
Virgo (23 August — 22 September)
You've got a lot of action in the area of your solar chart that reflects wider social connections, Virgo. What this suggests to me is that it's important for you to assess your friendships. Do your values still align with each other? Are you all just wasting your time? You may be unsurprised by the answers when it comes to certain people. And hopefully you'll feel minimum guilt when you make the decision to walk away for good.
Your sacred ritual invites meaningful, mutually beneficial connections.
Libra (23 September — 22  October)
You can only please some of the people some of the time, Libra. If you refuse to acknowledge this, you're going to spend your resources and vital energy fighting fires and have nothing left in the tank for the really meaningful work. No matter what action you take, what opinion you express, or what option you choose, someone around you isn't going to be happy about it. Don't make that your problem.
Your ritual objects are: A pair of scales and dice.
Scorpio (23 October — 21 November)
Because emotions are running so high in the collective, you've got lots to offer, Scorpio. You get to decide in what way you'd like to connect with others this week. It can be anything from offering a listening ear to a friend over tea, all the way to shepherding a lost soul through their own churning consciousness. Holding space looks slightly different depending on the situation. The most important thing is that you're committed to being of service.
Your secret weapon is: Receptivity.
Sagittarius (22 November — 22 December)
I don't want to make you any more risk-averse, Sagittarius. But this week, you're encouraged to practice mindfulness before you do or say something that can't be reversed. At the same time, you must continue living your life — you can't let the chance that you'll make a mistake prevent you from moving ahead. While the big things in life need your attention, it's the little everyday aspects that will be your undoing if you're not careful with how you manage your emotions.
Your patronus doesn't take it out on others around them.
Capricorn (22 December — 19 January)
This particularly intense chapter won't last forever, Capricorn — if that's any consolation. And it's worth admitting just how intense it has been lately. If you don't acknowledge this, you'll find that your frustration is likely to manifest in unconstructive ways that take you even further away from your chosen destination. This extra awareness will also help you to cut yourself, and other people, some much-needed slack.
Your secret weapon is: Acceptance.
Aquarius (20 January — 18 February)
This week could allow you to get your priorities straight, Aquarius. It's likely that it's going to take some experimentation on your part in order to find harmony, and you should be willing to engage in this exploration. The temptation will be to try to protect what you've got, but if this is based on a generalized sense of scarcity rather than the facts, then you've got some integrity testing to do. Figure out what you've really got to lose and base your decisions on that.
Your sacred object checks and balances.
Pisces (19 February — 20 March)
There's the chance to release some tensions that have been building for long time, Pisces. But it's going to require a push from you in order to get over the line. Chiron has spent many years travelling through your sign showing that your sensitivity, sentimentality and tender sensibilities have all been subject to stimulation. Brief transits this week help you find the outlet to honour your experience. Don't miss the boat.
Your holy mantra reflects intimate, personal truths.