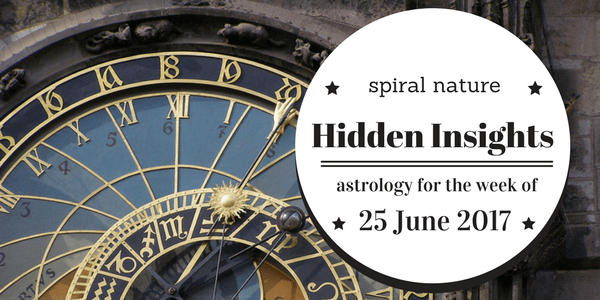 This week, Mercury and Mars in Cancer race to oppose transformative Pluto in Capricorn while we build towards the First Quarter Moon in Libra. Hidden Insights has advice for a revelatory week that encourages us to fight for what we feel is right.
We begin the week only hours after the New Moon in Cancer that seeds a new cycle of epic emotional growth. A proliferation of planets in any sign concentrates our experience through that particular style.
Cancer colours the world with emotion. It also brings up the theme of feeling at home and shows our tendencies towards clannishness or patriotism.
Mars has been ahead of the pack on a trajectory to oppose Pluto in Capricorn, but it's the messenger Mercury — thanks to its current quick pace — that gets there first on Friday, 30 June 2017. (Mars is within orb and close enough to be considered a conjunction but won't be exact until next week.)
When Mercury and Pluto are in aspect to each other, the theme is often about covert (Pluto) communications (Mercury).
There may be important meetings going on behind closed doors where key strategic (Capricorn) decisions are being made regarding domestic (Cancer) policies. With Mars' conjoining Mercury these meetings may very well become heated.
Another interpretation is that the Mercury and Mars in Cancer could symbolize the general population, moved by emotion and anger (Mars), to use their voices (Mercury) against a corrupt establishment (Pluto in Capricorn).
On an individual level it could manifest in a revelation of unconscious material (Mercury-Pluto) that spurns us to take action (Mars) on a personal issue that we deeply care about (Cancer).
We reach Saturday, 1 July 2017 and meet the First Quarter Moon in harmony-seeking Libra. The Moon's conjunction to Libra takes the edge off, while simultaneously encouraging growth. It's not long before this justice-seeking Moon moves just a little further to weave itself into the Mars-Mercury-Pluto dynamic.
And the time ripens for highly inspired, socially motivated decision making.
Here's a look at what's coming up for your sign this week:
Aries (21 March — 19 April)
Finding a sense of purpose is paramount for you this week, Aries. You'll find that being the winner in your situation will be a hollow victory without it. If attainment isn't backed up by a solid understanding of its significance, then you'll also likely find yourself wasting your energy on contests that are ultimately irrelevant. Get grounded in your "why?" and save your energy for a battle that will really make a difference.
Your patronus knows what they're fighting for.
Taurus (20 April — 20 May)
There's a turning point available to you, Taurus. Unfortunately, if you're too deeply attached to your own sense of right and wrong you might miss it. If you can achieve the realization that patterns of behaviour can be just as addictive as any substance, then you're more likely to recognize the opportunity for adjustment when it arrives. Breaking any habit requires ongoing commitment. Luckily, you've got that well-known Taurean gift of stubbornness to tap into.
Your secret weapon is: Willpower.
Gemini (21 May — 20 June)
Sometimes you've just gotta roll the dice, Gemini. That's not to say there's no value in making some kind of rational assessment about what's going on. It's just that you'll likely find that you arrive at a point of indecision no matter how long you spend analyzing pros and cons. If you do find yourself unable to determine if you should or shouldn't — and it's not going to be fatal — then find some courage and take a leap of faith.
Your ritual objects symbolize your openness to new experience.
Cancer (21 June — 22 July)
Emotions are running even higher than usual for you, Cancer. That's why it's going to be extra important to practice tolerance. You've got a lot of energy to burn, so patience may be a difficult state to cultivate in moments of peak intensity. What can come naturally and readily is compassion. If you've got that, then emotional outbursts may not be any less dramatic, but they'll be more energizing for all involved in the long run.
Your holy mantra is: I care.
Leo (23 July — 22 August)
Hard-work and diligence aren't the first words people reach for when talking about Leo. This week you'll be demonstrating these qualities and proving critics — both external and internal — that you've got what it takes to succeed. If you aren't showing your willingness in this way, then you now know what you need to do. How else do you expect to bring your wildest creative ambitions to life?
Your secret weapon is: Determination.
Virgo (23 August — 22 September)
It's not that your approach is wrong per se, Virgo — it's just that what was once a groove can far too easily become a rut. If you sense this might be true for you, then it's the right time to mix things up. The target for this advice is your creative process. It's important to make sure that yours has all the rites and rituals required to manifest and manage your imagination as effectively — and joyfully — as possible.
Your sacred ritual has a place of honour for your inner child
Libra (23 September — 22  October)
Keeping the peace is going to require extra effort from you this week, Libra. It's highly recommended that you don't rely solely on your imagination when it comes to figuring out what's going on around you. Don't assume. Ask direct questions and seek clear answers regarding intentions. Having the right information will help immensely when it comes to making important decisions, so don't skip this step.
Your sacred tool is a means of measurement that you can rely on.
Scorpio (23 October — 21 November)
You'll be in your element this week, Scorpio. Other signs find themselves struggling against intensity, but for you, it's the status quo. Thanks to your experience, you dance expertly through the drama. This is not to say that you're completely unaffected by chaos. It's more that you have a deeper instinctual awareness of how to work with it rather than resist it.
Your patronus leads by example.
Sagittarius (22 November — 22 December)
You're currently in danger of being ground down by reality, Sagittarius,  and it's time to unshoulder some of the burdens that you've taken on recently. It's not about passing responsibility to others. Some of the excess weight you're carrying should ideally be left in the dust rather than passed onto someone else to deal with. It might feel awkward and uncomfortable to let go at first, but trust me, you'll feel a lot better for it.
Your secret weapon is: Detachment.
Capricorn (22 December — 19 January)
There's never any reason to doubt yourself, Capricorn. So don't submit to feelings of futility that may arise for you this week. It's true that achieving your goals will probably take longer than you would like, but this nothing to do with your personal worth. If you find yourself needing to take a step backward in order to step forward, consider it a strategically sound move rather than a sign of failure.
Your patronus learns quickly from error.
Aquarius (20 January — 18 February)
It's a good idea to take advantage of all that excess creative energy you currently have at your fingertips and channel it into creative projects, Aquarius. The trick with creativity energy is that you have to spend it in order to make more of it. You don't ever run out of it, you just stop yourself from accessing it. Fortunately, this isn't an issue at the moment. Start spending now and make an investment for your future.
Your patronus throws caution to the wind.
Pisces (19 February — 20 March)
You're encouraged to aim a little higher than usual in your quest for synthesis this week, Pisces. And if you use your emotions as your guide, you may be surprised to find just how true your aim is when it comes to prioritizing what's important for you now. This week is one where in order to achieve alchemical and creative success, you'll need to be experimental. Let your imagination run away for a while and see where it takes you.
Your sacred ritual opens the door to possibilities.