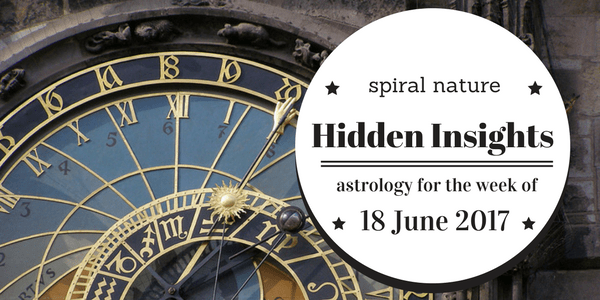 The end of this week promises to feel significantly different from the beginning as the tides of Cancer season rise. Hidden Insights offers suggestions to maximize your chances for enrichment.
Overall, this week is coloured by the Sun-Mercury conjunction that is in orb all week. It lasts as they change signs within hours of each other from Gemini to Cancer on Wednesday, 21 June 2017.
By Saturday we abruptly find ourselves with three more planets in the Moon-ruled Cancer. With the New Moon, we also enter a demanding lunar cycle that challenges our ability to adjust to the ebbs and flows of everyday life.
Mars — which has already been forging its way through Cancer — has been carving the path and pushes through the week to square off against Jupiter in Libra. There could be showdowns with this aspect. It's a configuration suggestive of the paradoxical urge to fight for peace .
On Wednesday, 21 June 2017 we also experience Sun-Mercury cazimi. Cazimi literally means "in the heart of the sun," and occurs when a planet is less than 17 minutes of a degree away from the heart of our solar system. It symbolizes a fusion of energy as the animating force of solar power unites with all that falls under the umbrella of communication.
The learning on offer here is like nothing we've experienced recently, as the connection from head to heart is catalyzed. The more willing you are to hold space for this transmission, the more you will benefit from this brief but incredibly potent transit.
The Sun's shift from Gemini to Cancer also coincides with Litha, Midsummer, and the Summer Solstice here in the northern hemisphere.
It's a time of peak abundance. Venus — still in her home sign, Taurus — adds additional encouragement to indulge the senses. Her trine to Pluto in Capricorn highlights that our physical engagement, as well as our willingness to get creative in both everyday and sacred matters, bears the richest, most decadent and deeply nourishing fruit of all.
Rounding things off on Saturday, 24 June 2017 is the New Moon in Cancer and the Sun, Moon and Mercury will form a reasonably rare triple conjunction. It's the perfect time to consciously align with the gifts of this season; to resolve to going with the flow; and to recommit to an emotional integrity that honours both the head and heart.
Here's a look at what's coming up for your sign this week:
Aries (21 March — 19 April)
You can communicate without words this week, Aries. You'll find yourself increasingly skillful as we move through the week, and you'll become more sensitive to the subtle cadences and melodies of the world around you. Masters use this awareness to maximize their empathy. Strike gold by realizing when others are listening just as intently as you are and get ready to open your heart to the moment.
Your solstice ritual involves a commitment to using your powers for good.  
Taurus (20 April — 20 May)
With your active participation, wounds to the spirit can be healed in a straightforward way, Taurus. Your openness to it is non-negotiable, since healing can't be forced on you. All that needs to happen is for you to let go of what's hurting you, and nurture yourself with what helps you. Admittedly it's not always easy, although it is simple. But now that you know it's not complex,  you're that much closer to wholeness.
Your New Moon ritual opens a portal to healing. Step through it.
Gemini (21 May — 20 June)
It's not about determining or labeling whether particular emotions are good or bad, Gemini. It's more worthwhile to assess if any given state is energizing or depleting for you. This is less of an intellectual exercise than an experiential one, and can yield insightful results. Your mission is to find out if you prefer the experience of being open and trusting of life. For example, are you better off cultivating patience and compassion for others, rather than defaulting to cynicism?
Your ritual objects symbolize the clarification of your experience.    
Cancer (21 June — 22 July)
It's going to require a special effort from you to keep your heart open this week, Cancer. If you've slipped back into the habit of considering your sensitivity as a negative trait this may be even more challenging. Here are some possible benefits of letting yourself be vulnerable to help keep you inspired if it all gets too overwhelming: Your relationships are strengthened. Your well of inspiration is refilled. Your truth is respected.
Your solstice ritual allows you to drop any excess armour you're wearing.
Leo (23 July — 22 August)
It's not creatively satisfying to simply show off how talented you are, Leo. Expressing yourself provides a much more fulfilling experience when it's performed with the intent of exploring the contents of your inner world. You learn and grow simply by the act of bringing this inner visions into manifestation. And you open up the opportunity for enrichment to others when you share your creativity freely and proudly.
Your New Moon ritual is an invitation to your favourite muse.
Virgo (23 August — 22 September)
This week is going to require you to tap into your adaptive powers, Virgo. There's so much change afoot that it could be difficult to know where to drop anchor. Perhaps it's best if you just drop any need to hold concrete opinions for the time being, and see how you feel in a few weeks. Just keep in mind that when it comes to your physical and spiritual well-being, you're still responsible.
Your New Moon ritual objects symbolize flexibility and personal power.
Libra (23 September — 22  October)
Sometimes good luck shows itself in peculiar ways, Libra. So peculiar that it can take some mental gymnastics in order to even begin to frame what's currently happening as positive. If you can't quite stretch to finding your current circumstances fortunate, begin by separating your facts from fictions. Once you have a handle on what's really going on you'll be able to better assess its true value.
Your solstice ritual fuels you to create your own luck.
Scorpio (23 October — 21 November)
What exactly are you resisting, Scorpio? If the heavens are anything to go by it's something that's neither dangerous nor destructive. Actually, all signs point to an upcoming unleashing of unconditional love through the vehicle of your personal consciousness. If you're worried you can't handle it, then perhaps you should trust yourself more. If you want this gift you'll need to say yes to it. Embrace your own depth and let the love in.
Your ritual objects invite more and more love to work its magick through you.
Sagittarius (22 November — 22 December)
You're invited to achieve what seems impossible this week, Sagittarius. You're also encouraged to develop and maintain your poise even in the face of the disintegration that surrounds you. People will wonder how you manage to stay so cool even though chaos reigns, and want to know your secret. It's a simple one: You're naturally more philosophical, and you're already prepared to rebuild from the ashes of what's being destroyed.
Your objects of power are a set of juggling balls and a smile.
Capricorn (22 December — 19 January)
I want you to think about someone you consider truly heroic, Capricorn. Someone admirable who demonstrates bravery and super-human courage. Keep in mind that these don't have to be huge mythical feats necessarily since there's such a thing as everyday heroism, too. Now that you have this person in mind, it's time to practice seeing yourself in their position of power. What would it take for you to show as much courage in these emotionally testing days?
Your New Moon ritual encourages you to own the power you project onto others.
Aquarius (20 January — 18 February)
The world around you is not mute, Aquarius. But it often speaks a particular kind of symbolic language – one that can easily go ignored or undetected. You're invited to start showing greater curiosity in regards to the signs, omens and portents around you. You also need to pay more heed to ordinary alerts in your environment. Start now before your circumstances become so urgent that you need a message that really gets your attention.
Your solstice ritual involves active imagination on your part.   
Pisces (19 February — 20 March)
The importance of creativity and play are suddenly emphasized for you this week, Pisces. You'll be feeling extra urgency to explore this paradigm – and you're strongly encouraged to make space for it. If time is a bit of a limited commodity, then you're going to have to use your imagination in order to gain satisfaction. The worst thing that can happen is for you to succumb to boredom. The power to make life more interesting is completely in your own mind.
Your New Moon ritual makes space for your inner child.