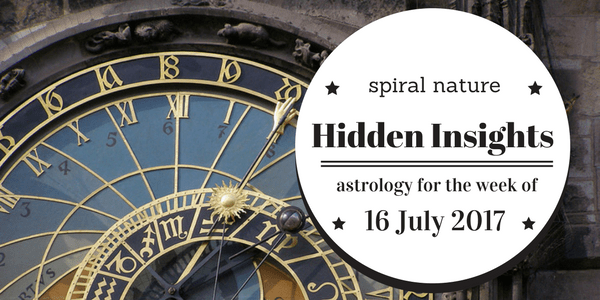 From Cancer to Leo, we move from Caregiver towards the Radiant Child. The health and happiness of the Child depend on us having learned from our recent brushes with vulnerability. Hidden Insights has advice for a week where we must all take the high road.
The Last Quarter Moon on Sunday, 16 July 2017 involves provocateur Uranus in a conjunction with the Moon. This unsettling pair squares off against the Sun-Mars conjunction, which is ongoing until midway through August.
Be aware: this could prove to be an exceptionally challenging configuration, one in which there's great temptation to resort to violence — be that physical or otherwise — in a misguided attempt at restoring emotional security.
There are divergent philosophies and collective emotional complexes all seeking a position of authoritative power.
Venus in Gemini trine Jupiter in Libra strains to resolve the tensions with high-minded intellectualism. There's some success and, with awkward aspects from both planets to Pluto in Capricorn, true reconciliation requires a deepening of trust that could either prove elusive or profoundly transformational.
Mars enters Leo on Thursday, 20 July 2017, blazing a charged path for the Sun God itself, who returns to their Lion Throne.
Also in Leo, Mercury conjoins the fateful north node, making exact connection on Friday, 21 July 2017. A divine messenger arrives with critical insights from the future, but you may need a child's eyes to receive it.
Overall, it's a regal and expressive line-up that suggests bold actions undertaken to assert dictatorial leadership, especially if we haven't integrated the key lessons of compassionate Cancer's season.
We're ramping up as we power towards a high-octane New Moon in Leo on Sunday 23 July that promises to propel us all forward dramatically.
Here's a look at what's coming up for your sign this week:
Aries (21 March — 19 April)
The message is a little bit of tough love this week, Aries. There are opportunities and paths for creative satisfaction all around you. And so much of what's in the way is you. You can access all the focus and resources you need with a simple perspective shift. So, rather than make excuses, or blame circumstances for why you're not getting on with something close to your heart, rise to the challenge.
Your sacred object is a to-do list that gets done.
Taurus (20 April — 20 May)
You can make a lot of progress in healing trust issues this week, Taurus. And the more proactive you are with this goal, the more deeply you will benefit. There can be a return to innocence, as well as your capacity to see the best in people. I'm not saying be naïve — because that would be irresponsible — only that if you can hold off from immediately resorting to defensiveness, you'll go far.
Your patronus takes a wait-and-see approach.
Gemini (21 May — 20 June)
This week you'll be challenged to get your message across in a graceful way, Gemini. Your expression is a channel for your passion, and this can be intimidating for other people who have differing priorities. With Venus in your sign your skill and overall tact is heightened, and so the chances are high that you'll be successful. If you want to excel, then you'll need to find common ground.
Your secret weapon is your ability to be both serious and light-hearted.
Cancer (21 June — 22 July)
It's advisable that you find an empowering way to consolidate your position, Cancer. This has been a game-changing birthday season for you. Even if you can't feel it yet, know that it's likely to have generated new tidal patterns — sending waves of change into your future. While some may be content to see Cancer as demure or passive, I know that's not true for you. You're more assertive than people give you credit for. Prove this right and catch that wave.
Your holy mantra confirms your personal power.
Leo (23 July — 22 August)
With so many players entering your sign your excitement is understandable, dear Leo. There's so much raw potential and you're going to have the energy to make headway in all sorts of areas of personal importance. I'm not here to tell you to slow down or take it all that seriously. I'm just going to remind you that the spirit of Leo is the spirit of the joyful, radiant child. Without embracing this quality you may make a lot of progress… but will you be fulfilled?
Your sacred objects make adulting way more fun.
Virgo (23 August — 22 September)
Dear Virgo, if you want to save yourself a lot of stress and frustration, you may need to accept that your plans are likely to take much longer to materialize than you're currently expecting them to. Your creativity and ambition is high, you just need extra patience. This advice is actually going to be more pressing in the weeks to follow, but it's totally worth trying to get ahead of the curve now.
Your patronus plays the long game.
Libra (23 September — 22  October)
It's going to be easy for you this week in some ways, Libra. In fact, you could simply stay at cruising speed and find yourself with something of a Midas touch. However, if you'd like to really go for the gold then you'll need to push further out of your comfort zone. Being satisfied with the status quo is actually a feat in and of itself, so remaining here has its merits. Pushing on is for those who are feeling particularly intrepid.
Your secret weapon is: Optimism
Scorpio (23 October — 21 November)
What is it that makes a good leader, Scorpio? Some may say that it's bloody-minded determination, or an ability to leave emotions at the door. This week, you've got many opportunities to show that being regal is neither about following a ruthless strategy for the maintenance of power, or the dismissing of sentiment. And that thrones are well-suited to those in touch with the wellspring of compassion.
Your patronus walks with their head held high.
Sagittarius (22 November — 22 December)
Last week I encouraged you to go deeper in your quest for understanding, Sagittarius. This week you'll benefit from a lighter touch. This is mainly because there are so many factors that contribute to current everyday chaos. Of course, chaos can be a lot of fun. But it can also easily foster the conditions for conflict. Maintaining an upbeat, optimistic, and child-like approach will serve you well, allowing you to dance through these busy days rather than battle them.
Your sacred sounds are giggles, chuckles and belly-laughs.
Capricorn (22 December — 19 January)
The Leo season is going to bring you ample opportunity to find courage and joy in your labours, Capricorn. But before that can happen, a perspective shift must occur. If you weren't so pragmatic, you might view your current experience as a test of faith. Perhaps that would be a healthier narrative at the moment rather than seeing life as an uphill struggle. Make sure you have time for yourself to fully unwind, and tend to your tenderness before you go any further.
Your secret weapon is: Resilience.
Aquarius (20 January — 18 February)
It's all a matter of timing, dear Aquarius. Often, our desire for liberation simply doesn't match up with the opportunity to leap for freedom. Obviously this does nothing to quell urgency, but it does force us into making do with where we are and what we've got. If you can't accept where you are, then it's time to figure out exactly what you can do now to prepare yourself for the moment when it does eventually arrive.
Your sacred sound is "tick-tock."
Pisces (19 February — 20 March)
With the move into Leo season the focus for you, dear Pisces, is on work matters. If your current career prospects aren't turning you on, then perhaps it's time to assume more of a leadership position, something in which your creativity and your huge visionary capacity can be put to good use.  Maybe it's not about authority, and it's more about finding a role where you feel free to be yourself. Most likely it's a bit of both.
Your sacred ritual makes you feel like a boss.