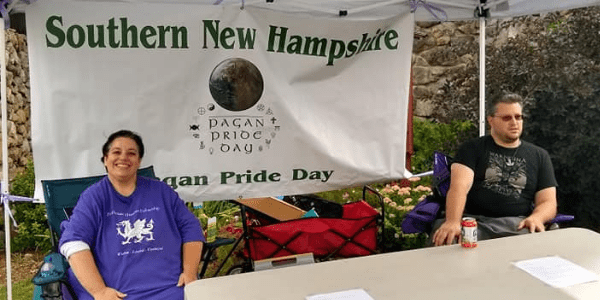 Pagan Pride festivals are much more than a fun way so spend the day. They give you a way to connect with a community of your peers while contributing towards the progression of Pagan acceptance.
The Southern New Hampshire Pagan Pride Day festival took place at the Unitarian Universalist Church in Manchester, New Hampshire (USA). It had vendor tents enclosing the side yard and a few in front of the church. The doors of the church were propped open, and the soft sound of drum beats made its way out to the sidewalk. I found the correct tent and paid my entrance fee: one canned good for a local food drive. Every face I passed had a friendly smile, and the energy of the event was that of love, community, and pride.
This festival was put on by the Pagan Pride Project, which puts on similar festivals all over the world.1 The Pagan Pride Project promotes tolerance and understanding among people of different faiths. They help Pagans find confidence and pride in their chosen path, and if you are of a different faith they help you to better understand the Pagan way of life. The Pagan Pride Project does these things through education, charity, activism, and by promoting community. The festivals they host all around the world bring Pagans together to celebrate their faith, while educating the public about our beliefs and philosophies.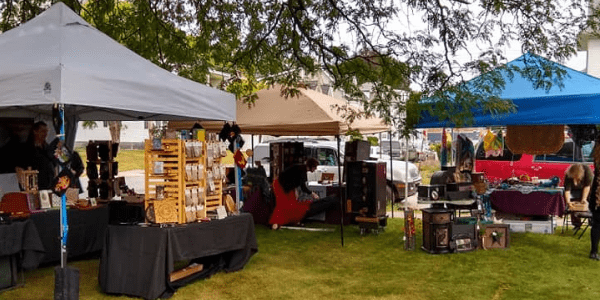 Arriving at the festival
I walked down the sidewalk towards the grassy area full of colourful tents. There were so many vendors, selling so many different things I didn't know where to go first! I decided to just start with the first tent in the line and make my way around. Each vendor had a story. I spoke to a woman selling headdresses, necklaces, and wooden spoons and signs with designs burned into the surface, and she told me about how she finds such peace in crafting these beautiful items. Each treasure radiated with love and tender care.
The next tent held a variety of herbal mixtures, handmade pendulums, and box sets of tarot and oracle cards. I found an amethyst pendulum for only five dollars. The man managing the tent told me that normally the amethyst pendulums and pendants sold for $30 USD, but the amethyst gems came with the assorted crystals by mistake, and he didn't feel it would be right to sell them for their normal price when he got them at a fraction of the cost. Such honesty warmed my heart! How many shop owners do you know that would do the same?
The tent that followed the honest entrepreneur held Pagan home décor items. It was hard to resist spending my entire allowance on items there! Plaques that read "Believe," floral arrangements, and wooden drums were only a few of the items this merchant had for sale. I meandered down the rows, ended up purchasing an ounce of herbs, some Morrigan Mist (an assortment of oils in a spray bottle), and a delicious hamburger from the food tent. Everyone I talked to had their own story, everyone had a genuine smile for me. They did not know me at all, but they were happy to see me. They welcomed everyone with sheer joy. I have never felt such a warm connection with a group of people. We were all there for the same reason: to celebrate our Pagan faith.
Live music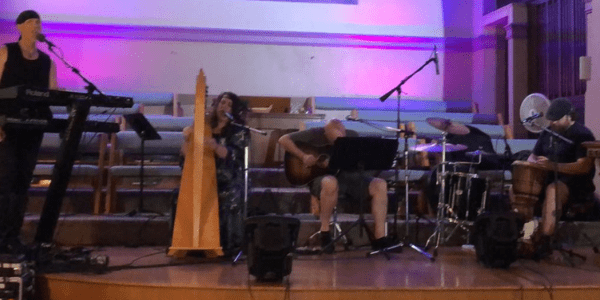 I was blessed to watch Jenna Greene, a well-known Pagan musician play original songs about magick, self-empowerment, dragons, and Badb, an aspect of the Morrigan. ((Greene Lady Music, http://www.jennagreene.net/)) Her music was magick in and of itself. I found myself drawn to the church by the drum beat. I took a seat in the back and was moved to tears by Greene's voice. It was so powerful, the energy in the room was almost tangible. I have never felt anything like it. One of my favourite songs was "Affirmation." The lyrics give me chills:
…I set myself free, love and openness are in control
Won't let fear take its hold
I trust the wisdom my spirit knows…

Let go, let love flow, This is my affirmation…
Her voice, her enchanting words, her engaging smile and facial expressions while she's singing and drumming were mesmerizing. I was able to record some of her performance and to be honest, I must have replayed those videos a dozen times since that day.
Workshops
In addition to vendors and entertainment, they held workshops throughout the day. There were three rooms reserved for workshops. The subjects included: Druidry (Ceisiwr Serith), Singing for Self-Care (Jenna Greene), Descending into Darkness (Tracy Andryc), Introduction to Applied Internal Alchemy in the Modern World (Rev. Cothran), The Energy Body, Dreaming, and the Arte of Enchantment (Jeffrey Cerneson Coté), Landscape and Lore (Dave Iverson), and FUTHARK: An Introduction to the First Six (Mike Smith). These workshops were open to the public, encouraging the community to learn more about different aspects of Paganism. Unfortunately, I was not there early enough to get in, as the classes filled quickly and people waited in line for quite a while to attend. When I peeked in the window during a few different workshops, I saw that the instructors used a variety of teaching tools, from musical instruments to Power Point presentations.
The greatness of what is human
In the front of the church there was a sign that read:
"I was thinking of the greatness of what was human, and found myself in the divine.
– Juan Ramon Jimenez"
When you attend an event such as this, you really see that this quote rings true. You will find the Crone in elders who will impart priceless advice, you will find the Maiden in the young women dancing without a care to the music that is melodiously reminding us that magick is real, and that we are the rulers of our own lives. There are couples in love, there are families with young and innocent children. As Pagans, we love nature, we love life, and we love each other, because we know that there is divinity within each and every one of us.
Pagan Pride Project, http://www.paganpride.org/ [↩]