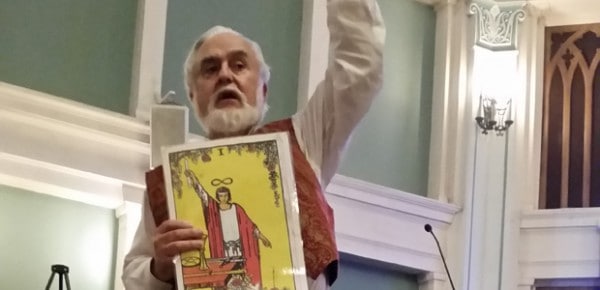 As a first-time attendee of a TarotCon, or any tarot-themed convention, I didn't know quite what to expect. Writers' conventions and those focused on popular culture, which I'd attended in the past, provided formality and an assortment of presentations housed in large venues.
TarotCon Denver 2015 was on a smaller scale, but had a far deeper impact.
Tarot acts as both personal tool and a means to better read one's environment. This also holds true when playing with tea leaf readings or spell casting, both of which were also in evidence at this year's TarotCon. 
Spearheaded by Marcus Katz of Tarosophy Tarot Association, based in England, and Joy Vernon, who has been the organizer of Denver Tarot Meetup for the last four years of its nine-year existence, TarotCon Denver was a joint effort that took place from 26 June through 28 June 2015.
TarotCon began as a tarot workshop in England's Lake District in 2007, and when Katrina Wynne, a Transformative Tarot Counsellor, became aware that Katz wanted to expand its reach, she made good on a promise to endorse Denver as an ideal host city in April 2014.
The three-day convention was held in the Althea Center, which Vernon appreciates for its beautiful architecture and the fact it was founded by women healers. "It also housed a spiritual press," Vernon said. In addition to the Center being set in a historic neighbourhood, it is one block north of Cheesman Park, "allowing convention goers to spend their breaks in nature even in this major metropolitan area."
Being centrally located with an international airport makes Denver appealing for major events, says Vernon, adding that "Denver is home to the largest in-person tarot community in the nation, the Denver Tarot Meetup."
The event would not be possible without the sponsorship of Isis Books and Gifts, or Wynne's encouragement. "Katrina has come to Denver several times to present at the Denver Tarot Meetup and the Denver Tarot Geeks [a Meetup group Vernon began before taking the helm of the Denver Tarot Meetup in 2011] and to offer classes," Vernon says. "She was impressed with our large and active tarot community here and the great response she got to her classes."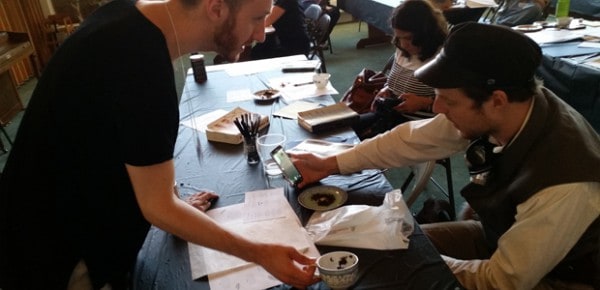 Chelsea Smith, 26 and a professional tarot reader herself, had never been to a TarotCon before. She said she most looked forward to workshops such as The Fool's Progress from Mary K. Greer, the Gypsy Tea Party from Shaheen Miro, and Devotional Tarot from Emily Jones.
"I am also super pumped about going to the Botanical Gardens to contribute to the collaborative tarot field trip deck." said Smith. Another opportunity that excites her is meeting her favourite tarot authors "in the flesh," such as Marcus Katz, Mary K. Greer, and Tali Goodwin.
Author Austin Coppock presented on the 36 decans. His most recent book project, 36 Faces, emerged out of his fascination with the overlaps of tarot, astrology, and magick.
"Instead of telling people that these fields are connected, I wanted to show how one strand of lore can weave through multiple fields. It's amazing to me that one set of images can serve in cartomancy, astrological delineation, image magic and spirit work," said Coppock.
Like myself and Smith, this was Coppock's first TarotCon. Coppock described TarotCon Denver as "a rather extraordinary collection" of workshops, and said he is a long-time Lon Milo DuQuette fan, and DuQuette's lecture, Lesser Arcana – Keys to Specific Dates and Geographic Locations, sounded in tune with his interests. "One of my pet causes is to open people's eyes to the potential precision and depth offered by the often undervalued minor arcana."
Coppock was also intrigued by Cardboard to Cartomancy: Make Your Own Lenormand Deck. "The Lenormand deck uses a base number of 36, which is the same number of images you see with the astrological decans. Not only am I an advocate of making your own images, I'm also curious what the relationship between the two systems are."
As a regular of Denver Tarot Meetups, I'd attended a wide variety of presentations, including Ivy Ross' Casting a Spell with the Tarot, and Shaheen Miro's Gypsy Tea Party. But I had to have second helpings of both, and felt gratified to experience both events, one billed in the program as personal development, the other categorized in Be a Better Reader.
Of personal interest to keynote speaker James Wanless, is how the tarot revolution needs to move towards the intersection of tarot and mental illness, and how Millennials need to be encouraged to embrace the cards. "If you really want to grow the tarot, you have to grow yourself," Wanless said in his rousing speech.
There was not a dud in the various offerings at TarotCon, and the participants were generous and warm, an extension of the experiences I've been fortunate to have as a member of the Denver Tarot Meetup. Denver Tarot Meetup treats participants, new and old, to a welcoming environment for learning and hands-on engagement.
For TarotCon Denver, I went to Denver Tarot Meetup presenter Richard Hartnett's Numerology presentation, Austin Coppock: A Deck of Faces: The Hidden History of the Pip Cards, and a lively Deck Creators Panel, among others. These events combined were easily worth the price of attendance. TarotCon Denver was a huge value: Each of the three days easily felt filled with days' worth of revelation, learning, and fun.
Mary K. Greer's overview of The Fool archetype made her presentation, The Fool's Progress, a pleasure. She reminded tarot readers not to gloss over the finer details of The Fool's situation: "When you get The Fool, consider embarrassment," she said in response to a participant's question. Risk, ridicule, wisdom, and embarrassment are aspects of The Fool that may lie unseen, according to Greer.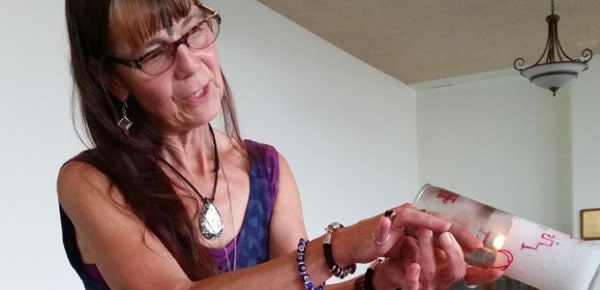 Another favourite TarotCon Denver experience was Carrie Paris' Collection Oracles and Charm Casting. "You have all the answers on you right now," she said before giving us hands-on examples of how to use objects we carried on ourselves as oracles. She said that such objects are "a vehicle or expression of yourself that is meaningful." Participants in the packed historic classroom experimented with charm casting, trying a few variations, and possibly learning much more about the significance of our personal symbols, as I had.
Lisa de St. Croix allowed participants in her Tarot Visual Journalling the opportunity to look at her most recent tarot visual journal, a record of milestones and forecasts, as well as tarot readings to reflect on key relationships with family. She provided the group with plenty of supplies: magazines, calendars, tarot cards from a broad array of styles, and a guided moment of mediation, grounding us for the work at hand.
We each approached the assignment of sharing in one page for our own visual tarot journal a depiction of who we now are. Some of us baulked at our instructor's encouragement to cut figures out of their cards, but whatever approach used, it proved to many, like myself, a creative and nurturing activity.
Never has a previous convention, in my experience, encouraged such creativity. To quote Reverend Ivy Ross as she explained how to broach selecting tools to employ in spellwork, it seemed that the overall theme of TarotCon Denver is to embrace "anything that resonates with your purpose." By doing so, we continue not only our soul's work, but the task that James Wanless put before us — TarotCon Denver showed many ways we can each contribute to the tarot revolution.