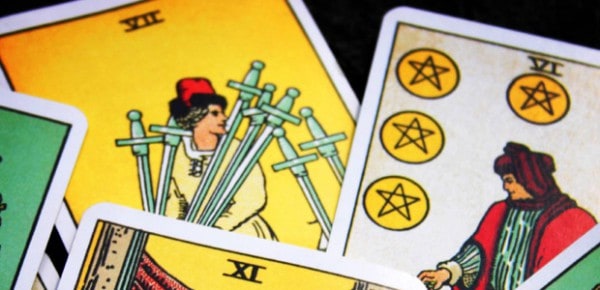 Tarot Origins runs on Sundays from 3 May – June 28, 2015 from 2-4 pm EST, except for Sunday, May 24, which is a long weekend in Canada.
Most books and classes on tarot cover begin with how to read tarot, but Tarot Origins digs deeper, and looks at how tarot came to be, and where these divinatory meanings actually come from.
What it covers

In this 8 week Tarot Origins workshop series, we'll look at tarot's exoteric and esoteric histories: the Dance of Death (not as sinister as it sounds!), the Renaissance, the fin de siecle occult revival, and modern interpretations of the tarot today.
We'll learn about important figures like Court de Gebelin, Papus, Eliphas Levi, AE Waite, Pamela Colman Smith, Aleister Crowley, Lady Frieda Harris, and more.
Over the years so many diverse systems have attached themselves to the tarot, and we'll look at how and why, and if (!) this makes sense, particularly through alchemy, astrology, the classical elements, the I Ching, the Hebrew alphabet, kabbalah, and a myriad of other esoteric associations.
Sign me up!
The course fee is $160 for the full 8 weeks, and is offered in-person for those in Toronto, and via distance education with live video conferencing, podcasts, and one-on-one tutoring.
In addition to the live workshop you get:
Detailed notes and a tarot timeline
Figures and diagrams comparing dozens of decks
Podcast recording of in-class sessions
Following the course, distance students also receive a one-on-one 30 minute tutoring session via Skype.
Please contact me at nico@nicomaramckay.com to reserve your spot.
I look forward to seeing you in class!