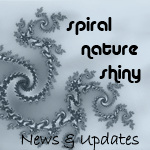 We've just sent our first news letter!
A few months ago we quietly added a subscriber box for our newsletter to the right side bar, but haven't really promoted it until now, and now we've just sent our first communication, with updates as to what's happening with the site, new content, and what we're looking for in terms of contributors.
You can see the first newsletter archived here, and if it sounds like something you're interested in, you can subscribe here, or by adding your address to the box on the right.
We won't send many of these, so you'll likely only see one e-mail every other month or so. I'd like to start including more industry news in them as well, so if you've got a new book or project on the go, let me know, and I'll see about including it in the next newsletter.
Happy reading!