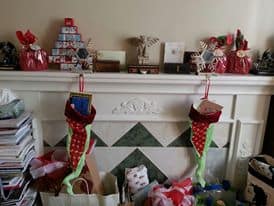 Solstice, Hanukkah, Christmas, Giftmas, Agnostica, Kawanza, or Gurnenthar's Ascendance, whatever holiday you celebrate, you probably decorate.
Send in pics of your altar, tree, candles, or whatever festivities you get up to and we'll share them.
Email your photos, comments, and the name you'd like to use to editor [at] spiralnature [dot] com or tweet us @SpiralNature.
Include the URL to your website, blog, or Twitter account if you'd like them included, and we'll do a slide show of the best entries.
Happy holidays!