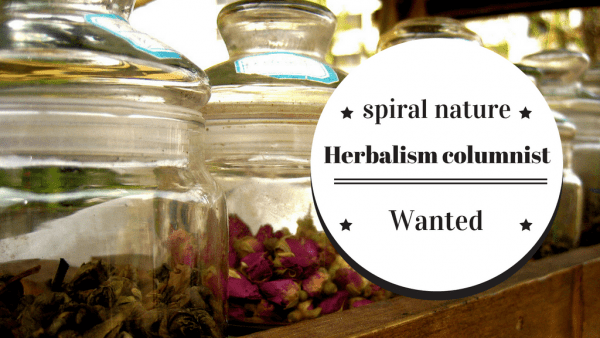 As you may or may not know, Spiral Nature Magazine is run by a tiny handful of dedicated volunteers. Right now we have four staff writers and five editors, in addition to some 50-odd regular contributors who write articles and reviews for the magazine.
Our contributors are all freelance, and largely stick to their own schedule, but we'd like to start a new herbalism column, published once a month, with an extra article made available for members.
Interested?
Our new herbalism columnist will contribute a column that can range in topics and themes, from magical botanical or historical information related to magical plant usage; garden and herbal book recommendations; interviews with other herbalists and plant magick practitioners; herbal how-tos; spiritual connections with and uses for plants, trees, flowers, and herbs; and whatever takes your fancy, though it should be somehow be tied-in to the occultnik scene. Dazzle us with your unique take on plants in this scene, and how you want to share it with our readers.
Duties will include:
Write about an herbalism-inspired topic once a month
Write a monthly article about practical applications (spells, rituals, gardening or harvesting tips, etc.)
Can be batched monthly for easier writing (and easier to edit for our editorial team)
Make recommendations to the editor on innovative ways to cover herbalism and related topics
Use your specialist knowledge to contribute ideas
What I'm looking for in an herbalism columnist:
Familiarity with occult herbalism
Familiarity with occulture
Sense of humour
Strong writer
Ability to work independently
Attention to detail
Knowledge of Spiral Nature, what we publish, and our audience
Experience with WordPress a plus
Moderate HTML skills
This position can be entirely remote, but if you're in Toronto, there may be opportunity for in-person planning sessions, drinks, and noms.
What you get out of it:
$15 per article
125 x 125 px sidebar ad (a $30 value)
300 x 250 px Occultnik Bazaar ad (a $100 value)
Your name on the masthead
Experience working the world's most awesome occulture magazine
Other perks as they arise?
Interested?
Send me an email or fill out the form below outlining your experience, social media profiles, blog, and anything else you feel is relevant. I don't need to see a resume.
Not interested, but know someone who might be? Please share this job posting with them and anyone else in your network. Thanks!
Application deadline: 15 September 2018
Apply now
Image credit: Alexandra Moss with work from Psyche