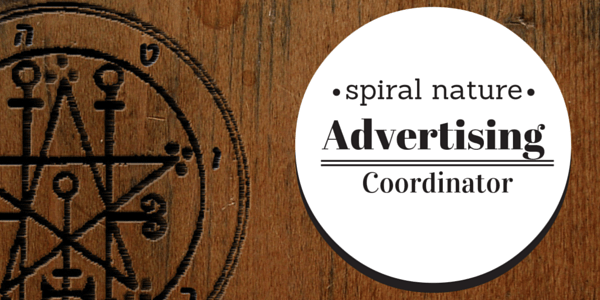 As you may or may not know, Spiral Nature is run by a tiny handful of dedicated volunteers. Currently active on our editorial team are myself, Kait Fowlie, Sharon Woods, and Haley Houseman. With the incredible things we have planned, we need more help raising finances, and we're looking for an advertising coordinator.
Interested?
Our new advertising coordinator will support the editor-in-chief with raising funds through our advertising, as well as source and liaise with clients whose products and ideals match the needs and interests of our target audience.
For this role, we're looking for someone to handle our advertising platform, and fill the ad spots we have available, while ensuring that the advertising clients sourced match the ethics and demographic of our target audience.
Duties will include:
Source and connect with potential advertisers
Secure advertising contracts
Upload and maintain advertising spots in WordPress
Send monthly advertising statistics to clients
Assist with social media schedulling and interaction
What I'm looking for in an advertising coordinator:
Ability to work independently
Attention to detail
Previous experience in online ad sales would be a huge plus
Knowledge of Spiral Nature, what we publish, and our audience
Experience with WordPress
Moderate HTML skills
This position can be entirely remote, but if you're in Toronto, there may be opportunity for in-person planning sessions, drinks, and noms.
Please note: This is a commission-based position, earning 25% commission on each ad sold, with an additional $50 honourarium paid each quarter for the wickedly awesome person who secures this position. With that in mind…
What you get out of it:
Experience working the world's most awesome occulture magazine
Your name on the masthead
Build contacts within the Pagan and occult communities
25% commission on ads sold
That $50 quarterly honourarium
My eternal gratitude
Other perks as they arise?
Interested?
Send me an email outlining your experience, social media profiles, blog, and anything else you feel is relevant. I don't need to see a resume.
Not interested, but know someone who might be? Please share this job posting with them and anyone else in your network. Thanks!
Application deadline: 31 August 2016