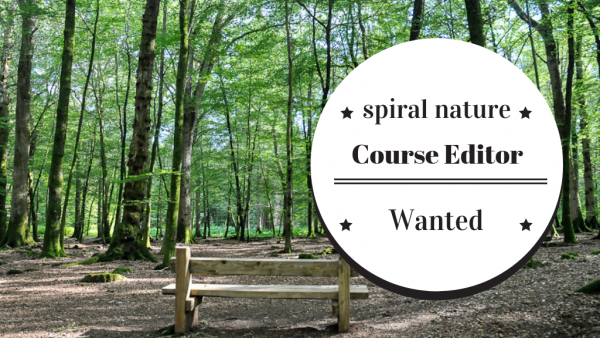 As you may or may not know, Spiral Nature Magazine is run by a tiny handful of dedicated volunteers. Right now we have seven staff writers and four editors, in addition to some 50-odd regular contributors who write articles and reviews for the magazine.

Our contributors are all freelance, and largely stick to their own schedule, but with all the great things we'd like to do this year, we could use some extra help.

Interested?
Our new course editor will work with course creators to create new courses for Spiral Nature, and format them in WordPress.
For this role, we're looking for someone to handle editing lessons, quizzes, and work with course creators to ensure the material matches the pitches assigned and our mandate.
Duties will include
Substantive editing of courses and quizzes
Copy editing and proofing
Communicate feedback to course creators
Use your specialist knowledge to contribute ideas
Assist sourcing creators to produce new courses
Writing articles and reviews (optional, but, yes, you get paid for these too)
What we're looking for in an course editor
This position can be entirely remote, but if you're in Toronto, there may be opportunity for in-person planning sessions, drinks, and noms.
Please note: This is a volunteer position, with a $100 honourarium paid each quarter for the wickedly awesome person who secures this position. With that in mind…
What you get out of it
$100 quarterly honourarium
125 x 125 px sidebar ad (a $30 value)
300 x 250 px Occultnik Bazaar ad (an $80 value)
Your name on the masthead
Experience editing the world's most awesome occulture magazine
Build contacts within the Pagan and occult communities
Other perks as they arise?
Interested?
Send me an email outlining your experience, social media profiles, blog, and anything else you feel is relevant. I don't need to see a resume.
Not interested, but know someone who might be? Please share this job posting with them and anyone else in your network. Thanks!
Application deadline: 31 January 2019