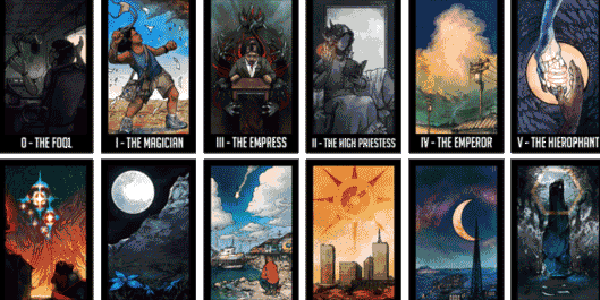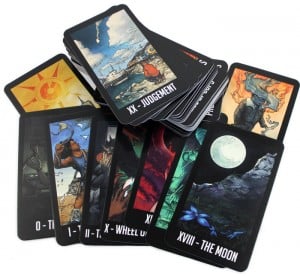 The Welcome to Night Vale Tarot Deck, by Hannah Holloway, illustrated by Hannah Holloway
TopatoCo, 78 cards, 2015
Note: This review contains spoilers for the Welcome to Night Vale podcast (WTNV), but not the Welcome to the Night Vale novel.
When I first heard of this deck, I knew I had to have it. Tarot cards are an important part of my practice, and I'm a huge fan of Welcome to Night Vale, so I approached the deck with high expectations, eager to see how two things I love would work together. And, I'm happy to say, they work together well.
For those unfamiliar, Welcome to Night Vale is a podcast  drawing from horror, science fiction, and conspiracy theories and set in the eponymous, quaint, though subtly menacing town of Night Vale. (If you think of Twin Peaks, you won't be far off the mark.) The story follows Cecil, a community radio host who reports on the surreal and often darkly comedic goings-on in the town. This includes nonsensical and often petty edicts from the City Council and Secret Police, both controlled by ambiguously defined alien beings, and Cecil's budding romance with Carlos the Scientist, who finds the town — and Cecil, by extension — scientifically fascinating. And there are horrors from outside Night Vale that are even more dangerous than those within it.
This is a standard tarot deck, 78 cards with the major and minor arcana, all designed and drawn by artist Hannah Holloway. They are digital drawings done in the style of sketching, ink wash, and watercolour. The cards, like Holloway's other work, draw heavily on fantasy and science fiction art (many would not seem out of place in a role-playing rule book or a '70s album cover) while staying true to the surrealism and occult themes of Welcome to Night Vale. This is also a very diverse deck; many of Night Vale's human (or human-enough) residents are people of colour and queer people, and this is reflected in the deck.
Many of the cards' meanings and some symbolism is drawn from the Rider-Waite-Smith deck, but they are removed enough from that context that someone wouldn't need to be familiar with it to benefit from this deck. A lot of the deeper meaning in my readings came from my knowledge of Night Vale and its denizens, but the imagery is unique and evocative and could potentially be very profound and meaningful to someone unfamiliar with its source. I wouldn't recommend it universally for people new to tarot, but for someone with a strong connection to WTNV and a taste for dark surrealist art, it could make an excellent starting deck.
The cards come shrink wrapped and with a purple velvet carrying bag. The deck doesn't come with any printed booklet or guide, but Holloway has an excellent guide on their Tumblr detailing the meaning of each card, their inspiration, and the creative process in making them. This is a smartly-designed deck, with Holloway combining tarot symbolism and Night Vale characters and themes in a way that shows a nuanced understanding of  both. For example, I particularly like their decision to put Tamika Flynn, a 14-year-old bibliophile and revolutionary, on the Magician card, which has many meanings related to force of will, resourcefulness, and transformation. In their own words:
In the world of Tarot the Magician is the mover and the shaker, the one who starts the wheels of change, the leader.  After the events of the Strex arc I felt that Tamika was easily the best choice for the card.  She is the face of the revolution, the person who begins the push-back against Strex and inspires those around her to take up arms as well. ((Hanna Holloway, WTNV Tarot, "I – The Magician: Tamika Flynn."))
The rest of the deck is made with the same care and attention to detail. Other favourites of mine, in terms of how tarot and WTNV ideas interact, are the Two of Cups (Carlos and Cecil's first date), the King of Wands (Kevin, Cecil's cheerfully malevolent foil, in his blood-soaked recording booth), The Chariot (Hiram McDaniels, a dragon whose five heads don't always work in unison) and the Three of Pentacles (the town's waterfront promenade project, abandoned because they live in the middle of a desert).
All in all, Welcome to the Night Vale Tarot is an excellent deck, with beautiful art, a strong understanding of its subject matter, and a much broader appeal than many other pop-culture themed decks.