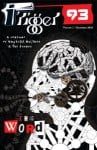 Trigger 93, Volume 1, edited by Ayesha Adamo
Aiwaz Press, 21576149, 2010
The inaugural volume of Trigger 93 focuses on the Word. Editor Ayesha Adamo sets the tone with a meditation on words and their simplification, beginning with the Chinese character for love, which, when simplified, removes the heart. Her concluding essay discusses the mysteries of writing itself, its permanence and the invisible audience.
Contributors tackle this theme of Words in a variety of surprising ways.
Juan Alvaro Echeverri shares his experience among the Indians, speaking Witoto and trying to learn about salt in "Salty Taste". In the process he learns a complex philosophy which weaves together guidelines for conduct with womb myths and sorcery. Bryce Churchill tackles codes in "Secret Messages" explaining the complexity involved in one-time pad cryptography, developed in 1949 and still in use today.
In "Syllable and Sound", Michael Taussig a lecture given in early 2010 which fuses poetry and its shamanism with scientific thought, as viewed through lectures attended and given by Taussig.
This issue also contains photography and artwork, including two comics. The first is by Seth Tobocman and serves as a political commentary on the situation in Israel and Palestine. The second, featuring a disfigured aborted fetus, is by Jenny Gonzalez-Blitz. I'm not clear on how either comic fits the theme of the magazine, but I don't regret reading the former.
Other pieces are stronger, such as Tamara Wyndham's "God Leaf", which is beautiful – I can't read the script, and yet somehow this seems fitting for a issue devoted to the Word.
Overall the journal is nicely laid out and the essays are thoughtful and well written. Trigger 93 is off to a promising start, and I look forward to reading future volumes.