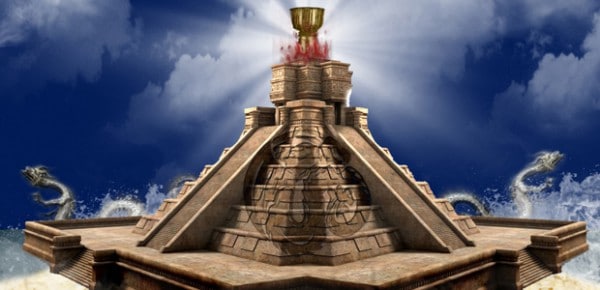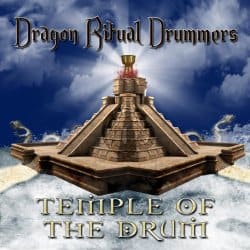 Temple of the Drum, by Dragon Ritual Drummers
CD: Dragon Ritual Drummers, 12 tracks, 55:34 min., 2011
I am extremely grateful that a friend pointed me in the direction of Dragon Ritual Drummers a few years ago. In the intervening years, I have had the pleasure and opportunity to receive and review several of their releases and I have yet to be disappointed by the quality of the performances and production values. These folks know how to use their instruments to attain the best possible results.
Almost all of their music is written by members of the group, though they do include a few traditional songs to add a little extra flavour and variety — "Fanga" and "Shaharazad" are examples on this album. Perhaps the most striking thing about their performances is that they don't use "studio tricks" to make their recordings: there is no sampling from other sources, no instrumental enhancements of any sorts. What you hear is all natural, although it is possible that the vocals on "Fanga" may have been tweaked a bit.
If you are one of those individuals who feels, as I used to, that a drumming CD isn't for you, I humbly suggest that you put aside your preconceptions and sit back, and be prepared to change your mind. First of all, their work (and this album as well) is much more than drumming and other percussion instruments. Ok, granted, the percussion instruments dominate, but they do not overwhelm.
I was so reluctant to listen to a drumming CD that I almost turned down the opportunity to do a review, but then I remembered the instruction I got from one of my early magical instructors: "You should try all things three times – once to see if you like it, a second time to see if you decided in haste, and a third time to see if you tire of it quickly." Now, I find that I regret that every time I have hoped to get together with them, or attend a performance, something has inevitably cropped up which prevented me from doing so. Ah, well…next year for sure.
I am not personally into dance (having absolutely no sense of rhythm), but there is a compelling force behind the music which forces even me to tap my feet and bounce my legs as I listen. At the same time, there are passages and sequences which encourage the listener to relax and let go of any sense of urgency. While that isn't terribly hard to do with separate songs, to find that within the same song is a pleasant surprise.
Looking for an album with a lot of potential? Something that can lead you from African tribal dance to the swaying of a Moroccan belly dance? And which, along the way will make a stop on the Indian sub-continent? Look no further. Add this album to your collection and you won't regret it.