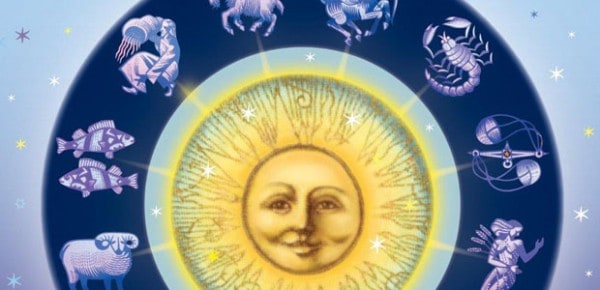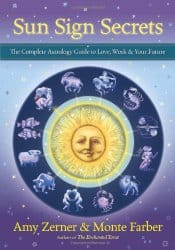 Sun Sign Secrets: The Complete Astrology Guide to Love, Work, and Your Future, by Amy Zerner & Monte Farber
Weiser Books, 9781578635610, 260 pp., 2014
Sun Sign Secrets is packed with detailed information describing each of the signs. The 12 sun signs are determined by the sun's placement in the zodiac calendar at the time of a person's birth.  The dates for each zodiac sign are included in the descriptions helping the reader to decide which sign corresponds.  Using this information the reader can then learn how to improve their relations with others by better understanding the behaviours and attitudes that drive themselves and those around them.
Zerner and Farber designed the book in an easy to understand format.  The artwork by Zerner is in a simple, monochromatic style that helps the reader to understand the symbols and representations of the constellations that correspond with the different signs.
Each chapter is written in the same style for each sign, starting with the details, including the dates for the sign, correspondences, personal qualities, and keywords.  The authors then break down the meanings more thoroughly by going into detail on the symbolic meanings, including the positive and negative traits. The last section of each chapter lists famous people who share that sign. The pronouns "he" and "she" are used interchangeably to show that all the characteristics mentioned are applied to either gender.  However, any mention of attraction or sexual preference is assumed to be heterosexual.
The details provided are well researched and broad enough to encompass most people who share that same sign.  For example, I am a Capricorn and my husband is a Gemini.  Both are described accurately as far as a general description of personality.  The differences are that each of us are unique.  Even though we exhibit many of the same characteristics for our respective signs, there are also many characteristics that we don't exhibit.
Also included are descriptions about how each sign interacts in different situations, such as, an employer at the office, an employee, a friend, a lover, a parent, and even as a child. For example, they describe a Capricorn child as well behaved, highly competitive, and worried about grades or self-esteem.  Then they describe how to assist that child in their growth process by offering lots of reassurance and providing opportunities for learning that are geared toward the Capricorn child's strengths.  This will help the reader gain a broader understanding of what behaviours they can expect from others according to their signs and adjust their behaviour accordingly to help facilitate healthier relations in whatever situation they are in.
Sun Sign Secrets is wonderful for the novice astrologer or anyone interested in gaining a better understanding of their own strengths and weaknesses and learning how to work with them.