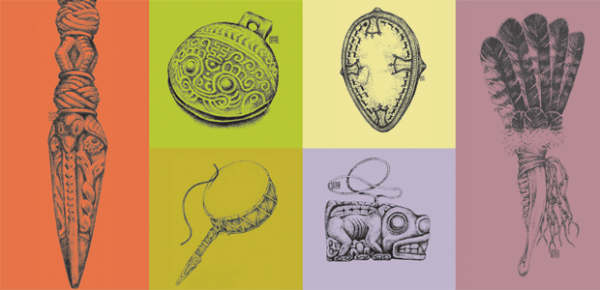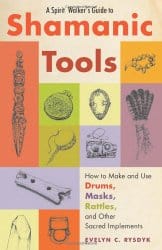 A Spirit Walker's Guide to Shamanic Tools: How to Make and Use Drums, Masks, Rattles, and Other Sacred Implements, by Evelyn C. Rysdyk
Weiser Books, 9781578635573, 258 pp. (incl. glossary, resource list, and bibliography), 2014
Forming your own relationship with your helping spirits, teachers and power animals is essential in shamanic work. Shamanism is a highly individualistic practice in which your skill and effectiveness largely depends on your ability to communicate and work well with them. Anything you can do to make your connection stronger is welcome — especially by the spirits, and author Evelyn C. Rysdyk believes there's no better way than by crafting your own "power tools."
Rysdyk assumes you are already an experienced shamanic journeyer and you know your spirit community. If not, she points you to books and websites, including her own, where you can learn more. These tools are prepared and made while in sacred space, and you, the crafter, must journey to the spirit of each individual component and completed object to enliven it spiritually, to learn how the spirits want it to be used. If you don't yet know how to journey, you won't be getting your money's worth from this book.
Rysdyk is a practicing shaman and shamanic teacher who has crafted her own tools. She provides 16 chapters of instructions for common sacred implements (drums, masks and rattles) and those more obscure (shamanic mirrors and diagrams of spiritual connections). Skill level ranges from very easy to advanced; some tools are as simple as a braided rope and others require carpentry skills and the ability to read and follow patterns and diagrams.
Don't let the complexity of some of the tools deter you. The author states several times that you don't have to get it right the first time. As in practicing shamanism itself (and in most other areas of life), skill is built on repeated effort.
I was eager to read A Spirit Walker's Guide to Shamanic Tools because I'm a shamanic practitioner and have made several of my own tools. I wanted to see how my impressions and experiences compared with the author's, who to my knowledge is the only practitioner who has written a book on these techniques.
My first exposure to shamanism was through the Peruvian tradition, where sacred stones called khuyas are carried in woven pouches or cloths, which are in turn carried in bigger blanket-like woven cloths called mestanas. Before I began my study I knitted a pouch, which later held my khuyas; the pouch became imbued with their energy and I could feel whether they wanted to come out or go back "home" to their pouch. Even today, although now used to hold tarot cards, I can feel the pouch's protective energy and do not use it for ordinary purposes.
Rysdyk indeed discusses how bags and containers are the "home" for other tools. She describes making them from leather and tree-bark materials, not cloth, yet impresses upon the reader how the bag itself becomes imbued with spirits. As with other tools, bags can be used in their own right as healers, for times when the shaman cannot attend personally to multiple clients at one time or if a part of the body needs extra healing energy. This is perhaps the most important reason for making your own implements – you get the assistance of many more helping spirits with whom you are more intimately connected.
Similar to the section on bags and containers, each chapter contains a history and explanation of the tool described; how it is used by shamans in locales as far-flung as Nepal, Norway, Peru and Siberia; and how you need to journey to connect with spirits before, during and after you make the tool.
The book is illustrated in black and white, using photos and the author's realistic drawings of the tools and shamans using them. There's a glossary, a section on resources that lists shamanic organizations and where to find supplies, and a bibliography.
A Spirit Walker's Guide to Shamanic Tools is a thorough and useful guide for those who are diehard DIYers, who desire to get closer to their helping spirits, or who simply enjoy being creative.