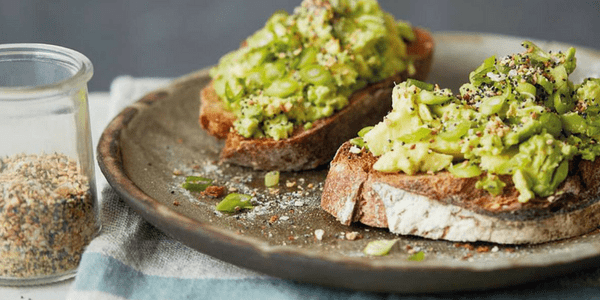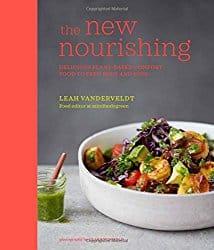 The New Nourishing: Delicious Plant-based Comfort Food to Feed Body and Soul, by Leah Vanderveldt
Ryland Peters & Small, 9781849758598, 176 pp., 2017
A quick disclaimer (or "claimer," maybe?) — I'm a long time vegan, so this cookbook is right up my alley. It's not totally vegan. A few recipes include (mostly optional) dairy ingredients, which you can easily omit without affecting the outcome much.
The New Nourishing: Delicious Plant-based Comfort Food to Feed Body and Soul, is authored by Leah Vanderveldt, a former editor at mindbodygreen online. Vanderveldt is a food writer and recipe developer focused on food in a health and wellness context. She's also received certification from the Natural Gourmet Institute in New York City in culinary nutrition. She brings a lot of knowledge to this cookbook!
Vanderveldt orients the reader to her food philosophy in the introduction with some of her guiding principles: no calorie counting, no thinking of food in terms of guilt (i.e. no "good," "bad," or "forbidden" foods here), and no dieting. I think it is important to make it clear that she's not advocating a plant-based diet for the sake of weight loss or food restriction. Vanderveldt acknowledges that a primarily plant-based diet is beneficial for most people, and of course also good for the environment and animals (obviously!) — but the focus here is on how a whole food, plant-based diet makes you feel. So, right from the introduction the reader has a sense that the book is about food from a place of enjoyment, pleasure, and indulgence. The recipes here are focused on health and the pleasure of preparing and eating food, which I like.
I think most vegans who enjoy cookbooks (or online recipe hunting) would agree the vegan food-o-sphere (vegan foodies promoting plant-based eating in cookbooks, food blogs, or creating restaurants or vegan food products) has gone to lengths to demonstrate that plant-based eating can be fun. There is no shortage of recipes, food blogs, cookbooks and vegan restauranteurs that focus on home-style comfort food. A lot of urban vegan eating focuses on foods that vegans have traditionally not had access to: pizza, mac and "cheeze," "chick-un" fingers, doughnuts, cupcakes, vegan ice cream, or burgers with all the fixings. Food that is incredibly fun to make and eat, and notably fun to serve your omnivore pals. It's occurred to me over the years that vegan food trends have sometimes looked more like fast food (perhaps in reaction to the stereotypes of vegans being restricted to some stereotypical "hippie" food fare) as though to counter the idea that vegan or plant-based food is all kale salads and unseasoned lentil mush. Today, as a friend of mine put it, vegans have some shine — it looks like fun to be vegan! (It is really fun but that's another story for another day!)
I think The New Nourishing is a refreshing switch back to looking at food as nourishment, as a way to take care of yourself, your family, animals, and the planet. Plus, this stuff is really satisfying. Leah has given us more than 100 recipes to experience how good it can taste and feel to eat healthy food.
The book starts with a brief introduction, as already described. The first section following the introduction is "The Basics," where Vanderveldt has collected some quick add-ons that can make other dishes more exciting, including plant eaters' protein, simple dressings, sauces, dips, and crunchy toppings. I liked the two-page spread on salad dressings. I realize this is basic stuff for many people, but for me it was revelatory to realize that I didn't need to rely on pre-made store bought salad dressings, and could make a way better one by using a specific ratio of oil to acid, with herbs and things like mustard, vegan mayo, and tahini. Vanderveldt rounds out this section with some add-ons: garlicky greens, grilled broccoli and a crunchy coleslaw with seeds.
The next section is "Breakfast," which has substantial entrees both sweet (coconut bircher muesli with berry compote) and savoury (chickpea pancakes with mushroom and thyme). She includes here a collection of toast, divided into sweet and savory, where the usual suspects appear, with interesting twists: a sophisticated peanut butter and jame toast with hemp seeds and fresh berries, and the beloved avocado toast, seasoned with a unique spice blend. Vanderveldt elevates simple food with unexpected ingredients, like a toast that combines figs and tahini. Next up is "Soups and Stews." Again, featuring some new twists on established favourites: roasted tomato soup, leek and cauliflower with fennel, and carrot soup with miso lentils.
The next section is "Big Bowls" — probably my favourite type of everyday meal to prepare and share. Many of the recipes in this book are what I think of as meals that are "assembled," with less blending of ingredients in a pot or a casserole dish, and more combining a bunch of different elements into a bowl, an awesome salad, or a pizza. This type of cooking lets the different ingredients stand out and compliment each other. From this section, I made the banh mi bowl (amazing!), the buffalo cauliflower and chickpea bowl with kale and tahini ranch dressing, and the "nicoise-ish" salad bowl — all turned out delicious and got acclaim from omnivores at home too!
She follows up with three more sections: "Entertaining," "Savory Snacks to Share," and "Desserts and Sweet Treats." I made the chickpea chocolate chip cookies so far, which were amazing. I'm always up for a new vegan chocolate chip cookie recipe and this one didn't disappoint — it's not too sweet and creates cookies with some heft to them thanks to the chickpeas.
The book itself is gorgeous — hardcover with gorgeous photography. Food photographer Clare Winfeld has created images for each dish in the book, and they're all beautiful and very appealing. The paper is heavier than other cookbooks I have, which is so nice for a book you tend to read in the kitchen while wiping your hands on a dishcloth! She writes in a friendly and conversational tone that makes it seem like you're cooking with a friend. The recipes and techniques used are simple, and definitely won't overwhelm someone new to cooking, new to vegetarianism or veganism. Vanderveldt has created sophisticated, but simple recipes with unexpected elements throughout — you'll find noodles made from sweet potatoes, a green smoothie bowl, or a parfait where coconut cream stands in for yogurt. When I peruse a new cookbook, I tend to use Post-it notes to mark the recipes I'm interested in trying out first — this book has about 20 Post-it notes fanned out through the pages.
I would have liked nutritional information for the recipes. I understand the logic behind avoiding calorie counts, yet at the same time, I think a calorie count is meaningful when it's paired with information about macronutrients. For example, 400 calories of fat may not be desirable in a meal; but 400 calories of balanced carbohydrate, protein and fat is a useful metric. I think including micronutrient information (especially for things like calcium, iron or vitamin B12) would be nice for vegans or vegetarians who are concerned with these elements of their diet. I'm also aware that these numbers are notoriously unreliable and can vary wildly from ingredient to ingredient. Like, "Was that tomato shipped to you from Chile, grown in your home province, or your backyard? Does it include genetically modified organisms, pesticides, or is it organic?" I personally don't worry about these things, but I think awareness of where your food comes from is important for many people, and can greatly impact the actual nutritional bang for your grocery buck. However, I appreciate that she doesn't include lots of exotic or hard to find, specialty or particularly expensive ingredients here. It's all food you can find easily for the most part. (That said, I did stumble on a recipe that called for burrata, which turns out to be buffalo mozzarella. Who knew?)
The book also doesn't include times for prep or cooking, which is a shame. Starting a recipe with no idea how long it will take can be frustrating. Similarly, starting a recipe and then realizing the recipe includes a sauce or a topping from another page in the book can be annoying. Including a time estimate and a "make ahead" notation at the top of the recipe would make things easier.
My last observation is simply that I would have liked this book even better if she just eliminated the dairy from the few recipes where it's included. I didn't see where it really added anything to the recipes; mostly the inclusions are things like goat cheese or cream. I think omnivores would naturally see ways to incorporate cheese into their meals and it would have been a more cohesive book if the concept of plant-based was incorporated throughout. She makes such a good case in the introduction for focusing on whole and healthy plant foods, so why include animal products or by-products at all?
Another minor quibble, not unique to only this book, is when a recipe calls for a sauce or a dressing, it directs you to make a quantity that's just too little. I'm in the habit of doubling these types of dressing add-ons anyway, but it's a pet peeve of mine. Wouldn't most people prefer to have a little extra sauce or dressing for leftovers, rather than not enough? I think so! I had this experience with two recipes here: the deconstructed banh mi bowl, and the buffalo cauliflower and chickpea bowl. Both recipes were amazing, and since I'm in the habit of doubling the sauce quantities anyway, it was fine.
Having said that, I like The New Nourishing a lot. I'd totally recommend it to a vegan foodie friend who needs a break from vegan mac and cheese and vegan hoagies! I think it would appeal to anyone who's interested in a whole food approach to eating, or who might like to cut back on animal products in general for any number of good reasons.