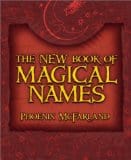 The New Book of Magical Names
, by Phoenix McFarland
Llewellyn Worldwide, 0738703958, 415 pp. (incl. bibliography, list of names, and index), Second Edition, Revised, 2003
"Magical names hearken back to rituals deep in our past when we first named ourselves, when we first looked at ourselves and knew that we were sacred."1
McFarland opens with a brief description of the history of nomenclature and its social context from the ancient Celts of 1000 CE with names like "Aelfraed", derived from aelf meaning elf, and raed council (the modern equivalent "Alfred" lends a new perspective to Batman's butler and confidant), to the more bizarre and occasionally amusing Puritan reign where such names as "Kill Sin Pimple" appear in court documents, to the current day, and even offering predictions for future naming trends.
Regarding the relatively recent trend inventing names, McFarland notes that "on one hand we are creating a generation of meaningless names (which does say something about the culture in which we live); on the other hand, others are simply spinning out new generations of older name clones (which also says something about that culture). So by the very nature of our superficiality or resistance to change, historical nomenclature is socially significant as ever."2
There is a large practical section devoted to naming rituals, spells, exercises, meditations, and for divining and empowering one's chosen name, whether naming oneself, a child, or a coven or group. Also discusses folklore surrounding naming customs, rites of passage, initiatory, for each degree, etc.
McFarland lends a wide variety of sources available for choosing a name: common archetypes, names from birds, the sky, space/time, light/dark, names that are traditionally last names used as first names, natural and elemental names, and name sources, places, garden, floral and fauna, as well as a huge section dedicated to selecting names from fiction, from The Lord of the Rings to The Mists of Avalon and everything in between. Though many names are left with little or no explanation beyond their historical time period or who the characters are. However, there are no "harsh" names, no mention of Kali, or Pluto, Chaos or Discordia, everything is left quite light-hearted. While it's nice to keep things positive it's not very balanced.
Offering much more than a simple compendium of names, this book will be a valuable resource in any library.
p. xv [↩]
p. 23 [↩]