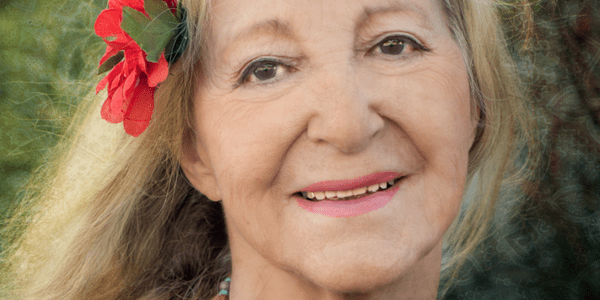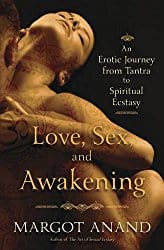 Love, Sex, and Awakening: An Erotic Journey from Tantra to Spiritual Ecstasy, by Margot Anand
Llewellyn Publications, 978-0738751719, 339 pp., 2017
Love and making love are deep mysteries, as is spirituality, and the intersection of these experiences of Margot Anand's life begins her memoir, Love, Sex, and Awakening. The first chapter describes her first sexual experience as a love scene and the way she was catapulted into a mystery — the mystery of connecting with spirit, with another human being, and with her own fears and questions about her experience. It had left her with an insatiable curiosity and drive to discover how to recreate what she had felt that very first time.
The first time I made love was a cosmic revelation, a direct transmission of the illumination of the spirit, which I called a "sexual illumination." It was such a phenomenal experience, so above and beyond my cultural and world view, that I had to search for a way to bring this fleeting taste of grace back into my life in a more permanent way.1
Margot Anand is widely credited with bringing Tantra to the Western world from India, where it is a system of study encompassing all of one's spiritual connection to life. She grew up in France in high society, where women's actions and life paths were strictly controlled and mandated. She rebelled against that life after her first sexual experience, and two years later struck out on her own, trying to investigate and recreate the esoteric quality of that first sexual experience. Anand became an author and explored the world in search of the secrets of sexual ecstasy. Over the next 50 years she wrote several books and founded the first school of Tantra in the West, called SkyDancing Tantra.
This book is a memoir, moving in a loosely chronological order, with Anand recounting only the encounters she feels will best make the point of the chapter. Each chapter encompasses her "adventure" (as she calls it), a reflection about it, and a short practice so her readers can recreate her experience. Although, she points out, this is not a Tantra manual — for that, there are frequent references made to her other books and videos.
Anand devotes a portion of the book to a discussion of how the exploration through Tantra of the dimensions of sexual pleasure has become integrated into Western society. "This [integration] denotes a severe longing in the West to find a spiritual practice that offers a positive connection between sexuality and spirituality," Anand writes.2
However, Anand also recognizes that "sexual energy, in our modern society, is too often repressed, perverted, and corrupted. The shadow side of today's sexual mores needs to be exposed."3 In service to that need, she includes a discussion about victims of sexual abuse and human trafficking, and in an appendix provides several organizations that concerned readers may contact for more information.
Beyond describing the bones of the book, I feel somewhat at a loss to evaluate Love, Sex, and Awakening. Naturally, the subject matter is deeply personal and every person's reaction to it will be different. I don't want my reaction to colour your perceptions or dissuade you from reading it. What I can say, is that Anand writes with sensitivity, grace, eloquence, and deep respect for her life's work — work that, she freely admits, "tends to polarize people."
Anand's life is the epitome of the teaching from the Charge of the Goddess: "All acts of love and pleasure are My rituals." Love, Sex, and Awakening (and all of Anand's work) can be thought as a ritual manual; guidance from a wise teacher, to increase your devotion.
p. 1 [↩]
p. 227 [↩]
p. 277 [↩]