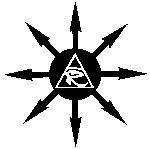 The Chaos Magick Audio CDs, Volume 2: Liber Bootleg
, performances by Peter J. Carroll, Ian Read, Ingrid Fischer & Charly Brewster
CD, New Falcon Publications, 1561842524
This is an interesting CD set. It is a re-release of some out of print cassettes that were previously available. The first disc is introduced as being a collection of basic magick workings. Most of the rituals on this disc are protective rituals that can be used as alternative banishing rituals. The introduction suggests that some of them can be used for basic personal fortification, protection from nightmares, or from poltergeist activity. It also warns against attempting these rituals while heavily under the influence of drugs or alcohol.
The first two rituals come from the Golden Dawn. The first being a version of the qabalistic cross, the second being a "Dispersion by Pentagram". These are followed by "Mass of Chaos C" and a reading apparently from "Theogony of Hesiod".
An "Asgard Pathworking" is next, which for me is one of the highlights of CD1 of this set. The pathworking takes you on a journey to Asgard where you must pass Heimdall before reaching Valhalla and having an audience with Odin. This is the easiest of the rituals to follow but some knowledge of runes would be of use to the listener.
Next is "Pillar of Chaos" which aims to improve visualisation and can be used to relax and recharge the individual at any point of the day it may be required. It is quite a simple techniques to follow and I certainly found it relaxing.
"The Mummy and The Mirror" is an interesting guided enegry movement, which uses Egyptian mythology and iconography to help one create a protective shell around oneself. I can myself using this ritual a lot as it is easy to follow and works with a paradigm I don't normally use.
"Green + Black" is an odd ritual that could do with a lot more explanation before I could say much about it.
The cd finishes with a basic gnostic banishing ritual.
All in all I think this is a very interesting CD that could be very useful for the Chaote to get inspiration for new workings if they feel their practice is getting a little stale. The introduction to this cd gives the impression of being an introduction to magickal practice. I thing it does have the potential for this but most of the rituals are not fully explained, which would leave the novice wondering what is going on. If this had been accompanied by a short booklet explaining each track then I would highly recommend it to novices.
CD2 in this two CD set is much better in my opinion. The introduction gives much more insight into what is to follow. It states that the rituals presented are only presented as a historical record of the practices of the individuals at the time of recording. It also suggests that invocation and evocation are exercises not suitable for the beginner who should begin with the other disc.
The first ritual on the disc is "Mass of Chaos B", which is the mass of Chaos published in "Psychonaut" by Peter Carroll. I always find it fascinating to hear others performing rituals that I myself have engaged in and this is no exception.
The next track is "The Enochian Call of the 10th Aethyr", which is quite drawn out and is one of the least interesting tracks on this disc, though it may appeal to those iwth an interest in Enochian/John Dee.
"Disursus Cum Daemone" is an invocation of Choronzon to ask advice. Invocation is an area I haven't yet experimented with so this made for interesting listening. This ritual and the one that follow it are the highlights of CD2, in my opinion.
The next ritual is "Evocation of Tiamat". For me this is the best of the historical records on this disc. Tiamat is invoked to give advice for the Chaotes present. Tiamat comes across as quite funny and is obviously enjoying the experiment and amused by the humans. This track on the CD alone is worth the money for me.
"Target Practice" is another ritual that is not given much of an explanation but is an interesting listen all the same.
The CD ends with a "Chao/Runic banishing", which is quite basic and could be useful for those looking for ideas for a personal banishing ritual.
This CD of the two probably offers the most to both beginners and old-hands at the magick game. With the fuller explanation at the beginning of the CD novices will have more of an idea of what is going on and be able to see what kind of things are possible if they stick to their magickal practices. More experienced magickians will get the benefit of hearing other people performing rituals that they may include in their own practice. They may even pick up some different approaches. A couple of the tracks are just entertaining hearing the interactions between the magickians and the invoked beings. I'm glad these cassettes have been re-released in cd form and are more readily available.
If I were to give this a mark out of 10 it would have to get a 7. This would be improved by the inclusion of a booklet explaining some of the nuances of the rituals presented.