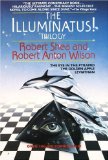 The Illuminatus! Trilogy: The Eye in the Pyramid, The Golden Apple, Leviathan
, by Robert Shea and Robert Anton Wilson
Dell, 0440539811 816 p.
It's a classic. That's what everybody says about it. It's got style, class, and a very neat way of fucking up your head. It jumps, changes, moves, twists and turns all the way through until you're no longer sure what the plot is, or why you're even trying to follow it any more.
It plays games with you. It entices you in by being all cute and cuddly and voluptuous and entertaining and then [wap] it beats you over the head with a wet penguin from mars to break your complacency.
Pay attention. It's fun, but there's an undercurrent of seriousness in the gameplay that you'll be able to pick out if you pay attention.
Four and a half wet fishes out of three.