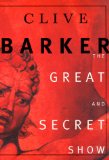 The Great and Secret Show
, by Clive Barker
HarperCollins, 0006472257, 1989, 1994
"Memory, prophecy and fantasy –
the past, the future and the
dreaming moment between –
are all one country,
living one immortal day.

To know this is Wisdom.

To use it is the Art. "
If you have never read Clive Barker before, prepare to be impressed. His books will be like none you have read before. It is hard to sum up his genre, it crosses from fantasy to horror to metaphysical wonderings. Each book, or series of books is different, yet they all share one thing, and that is Barker's ability to create not just a new world of characters, but an entire system of beliefs and philosophies that create a story so deep you can almost believe it's real.
This series (Books of the Art) is my personal favourite out of his books I have read so far. The ideas he puts forward in these novels are as well thought out and tenable as any contained in magickal treatise or religious text.
They concern The Art, while it is never really clarified as to what The Art is, Barker's creativity and attention to every details convinces you it is real and attainable. These stories provide ideas about our world and race and that of worlds outside our own, of the way that life itself, our every essence of being relate to an overall scheme. Without wishing to ruin aspects of the story, it sets out a clear, and yet not so clear, paradigm of existence, with our world (the cosm) and an almost polar opposite (the meta-cosm) set opposing each other, separated by the dream sea 'quiddity' , the place where everything comes from. Our world and that outside our own both seem to be reflections of that which comes from quiddity and it is never perfectly clear what Barker is suggesting about the nature of reality, are we real and the enemy (Iad) in the meta-cosm mere creations of our minds or the other way around?
There are so many levels to this story, as people step up to take their rolls, people searching for The Art, people who know, people who don't, people finding out, Barker sews together a million little threads seamlessly into one story.
In trying to write this review it became apparent to me how complex these two books are and how hard it is to sum up the plot. It is a series of books that just have to be read by anyone with any interest in different ways of thinking about how everything fits together.
Clive says he will start work on the long awaited book 3 of the art sometime soon, personally, I can't wait.