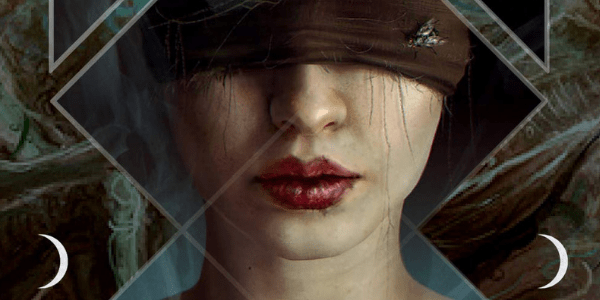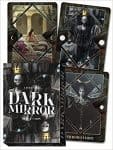 Dark Mirror Oracle, by Riccardo Minetti and Laura Sava
Lo Scarabeo, 9780738759807, 32 cards, 128 pp., 2018
The Dark Mirror Oracle is unlike any oracle deck that I have encountered. Created by tarot and oracle deck author Riccardo Minetti, with images designed by well-known fantasy artist Laura Sava, this deck was created specifically for the purpose of shadow work. Because of this, it is not a deck that you would consult on a daily basis. However, when used to explore the darker side of the self, the Dark Mirror Oracle can bring meaning and focus to difficult personal work.
The deck comes with a 128-page booklet and 32 cards. The 4 x 5-inch (10.16 x 12.7 cm) cards are the size of a typical oracle deck. They seem a bit thin, but shuffle easily — almost too easily, as my first time sorting through them I found them to be a bit on the slippery side and I dropped more than one. The box is sturdy and will serve well for storing the cards between uses.
As mentioned above, the Dark Mirror Oracle is designed for those engaged in shadow work. The shadow self, made famous by Carl Jung, is the unconscious or unexpressed part of ourselves that we keep tucked away. Often the shadow self consists of things we consider undesirable, such as guilt, rage, sadness, anger, or envy, but it can also contain pieces of ourselves that we keep hidden for reasons of safety, or to prevent rejection. To do shadow work is to explore, and eventually reintegrate, these parts of ourselves. It can be long and difficult work, but it is often also very healing work.
I want to include a word of caution here: shadow work is not something one should attempt alone. It can involve digging up and dealing with the emotions surrounding old traumas or recovering memories of past hurts that were thought to be long forgotten.  While a deck such as this can be of great assistance, it can't replace the help of a trained guide or therapist.
Each card is connected to five concepts: the moon, grief processing, visual seed, sentence, and going dark. The moon is the phase of the moon the card is connected to. This is identified in the description of the card in the booklet and as an image of the moon phase on the card itself. Each card is also tied to one of the five stages of grief — denial, anger, bargain, depression, and acceptance — which you will find in the card description. The card's visual seed is a description of the card image with emotional context. For example, the visual seed for the card Sacrifice contains an image of a female warrior with a blade of light slashed "across her face, showing the deadly seriousness of her state," instead of simply saying that her face is illuminated.1 The sentence is a meditation or reflection on the meaning of the card. And finally, going dark is the description of the card's meaning.
The images on the cards are quite striking, with muted jewel colours and play between shadow and light. All the cards contain a figure, usually female, often elaborately costumed, and in a setting suited to the meaning of the card. There are a few that border on graphic, but again, this is a deck designed to help one face the darkest part of oneself, which isn't always conventionally pretty. Each card also has the moon phase, card number, and the card name.
The booklet length is deceptive. It is 128 pages, but this includes the English as well as Italian, Spanish, French, Portuguese, and Russian translations. There is a short description of what the deck is (and it is quite short, less than a page), the five concepts, and two ways to read the cards: simple and advanced. The simple method is to simply draw a card, sit with it, read its meaning and see how it speaks to you. The more advanced reading involves asking one of three types of difficult questions:
Questions you don't like the answer,
Questions which force you to change,
Questions which make you deal with pain and pressure.2
The book includes short descriptions on what each of these types of questions are, but gives no information on how one might do a reading with them. It is not clear on if one or multiple cards are to be drawn.
In working with the Dark Mirror Oracle, I found that drawing one card was the most useful. Each card contains so much information, often intense information, that just sitting with one was enough. I only drew additional cards when I was grappling with something difficult or directly related to my own shadow work. In most cases I found that the cards were able to be direct in a way that I am not always able to be without their aid. There is the reminder that this sort of personal work is not easy, and that it is ok to feel stuck. Surprisingly, what I found most helpful was the stage of grief the card was related to. It helped to give a context to where I might be in my own process.
This deck could be a very useful tool in doing shadow work. However, as noted above, this sort of work is not to be taken lightly. This is not a deck for learning to do general oracle work, and I would not recommend it for a beginner. I'd also hesitate to use it to do readings for others unless you know they are embarking upon this sort of shadow journey with intention and support. My only complaint is that I wish there was more from the author on how the deck came to be and what cards were chosen to be a part of it. That said, for anyone doing personal shadow work, the Dark Mirror Oracle is a great tool to have at one's side.
p. 20 [↩]
p. 9 [↩]